Tuska 2022 Special
---
All interviews conducted by Luxi Lahtinen
All pictures by Luxi Lahtinen
After 2 long COVID-pandemic years, the infamous, and a tad controversial due to some of the band choices, Tuska Festival was held for the 23rd time on July 1-3, 2022. In 2022, Tuska returned bigger than ever; the capacity of the venue had been
expanded, there were more food and beverage services available to the attendees (even a fine dining option), and most importantly the promoters gathered some really tempting names to entice metalheads from around the world to join Tuska's big metal family. Mercyful Fate to Carcass, Stratovarius to Amorphis, and so on brought in 49,000 attendees this year, which is a new record and proves there's something magical indeed about this old metal festival in the capital of Finland.
As Tuska has reached such vaunted status, we here at The Metal Crypt wanted to know what has made it such a special event that people attend year after year. This time, we took a different approach and instead of asking regular festival goers what Tuska means to them, we went to the artists and asked about their experiences at Tuska, either as performers or casual visitors.
Thanks to all the artists who participated in this feature and the Tuska organization for everything.
Markus Laakso (KUOLEMANLAAKSO): I arrived in Helsinki by train and then took the metro to the station nearest to the Tuska venue and it became very clear right off the bat seeing all the people around me that the festival seems to have become a true target of pilgrimage for metalheads. I have attended most of the Tuska festivals since the beginning of 2000, missing perhaps only two years somewhere in between, and I have to say this is the most meaningful metal festival for me personally here in Finland. I have also played at the festival with my band in 2013. I was a bit skeptical concerning the audience turn-up as Bolt Thrower, who had never performed in Finland before, had the same slot as us on another stage. Much to my huge surprise, the hall was totally packed, which felt great, of course! Our performance was also filmed by a professional camera crew, and it was funny to hear from some of the crew members afterwards that the audience was singing our songs louder than our vocalist, haha! So yeah, that was an incredible experience that I will always remember for sure!
As for this year's festival bill, I have seen a big chunk of the bands live before except for a few like Korn and Shape of Despair, so those are two I am interested in seeing live. Also, a band like Heilung is a true experience to be witnessed live
for sure. I cannot help but recommend people go see their performance if they get the chance. They are absolutely worth seeing, in my opinion, as they are a bit different live band compared to many others.
And, of course, this year's lineup contains bands that have my friends playing in them, so it's always nice to see them performing live as well like Amorphis, whom I wrote a book about back in 2015, and Reckless Love, who differ from the regular Tuska lineup by their more light, hard-rocking musical approach. Which, by the way, reminds me I will actually be staying overnight at the home of the big sister of the band's guitarist while here at Tuska.
Juhana Heinonen (ENRAGEMENT): For me, Tuska is some sort of Southern Finland phenomenon, which gathers many like-minded people in the celebration of both bigger and smaller (metal) names. My first experience here at Tuska happened in 2007 and then I came here in 2008, 2010 and have tried to come to as many Tuskas as possible, depending on my schedule.
2008 was really special for me personally. The band lineup was so killer in 2008 that I couldn't resist buying the official Tuska shirt with all the band names printed on the back. I cannot think of any better Tuska lineup than they had that year. I think it's impossible to repeat how good it was. They had Morbid Angel, Dying Fetus, At the Gates, etc., and they covered both old school and new school heavy metal bands with some of the top artists from both Finland and abroad. It's easily the most memorable Tuska event for me, at least so far. After that the 2010 Tuska lineup was right up my alley, too, with Cannibal Corpse, Devin Townsend (he performed twice, with two special sets), Crowbar, OverKill, and many others. Also, the weather was superb at that year, and of course, it's nostalgic to think of it because it was held at its previous location, the Kaisaniemi Park.
The new location of the festival, Suvilahti, works pretty well, and it will be interesting to see how the festival will look this year after two years of COVID. I heard the Tuska crew made some changes for a better experience for attendees with an expanded venue, new locations for stages, including an extra stage, etc. I am looking forward to experiencing Tuska this year, no doubt.
Janne Sova (BARATHRUM): Well, I performed at the very first Tuska Festival with my band Barathrum when it still was an indoor festival back in 1998. After that the festival's overall atmosphere encouraged me to come here whenever I had that chance to visit the festival. I think I have not skipped Tuska more than just a few times over the years.
This year my plan is to see bands like Vltimas, Mercyful Fate, Carcass and on the last day, Sunday, I intend to see Kreator headline the main stage. I think there's always something interesting to see for everyone, and in fact, a band called Church of the Dead will be starting their performance relatively soon, so perhaps I may watch their gig as well, at least for a moment. But now I need to go and grab a few beers because I just started my holiday, haha!
Tuomo Saikkonen (MOKOMA): I remember being there like a curious fly on the wall when some of my closest
friends were generating an idea of a Tuska Festival concept. The first Tuska was held at the famous Tavastia Club in Helsinki. Tony Taleva, the owner of Suomi Finland Perkele magazine and others helped put together the first metal-only festival in Finland at that time. It's been amazing to follow how the festival has evolved since then, from a tiny club festival to a big international metal festival. I am, of course, proud of all of the people who have made Tuska such a huge and professional festival and, of course, when we got to play here in 2003 with my band Mokoma for the very first time, that's something I will cherish all my life as one of the most memorable experiences regarding the festival. Performing in front of your "own people" so to speak, is always something I look forward to at Tuska. I really like everything about this festival.
2003 was our so-called breakthrough year when we had just released the Kurimus album, which was the first Finnish thrash metal album completely sung in Finnish. Being a metalhead 100%, it bugged me because we kind of were an oddball band prior to releasing Kurimus and we never got invitations to play with other metal bands back in the day. But when Kurimus came out, it changed everything for us. Getting to play here in 2003 was a big deal for me personally, absolutely!
As for this year's lineup, seeing Carcass play today, who are one of my longtime favorite bands, is great even if I have seen them live many times before. They are awesome and very entertaining onstage, so it's really hard not to experience them up there delivering the goods in the most enjoyable way. And then Korn, of course, whom I haven't seen live before, will be on my bucket list tonight. I believe this evening will be memorable as far as those bands are concerned.
Sami Silvennoinen (TYRANTTI): Well, as I am originally from Helsinki, Tuska has always had huge meaning for me. When I was just a teenager, sometimes I snuck into the festival by going under the fence, sometimes over the fence but most often I purchased an official ticket. The bottom line is I could not skip Tuska any year; it was the place to be each year for me personally.
As a teenager, I remember Tuska having many great acts over the years; Bruce Dickinson, Dio and so on and so on and countless bands of all kinds that had never rung the bell for me. When I grew up and got a chance to play at the festival with my own band Tyrantti for the very first time, it was the kind of moment that I will never forget, that's for certain. At this year's edition, we have a slot booked for one of the afterparties, which also feels great!
We are playing another festival in Kouvola this Saturday and after that we are going to rush back to Tuska to see Mercyful Fate playing later that evening. Mercyful Fate has been on my bucket list for a long time. Other than that, I may just try to enjoy the overall atmosphere here at Tuska; meeting friends and having a few drinks with them and all that jazz you know.
Mika Luttinen (IMPALED NAZARENE): I bought a 2-day ticket to Tuska this year so that I can see both Mercyful Fate and Perturbator; the latter which is said to enjoy a pretty huge cult following in the underground black metal scene. I have never heard this band before and when I listened to them yesterday, I was like, "What the F**K is this?!" To me they sounded like 30 wooden penny "Das Ich", or something along those lines. Honestly, they sound just terrible. I wish I had nicer words for them, but I do not. I understand they have their strong fanbase, otherwise they wouldn't be playing at Tuska.
We, as Impaled Nazarene, were fortunate to play at the very first Tuska that was held at the Tavastia club and the
year after when it was held as an outdoor festival for the first time in the heart of Helsinki. We also got invited to perform at the Kaisaniemi Park location as well as here in Suvilahti, so Tuska has a very significant and important meaning to us.
As the old fart that I am, I have seen how Tuska has gotten bigger over the years and changed locations four times. Those venue changes don't mean it has changed for better, but then again, the world's also changing so I guess I just have to accept Tuska as it is nowadays, gritting my teeth at the same time. I mean, when Tuska was previously located at Kaisaniemi, it was an absolutely wonderful time! The location was brilliant with its park-like scenery, and you were also allowed to bring your own booze in, which was something you cannot do anymore. It makes me feel a tad nostalgic when I think back to those times at Tuska.
Tuberculosis (ASSATUR): Tuska for me means the kind of gathering of friends that encourages you to attend the festival each year. My first Tuska experience happened in 1999. I was not in Finland when Tuska was arranged at the Tavastia Club the very first time, and 2000 I had to skip due to my military service. Also, as far as I can remember I missed 2012 Tuska but then came over here in 2013. I now have this gap of nine years when I haven't attended Tuska, but I have to say it's very cool to be here again after a very long time.
So far, I have had very good experiences at past Tuska festivals, especially when Tuska was still located at the Kaisaniemi Park some years ago. At that time Tuska allowed people to bring in their own drinks (in plastic cans/bottles) and it was great to hang around with a bunch of familiar friends. Sometimes my friends from the States and Canada visited Tuska, which was basically the only way to see their faces. It's a common gathering of friends, first and foremost, and having a good time together. All those times I have visited Tuska, they have had some killer bands, like maybe from 4 to 10 interesting names and that's enough for me.
Of all my visits, I remember 2004 when we had partied quite heavily prior to coming to Tuska. One of my friends had been drinking with both hands and he had passed out. We had to carry him in, and the security guys just smiled at us and let us in without any problems.
2001 was also quite "memorable" because I was so thrilled about the whole Tuska event that I tried to maximize my enjoyment before arriving. I drank Gambina heavily, and I mean A LOT (google it to find out what it is — Luxi) and lost my memory totally. I have few memories left from that afternoon or my taxi drive back to my friend's apartment later that night, I must confess. I pretty much spent next day lying on the floor of the shower room at my friend's place, feeling horrible. My friends told me afterwards what happened to me during that fateful evening. But that's life; sometimes you may have too much fun and
then you'll pay for it from time to time.
In 2002 I spent a totally sleepless night between Friday and Saturday at Tuska but then I was much younger. Nowadays I can't party like that, that's for sure. I was young, wild and crazy. Nowadays I am just wild and crazy, haha!
Carcass is one of the bands I must see this year at Tuska as they are one of my favorite bands of all time. I really like them live and haven't seen them live since they put out their latest album, Torn Arteries in 2021. Also, Mercyful Fate tomorrow will be on my bucket list because I have never seen them live before. They are a legendary band and I have been digging them since the nineties. I am also looking forward to seeing Vltimas, which is led by ex-Morbid Angel frontman David Vincent. I really liked the band's debut Something Wicked... that was released a few years ago. I's great to see them playing live at Tuska now because I, unfortunately, missed them at Hellfest. They have been playing gigs around the European continent lately, so it was cool that Tuska got them booked to play here, too.
Also, Kreator is always nice to see live. I have not seen them live in a long time, perhaps seven years or so. It's going to be interesting to see how they are doing live in 2022. They are also one of those old-school thrash metal bands that I have been following for about 30 years.
Sebastian Fredriksson (CEASELESS TORMENT): First and foremost, Tuska means a social gathering for me. You get to see people that you may see like once a year and quite honestly, the bands come after that, at least for me. It's always great to have chats and beers with friends and follow bands with them. This year, there isn't much for me to see at the festival, perhaps just one mandatory band per day. Today, Carcass, tomorrow Joe Lynn Turner (doing a special Rainbow/Deep Purple show) and Mercyful Fate, of course! On Sunday, there's naturally Kreator, but I am not too excited about the songs they are going to play at Tuska this year according to their recent set list.
But like I mentioned at the beginning, it's important for me to see friends here who I would not perhaps see anywhere else but at Tuska. That's the reason I want to come over here each year. I just met a friend here from Saudi Arabia, who I saw at Brutal Assault last time back in 2019. It was really cool to see him after three years. Plus, seeing people coming to Tuska not only from Finland but from all over the world is damn great! Just a couple of hours ago I came across an old working mate of mine by accident, which felt good, too. Tuska is an awesome gathering of friends and people overall, that's why many come to this festival, I think.
Timo Ahlström (DEMONZTRATOR): This festival has a lot of meaning for me. My first Tuska experience happened in 2002 when Bruce Dickinson was the headliner one of the days. It was an amazing show and as I killed my virginity with Tuska some twenty years ago, it had a lot of meaning for me. Since then, I have attended most of the festivals, not all, but many.
As for today, I will definitely see Carcass and The Night Flight Orchestra after that. Tomorrow, my list of bands-to-be-seen includes Joe Lynn Turner, Vltimas and Mercyful Fate as the main headliner. On Sunday, there'll be Devin Townsend and Kreator as mandatory bands. I was dying to see Symphony X, too, but they unfortunately canceled their slot at the festival.
Markus Vanhala (OMINIUM GATHERUM): First and foremost, my first Tuska experience happened in 1999 when it had just started. At that time, I was playing in some demo bands, but I loved the Tuska concept and what it represented to me as a relatively young fellow. Today I performed here with my other band Ominium Gatherum and after the gig I had two, or wait a sec, three missions; drink a few beers with some friends, see Carcass live (all my friends went straight to the front row to see them, by the way), and then see The Night Flight Orchestra live. The latter are also our touring mates. Mikael Stanne from Dark Tranquility, whom we toured in the States with about 10 years ago, was the one who actually introduced me to The Night Flight Orchestra. I am glad that he did so because I really liked the band right off the bat. Mikael, who's like "Mr. Toto of death metal" also told me they
formed T.N.F.O. just for a tour. They are a great band and I really like what they are doing.
Tomorrow I will also do a gig with Insomnium and after our gig I am planning to see Mercyful Fate for sure. In fact, I am really looking forward to seeing them here tomorrow, most definitely!
Matti Mäkelä (CORPSESSED): Well, I have been visiting Tuska almost since the very beginning when it was first arranged, 1999-2000 or something. I have not attended every Tuska, but many depending on the festival lineup. Coming to Tuska is a nice way to start your holiday.
One of my highlight years here at Tuska was when we got a chance to play, 2012 or 2013, damn I cannot remember the exact year anymore, but it was great to perform here with my band. Generally, it's always been fun to come to Tuska to see friends and bands.
From this year's lineup, I am particularly interested in seeing Vltimas and, of course, Mercyful Fate.
Tomi Koivusaari (AMORPHIS): I remember when the very first Tuska Festival happened. It felt great to get a festival like this in my home city. I have watched the festival grow and relocate to four different venues over the years, the current one being here in Suvilahti. It's been nice to see how Tuska has become one of the biggest metal festivals, not only here in Europe but the whole world. We have played here many times with Amorphis and it's always been great. For me, it's easy to come to the festival as I live not too far away. In fact, I can come to Tuska by cycling. If we aren't on tour or have a gig somewhere, I always want to come to Tuska.
Seeing Carcass was a must for me yesterday. Today, I have a few bigger and smaller names in mind that I'd like to see, and it's cool to see some of my old friends here as well, like the guys from Soilwork whom we have toured with before. Vltimas and Perturbator are some of the names I am going to see live for sure the latter, which I just recently discovered. They are such a cool band live.
Jyrki "Jürg" Rahkola (FINAL ASSAULT): Tuska has an important meaning to me as a concept. It
means, first and foremost, the gathering of like-minded people. The secondary thing for me is the bands but it's a definite plus if there are a few bands in the lineup that manage to stir up my interest like Mercyful Fate this year, for example. But seeing familiar faces and friends here is the main reason it's always great to come to Tuska. After two years of COVID, meeting old friends is the main thing for me as it's been in previous years as well. Even if I am a pretty active gig goer and also play with my band Final Assault around quite a bit, Tuska is the place to be if I want to see many of my friends in one spot.
As for this year's band lineup, without diminishing the value of this festival or the challenge of arranging a festival of this size, there's unfortunately not much on offer for me but I would like to see Mercyful Fate, of course. That is something that I cannot miss this year. I have been in the scene for decades but have somehow missed Mercyful Fate all these years. I have seen King Diamond many times, but never Mercyful Fate until this chance. In fact, right now I am wearing Mercyful Fate's 1999 US tour t-shirt so that should show how much I am looking forward to seeing them live tonight.
Timo Nyberg (GANDALF): This has been a brilliant metal festival for me since the dawn of time; a festival arranged in the heart of the city at the very beginning. Tony Taleva, the owner of the defunct Suomi Finland Perkele magazine, first put the concept of Tuska together. Since those days, the festival has been growing massively from what it was back in 1999 at the Tavastia Club. For me, coming to Tuska has become a way of life. I have visited Tuska each year, both as an artist as well as a tourist. Tuska among other similar festivals is a very unique happening, like Copenhell in Denmark. Generally, Tuska means a lot to Helsinki because it also brings a lot of people from abroad to the festival.
One previous year in particular sticks out from all my experiences. When Type O Negative played at Tuska, a friend of mine, Kari Reini, brought a bench press to the backstage area. Peter Steele (R.I.P.) then came and asked politely whether he could join and do some workouts with us and we, of course, said, "You are more than welcome to join us, of course." That was something that stuck in my mind forever. I cannot remember the exact year it happened, though.
As for this year's band lineup, I want to see The Night Flight Orchestra for sure. I am really digging what they are doing. They know how to put on an entertaining live show, and I like their music. And without a shadow of a doubt, seeing Mercyful Fate will be a must for me tomorrow, definitely! Both Mercyful Fate and King Diamond played a set at the Tavastia Club in Finland in 1997, when Mercyful Fate worked as a support act for King Diamond, so to speak.
Recrucifyer (DEPRAVEMENT): I came to Tuska just see Mercyful Fate. I pretended that I had Corona. I had my friend send me a picture of his positive Corona test and I sent it to my boss. I was supposed to work during the Gay Pride Festival, but I instead lied and am at Tuska now. I just wanted to see Mercyful Fate and that's it. There are a lot of lame bands and jerk people here. But for the "eye candy" if you want to look at awkward Finnish women, with the face paint, you can look at them far away and be like, "Vitun hyvä!", haha!
And Joe Lynn Turner's gig was pretty cool I must say. I like Deep Purple, I like Rainbow. He played "I Surrender" and that's my favorite song of the Rainbow stuff. But f**k Korn, f**k Deftones! You know, there's a bunch of silly "junttis" here, and I honestly prefer that because I love Finland. It's my favorite country. I prefer looking around at people. See this guy who's about to show his ass. Oh no, he won't. Finland's cool. It's just too bad that I look around and the Finnish women they won't come up and talk to me. That's too bad. I have to go to them, but they might be having a panic attack. That's how the Finnish culture is.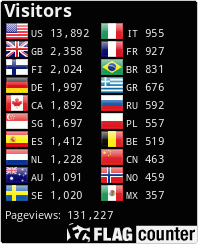 The Metal Crypt - Crushing Posers Since 1999
Copyright © 1999-2022, Michel Renaud / The Metal Crypt. All Rights Reserved.