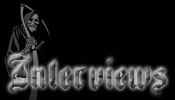 Interview with singer/guitarist Pascal Cliche
Interview conducted by Michel Renaud
Date online: April 21, 2001



It's not exactly a secret that Hanker is my favorite metal band. Those Canadian heavy metallers from the Quebec City area have been around for over 15 years and yet, despite having released three excellent albums, have yet to get the recognition they deserve. Goes to show that something is seriously screwed up in the music industry (duh!) Living up to their name, the band members have not surrendered and continue to deliver high quality metal to their fans. After being delayed multiple times, their third album, Snakes and Ladders was released in November 2000. If you have never listened to Hanker's material before, do yourself a favor and head over their web site and listen to some sound clips.
So here we go... Vocalist/guitarist Pascal Cliche answers our questions:
Before getting started, I would like to say that I am sorry about the delay (too many things to do at once...) But as the saying goes : Good things happen to those who wait, so here we go!
Your third album, "Snakes And Ladders", was recently released in Canada. The album was delayed multiple times for a variety of reasons. Would you care to describe the pitfalls encountered, or the "Snakes and Ladders saga" if I can call it that?
It would take too long to tell you about all the snakes we have met since the beginning of the "Snakes And Ladders" project, but
I can say that we had a contract with a Toronto label and that it did not work out (there were points that we could not agree on). After all the legal stuff to do in order to get free, we took the bull by the horns and signed up with a Quebec label and they released "Snakes And Ladders" at the end of November 2000. In 2001, we signed up with a Canadian distribution company, PHD Canada. All this, as you can imagine, took a little while for sure, but we never surrendered!
You are now signed with Metal Disk Records, a new metal label from your hometown. A lot of people are wondering why a band such as Hanker wasn't picked up by some of the big metal labels - not only for this third album, but also for the first two which were highly acclaimed. Can you shed some light on that?
Be my guest! We just don't know for sure! I think it could be a question of time and place, what I mean is that often you have to be at the right place at the right time and the rest goes by itself. Maybe we were not at the right place with the right timing... Nevertheless, we have kept on working on our career. Someday, we will have the recognition we deserve.
Do you have a contract for multiple albums with Metal Disk?
We signed an open contract with this company and we are still free as a bird.
Your distribution deal with PHD Canada will surely help make the album more easily available throughout the country, but a lot of your fans are in Europe and elsewhere and dying to get their hands on the album. When can they expect "proper" distribution over there?
In Europe, you can buy the "Snakes And Ladders" CD from Hellion Records.
What has been the response so far in regards to "Snakes And Ladders"?
It's simply wonderful! Everyone agrees! "Snakes And Ladders" is the best Hanker album yet! We put our heart into it and it shows!
Hanker recently opened for Nightwish on their second night in Montreal, which was unfortunately not nearly as full-packed as the first night. In spite of this, do you feel this has given you some exposure? Have you been approached for more shows in the Montreal area?
Yes indeed! It opened doors for us in Montreal. About some future shows in Montreal, nothing is signed yet, but we will probably go back there soon (we just love Montreal and all the metal fans over there).
I'm sure your numerous European fans would like to see Hanker live some day. Any chance of that happening any time soon? At a festival maybe?
This has been our dream for a long time! We have had some offers up to now, but nothing worked out. Yet you never know what the future will be like, so we keep on dreaming!
What about North American festivals such as March Metal Meltdown or the Milwaukee MetalFest?
Same here, we have had some offers, but nothing serious enough... Only time will tell...
If I'm not mistaken, your first two albums, "In Our World" and "The Dead Ringer", are out of print. I've got those and they're both masterpieces as far as I am concerned. Having read this, those reading this interview now want them ;). Are there any plans for a re-issue?
"In Our World" and "The Dead Ringer" will be re-released in a near future. You have to be patient...
"Snakes And Ladders" was recorded back in 1999. Have you already started working on material for a fourth album, or started thinking about it? Is a concept album such as "The Dead Ringer" a possibility? (yes, I'm already craving for new Hanker stuff).
We have been working on new material for a little while and I can tell you that it is going to be better than ever! About if our next album will be a concept one, we just do not know by now.
Here's a question I've wanted to ask for a while. I've been mentionning Hanker on a lot of metal message boards, and it seems like anglophones have some sort of problem with the name of the band (I'll spare you the dumb comments I've read). Have you ever received any such comments, and if so, were you as surprised as I was? I must admit I'm at a loss here (especially considering that a lot of bands have totally ridiculous names).
Yes indeed! It's because people often stop at the first meaning of this word. You have to take this word as a verb to have the real meaning related to us. It means to really want something or someone. The ones who do not like our names should open a dictionary once in a while... In my opinion, you don't need to have the word death or devil in a band's name to be a metal band.
A lot of people are stunned when I tell them that Hanker has been around for about 15 years. I won't ask you to recount the band's
history as this has been done in other interviews available on your web site. However, I am wondering if you have thought about releasing a video that would both recount the band's history and show the band performing live, a bit like Hammerfall did on their "The First Crusade" video? I'm sure your fans would like that (I know I would).
There are many projects that we have been working on these days, but nothing is completed yet, therefore I should not be talking about them...
What's planned for the band in 2001?
Same as above... But we will be playing next summer for sure...
I'll wrap this up by thanking you for your time, and ask if there's anything else you'd like to add?
We would like to thank all our fans from all over the world for their support! We will meet someday!
Thank you
To Michel : Thanks for your support and the work you put into the Hanker
project, you will make it come true!
Thank you and take care!
The Metal Crypt - Crushing Posers Since 1999
Copyright © 1999-2023, Michel Renaud / The Metal Crypt. All Rights Reserved.