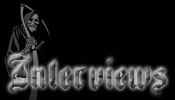 Interview with Jeremy Goddard (Vocals/Rhythm Guitar)
Interview conducted by Michel Renaud
Date online: December 3, 2008



I first heard of Rusted Dawn back in August when they played here in Ottawa. It turns out that these thrasher from the maritime province of New Brunswick, Canada, have been pretty active on the live stage for a couple of years already and have acquired quite a bit of road experience over their short existence. Read on...
Hails!  In the grand scheme of things, Rusted Dawn is still little known, so how about we first introduce the band... How did the band get started?
Rusted Dawn was started in 2004, with myself and three other guys who aren't in the band anymore. I was 16 at the time and wanted to continue to play music while the other guys had their minds set on college/university, so RD's lineup has changed a few times in accordance to this. Our current lineup consists of guys who are all in it for the same reason - we wanna shred full-time.
Have any (or all...) of the band members played in other bands before, and/or are currently playing in other bands?
Justin (Lead Guitar) was in a punk band called The Wiggly Tysons, and also plays in a rock band from Fredericton called The Rocking Argentos. Chad, Justin
and I also have a punk/stoner group called Redneck Holocaust that we had going for awhile but we're all kept pretty busy with RD goings-on so it's on the back burner for now.
We really don't hear much about metal bands coming out of the Maritimes, but I know there are quite a few - I reviewed a "Maritime Metal" compilation a few years ago and there were several bands on there.  How's metal doing in New Brunswick?
Metal is doing pretty good! there is a lot more support for bands, and bands are a lot more supportive of each other, which is great. There are certainly some things I'd like to see change - Wet/Dry shows are non-existant in NB, and I find that to be a huge bummer, I constantly hear underage people complaining about not being able to get into bar gigs, and bands also not stoked on turnouts, and if wet-dry shows were possible I think it would be a big help.
You've already done at least one short Eastern Canadian tour (that I know of).  Usually touring bands are financially and logistically backed by a label, but you guys are still unsigned.  So how much work was involved in setting up the tour, or everything that goes along with it for that matter?
We've toured Eastern Canada three times now, and our 4th trip will be taking place in late February/early March (shameless plug - keep checking www.myspace.com/rusteddawn for dates!) as for setting up a tour, it's pretty challenging on your first times out. I do all our booking so I'm constantly writing to promoters and just hoping for the best. the process of writing to promoters takes a long time, for every 20 emails you send you're lucky to get one show booked as a result. It can be discouraging, but completely worth doing. As far as promoting the shows goes, we really count on promoters to do their thing by posting on local Internet resources, postering, etc. If a show totally bombs it's usually easy to see why. When we get to a city we're playing in and arrive at the venue, I usually go for a stroll to see if the show's been properly flyered for, and if not, chances are we won't go through the same person again for a show in that town. On that note, any promoters who ever wanna book Rusted Dawn, please contact me, haha!
How did things go on tour?  I think Justin mentioned some problems with the van or something, I can't remember (it's been a while... :))
Our tours have gone from amazing to disastrous and everything in between. Our last tour in August of '08, we were dealing with a crippled lead guitarist who couldn't play due to a hand injury, a drummer who was so tightly wound from recently quitting smoking (he's since rekindled his love of nicotine) and an issue which I see is addressed by the next question, haha. It was a rough time, to say the least. Our May tour went amazingly well, and we basically had the time of our lives. Our first tour in August '07 was good, but uncomfortable with a full van, as well as having a wheel fly off on the 401 (a highway that crosses Ontario from east to west, and second busiest in North America – Ed.) which definitely could have killed all of us.
You got thrown off the Testament gig in Montreal, surely that was one hell of a bummer!   I know a few people who attended the gig who weren't happy at all with the replacement (Cryptopsy... odd choice.)
I received an e-mail before the tour in August which informed us of being booted off the show due to "poor ticket sales", and of course Cryptopsy were added to the bill. I was later informed that this did NOT boost advance ticket sales at all. I attended the show and there was a very poor turnout. I was pretty disappointed of course, and a bit insulted since us being booted did nothing at all to help with the show going over better. The show should have been held at a smaller venue, and a lot of people were also complaining about ticket prices. The biggest disappointment was definitely being denied an opportunity to prove ourselves and show that we're perfectly capable of taking the stage alongside such high-caliber bands. Next time we are offered anything like this we will definitely be getting something done in writing to prevent us from being removed from the bill.
What would you say were the best and worst gigs during the tour, and why?  I know the Ottawa gig had a low turnout, unfortunately - looked good at first, but most were teenagers and parents there to see the first couple of openers...
Ottawa was a pretty good time both times we've been there! We've played shows where the only people in the room were our merch guy and the bartender. Montreal always treats us quite well, as well as Ottawa and Toronto. Truro, Nova Scotia also showed us an amazing time. For us there really aren't any "worst" gigs - we get to be on the road and do what we love. If we have to deal with a low turnout on a Sunday night or something, so be it! We're still gonna play our hearts out to the 5-10 people that found the kindness to check out a band from little 'ol Sussex, New Brunswick. (That's the spirit! – Ed.) And hopefully they leave with a big smile on their faces, go to their homes, and tell their friends about the killer show they just checked out.
You have two EPs under your belt.  What kind of feedback have you guys been getting on these?
I can't really speak for the feedback we've gotten on either - but personally I've never been entirely happy with either of our current releases. Our first release wasn't very tight at all and was not a good representation of our band. Our second EP was a big improvement, but we had to record it in our apartment so it certainly lacks in the production department. These two releases were both done on budgets of ZERO dollars.
I believe your first full-length is scheduled for early 2009... Is that still on track?  Will it be an independent release, or have you found a label?
The album is proceeding as we had hoped. We're currently just polishing up our newer material, and we hit the studio on December 19th. As far as it being an independent release or released by a label, we've discussed the issue with a few labels, but are still 'shopping around', I guess you could say. We don't plan to release the album on our own.
Is the album going to be in the same vein as the EPs, or are you guys experimenting a little with your sound?
We are experimenting DRASTICALLY with our sound. This album is going to be much heavier, much faster, and much more complex and riff-happy than ALL our previous material. There are definitely going to be a lot of surprises in store for everyone already familiar with us and it should certainly catch a lot of people's attention who haven't heard us before. Luke, our new drummer and most recent addition to the band, is basically reaching light speed and re-inventing quantum physics behind his kit, while the rest of us are riffing faster, heavier and more intensely than ever. Be prepared to see us fuck up a lot on stage, haha!
There's been a kind of old school thrash revival movement in the past couple of years.  What's your take on it?  A lot of people claim that all new
thrash bands suck (I beg to differ... strongly..)
I have very mixed feelings on it. I feel that there are some great bands but history is repeating itself, and the thrash 'scene' is becoming greatly congested once again, there's a lot of bands that are carbon copies of one another. It's unfortunate but it's becoming a real fad. As much fun as I might have at a Municipal Waste show, you see a lot of scenesters throwing flipped-up beak hats over their swoop haircuts. While I like seeing everyone of all lots of life attending shows, it's becoming a fashion statement. We're trying to stand apart from it by writing darker material that doesn't shy away from every influence we have, be it death metal and grind, hardcore, or anything and everything in between (not to mention our not-so-dark influences!). and not just trying to fit a 1986 crossover mould. That being said, I won't be writing ANY party anthems anytime soon. BUT! I am glad to see the success bands like the waste have had, they're great guys and work really hard at it, as well as the recent high that Joel from Toxic Holocaust has been riding, he's been playing thrash longer than all the more recent offerings and it's great to see it really pay off for him.
What are the plans for the band in 2009?
Release this friggin album! haha. As I mentioned before, we are doing a brief Eastern Canadian tour in February/March, then we will be doing a Canada-wide trek in May, and possibly again in August! after that hopefully it will be our time to set out for world domination.
Thanks for your time!  The last words are yours...
Thanks for the interview; readers, come see us at a show sometime soon! cheers!
The Metal Crypt - Crushing Posers Since 1999
Copyright © 1999-2023, Michel Renaud / The Metal Crypt. All Rights Reserved.