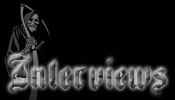 Interview with vocalist Esa Lindén and bassist Sami Vesanto
Interview conducted by Luxi Lahtinen
Date online: June 23, 2012



Live picture above taken by Terhi Pihlaja at Tuska festival 2012
When talking about some of the most influential Finnish Death Metal bands of all times, it's not surprising to see Demigod's name popping up very often in several discussions and articles. Both Demigod's the "Unholy Domain" demo as well as the band's highly appreciated debut album, "Slumber of Sullen Eyes", will remain as one of the finest pieces of Finnish Death Metal history (just ask someone who has at least some knowledge of the Finnish Death Metal scene - both past and present).
After those two releases, Demigod recorded a bunch of demos while at the same time slightly changing their old school Death Metal sound by incorporating more and more elements from a technical type of Thrash Metal into their new songs. This was something that caused some contradictions among the fans of Demigod and the whole band started venturing toward some sort of an on/off situation when nobody knew whether there was a reason for the band to continue doing music. Eventually vocalist, guitarist and one of the main songwriters of Demigod Esa Lindén had had enough and he stepped out of the ranks of Demigod in 1994. The remaining members of Demigod also decided to put the band to rest.
Demigod returned in 1997, with Mika Haapasalo filling in for Esa as vocalist. Demigod's old school Death Metal era was over, the band's two other albums - "Shadow Mechanics (released in 2002) and "Let Chaos Prevail" (2007) - were certainly very different compared to the band's semi-legendary debut record "Slumber of Sullen Eyes" and mostly for that reason both of them didn't get the attention they deserved. Demigod split up again in 2008.
2010 meant a new era for Demigod. They were asked to play only their "Slumber..."=era songs at Black Mass Ritual III Festival in Helsinki, Finland, which they did, and again at the Rites of Darkness festival III in San Antonio, Texas in December 2011. Both gigs were successful for Demigod, feeding the band's inner fire to do some more gigs. Demigod's latest visit was at Maryland Deathfest X in Baltimore, which was held on May 25th 2012. After that gig Demigod felt like they would have some hot news to announce to the whole world - and The Metal Crypt was privileged to be the first to share the news with the world.
Read on to satisfy your burning curiosity as to what vocalist Esa Lindén and bassist Sami Vesanto had to announce about the band...
Luxi: So, let it be official now. Demigod have returned; only this time back to its very original roots musically: playing a heavy, crushing and downright dark Death Metal without any compromises, correct?
Sami: You're absolutely right. We are back and are going to do new material which is closer to Demigod's musical roots. Our goal is to reach the same kind of atmosphere that's on our early recordings.
Esa: It definitely is a return to the early nineties. So you can expect heavy old school Death Metal songs with obscure melodies and atmosphere.
Luxi: When did you first start to think about putting the old Demigod line-up together again and start writing new songs in the vein of "Unholy Domain" and "Slumber"?
Esa: I had an idea of a possible return after our reunion performance at Black Mass Ritual III in Helsinki, September 2010. At the time I had to re-learn riffs for some of our "Slumber"-era songs that were never played live like "The Forlorn" and "Tears of God". I had composed those riffs so no one else in the band kinda had any idea how those riffs should be played (perhaps they had some idea but not the correct ones, ha-ha!!). So I became familiar with my guitar again
and suddenly I realized I came up with some new ideas. At the time I thought those were just some riffs that popped up but in time I realized it might be possible to compose new material for Demigod again. It was clear to me from the beginning that if Demigod reforms one more time and I'll be in the band it must be old school Death Metal in the vein of "Unholy Domain" and "Slumber of Sullen Eyes". That's basically the only way I can write songs.
Sami: We thought it would be a fun thing to do this one reunion show, meet again with old band mates and remember the good old times. There were no plans to write new material and do a comeback. However, it felt really good to play those old songs with old tuning and the response from the audience was really awesome too. Afterwards we got more offers and we took the chance to play at the Rites of Darkness III in Texas and Maryland Deathfest X. Getting to play in the USA has always been our dream. At some point along the way, Esa brought up some cool new riffs which have the same kind of feel that was on "SOSE" album. Now it's clear that we will start working on the new Demigod album but when it comes to the line-up, nothing is carved to the stone yet.
Luxi: Without having any misunderstandings regarding Demigod's line-up, which members does the 2012 line-up consist of - I mean the one that will participate in the forthcoming songwriting process of the band - and NOT the one that people may possibly see on live gigs?
Esa: This question is a tough one to answer because I'm not sure which members will be in the band for sure. It's certain that Sami Vesanto (bass) and I, Esa Lindén (guitar/vocals) are definitely in the band. It is also possible that the original Demigod drummer Seppo Taatila returns, but we'll see how things evolve. We have played a few reunion gigs with an amazing line-up to play with: Tuomo Latvala (drums), Tuomas Karppinen (guitar), Tero Laitinen (guitar) plus me and Sami. I'm very pleased how our performances have turned out with that line-up, so it's also possible we come back with that. It all depends on some personal matters, but the near future shall tell where we go. Regardless which line-up we have we'll be back anyway, so let's not make this line-up issue too big. It's going to get worked out one way or the other.
Sami: The main idea is to make a great Death Metal album and go to Demigod's roots. Esa's involvement will be essential as he was the main songwriter on "UN" and "SOSE". There's a lot of other talent in this band as well and we'll see who's gonna be involved this time.
Luxi: Have your roles changed over the years when it comes down to the songwriting process? How are the responsibilities shared between the band members?
Esa: I write most of the songs but Sami will be there as well and put his best effort into those songs. He has some great ideas and I'm sure his style fits really well with mine. Back in the early days I basically did all the music so now it's possible to get some back up for that. But we'll do it the old way, meaning that I have most of the main riffs and Sami puts his special things on it.
Sami: It would be too long a story to go into the details, but the roles have changed a lot on each record I've been involved with. On "Shadow Mechanics", we had unfinished songs from ten years period and everything was put in its final form in the studio. On "Let Chaos Prevail" we used totally different methods. Guitarist Jussi Kiiski and I spent a huge amount of time to make the songs musically as ready as possible before we even introduced them to the other guys. Then Tero did almost all lyrics and Tuomo added his drum ideas and Tuomas Ala-Nissilä his vocal ideas. When we entered the studio, everything was planned well before. The writing process of the next album will be different again. We have already found some good ways to work together. I'm sure it's gonna be one helluva journey!
Luxi: I guess it's also very important to know that there's going to be two different line-ups for Demigod from now on: the one that concentrates on creating new material, and the one that will solely play gigs, due to everyone's situation in their personal life and stuff (families, daily jobs, etc.). However, do you think some purists and narrow-minded fans of the band may take this (ultimate) solution as a betrayal of the band's old fans if they didn't get to see the original line-up live too?
Esa: Well, as I mentioned earlier we don't have the knowledge of the final line-up yet. Right now I want to concentrate on writing new material. In case we play gigs in the future we then must think of the live line-up again. After Tuska gig (29.6.2012) we'll start putting our new songs together and pretty soon after that we know who's in and who's not. I don't feel like we betray anyone we just want to be sure we get the right persons to play in Demigod.
Sami: I wouldn't speculate about this line-up thing any further. We all have our work and family commitments, but we also have passion for music. Whatever line-up there will be in the future, I don't give a shit what people think as long as it feels right for the band. Every Demigod member has always had an important role whether it's been in a live or studio situation.
Luxi: Much to my privilege, having already gottwn this tiny privilege of hearing two of your unfinished new songs - thanks to you Esa - I must say all those fans who better liked the musical direction of the classic debut demo, "Unholy Domain" and of course the even more legendary debut "Slumber of Sullen Eyes" won't have to be disappointed at all by the stuff you've slowly started working on. Would some of you fuel this bushfire a bit more by telling both old and new fans what's your main priority right now regarding Demigod's return back to form as far as the band's new stuff is concerned?
Esa: For me Demigod always was an old school Death Metal band. Some songs after Slumber like "Gates of Lamentation" were written for a Thrash band called Neverborn. When we took that thrashier approach, it was our intention to change the band's name. Eventually those songs ended up on "Shadow Mechanics" and became Demigod songs. At the time I was no longer in the band but other guys decided to have the old name back. In my opinion fans of early Demigod should look forward to hearing the new Demigod stuff. It's gonna be the sinister atmospheric Demigod of the early days. My intention is to create a natural continuation for "Unholy Domain" and "Slumber of Sullen Eyes".
Luxi: Demigod's live gigs have successfully been tested a few times already, ever since the original vocalist and songwriter Esa returned back to do the vocals in the band, and the response has obviously been kind of overwhelming to say the least. Demigod played just recently at Maryland Deathfest in Baltimore at the end of May, where bands like Autopsy, Morbid Angel, Godflesh, Napalm Death, Pentagram, Artillery and so on, were some of the headlining acts. What can you tell us about your performance at Maryland Deathfest this year? How well did the audience remember Demigod, what type of response you received after the gig, etc...
Esa: It surely was great to perform at MDF a couple of weeks ago. There were many diehard Demigod fans who I suppose liked what they saw and heard. The sound was pretty awful at first but got better during the set. It also was at least my first time playing in daylight but we enjoyed it anyway. It was absolutely amazing to see so many people even knowing our lyrics and singing along me. We always had a dream of playing one day in the US and now we have done it twice as we also performed at Rites of Darkness III last December. The American audience still remembers us and our old material. I can honestly tell you that I'm more than pleased of having had these opportunities. I had a lot of friends after our performance and didn't have to buy a beer, heh! I wanna thank all those who came to see us at ROD and MDF, it was amazing.
Luxi: Do you find it sort of flattering and even heartwarming that people seem to be so openly excited about Demigod's return to their original form, giving you constantly such positive and supportive signals that makes you really feel it's a perfect time now to answer their calls to make new material with the original line-up? I think this is the kind of thing in the big family of the Metal community that if you kind of 'take' something from someone, eventually you need to give something back
too. That's why bands have fans fo,r and this warm and supportive interaction between the bands and their fans seems to fuel the fire by itself, which is naturally nothing but great in my opinion...
Esa: Oh yes, I definitely feel flattered about the feedback. I never thought it would go like that in the first place. It's kinda unnatural that people still remember those old songs and want to come and see us performing them. I guess you are right, this time it's our turn to give back something and probably new songs will be the right gift for the old fans.
Luxi: At the recent gigs that you played, your set list was based purely on the band's early material; the "Unholy Domain" and "Slumber" era. Supposedly this is how it's going to be in the near future as well: Demigod will only play songs off of your debut album and old demo songs, for as long as you don't have any new songs written and ready to be performed. Feel free correct me if I am wrong about this...
Esa: You are right about that. We have now played three "Unholy" and "Slumber"-oriented gigs and one more is to come at Tuska. We decided to do it this way and because we are now composing new material in the same vein, so it's natural we don't play songs from "Shadow" and "Chaos". Demigod is again a Death Metal band so we want to keep it that way also in the future. We really haven't discussed about possible gigs but if we decide to play them, it's gonna be "Unholy/Slumber" and new stuff.
Luxi: Talking about the "Unholy Domain" demo, there's been some rumours going around that Century Media Records might be interested in releasing it on vinyl? How much is there truth in these rumours?
Sami: Those are only rumours. The only valid information comes directly from the band and it would be very stupid from us to reveal these kinds of things prematurely.
Luxi: Speaking of the aforementioned two lil' devils, do they both make you still proud of what you were capable of accomplishing back in the day, to actually record them and realizing how much both of them are being praised nowadays as sort of cult and immortal Death Metal releases by the fans?
Esa: Of course I'm proud of both "Unholy" and "Slumber". They were musically mostly my soul's dark creations and someone praising them as classics make me almost speechless. Seems like both have tested the time and survived pretty damn well. There even seem to be people who were not even born when we released them and are now fans. That amazes me every time I think of it.
Luxi: Acknowledging how you managed to cause lots of indescribable, positive impact on people with both your first demo and debut album, I was just wondering whether it may put you under some sort of pressure, especially now that you need to impress your fans with new material?
Esa: There always is pressure when you start composing new material. You constantly think in your head what the fans think of the songs you did. But the pressure is also a good thing. It drives you to your best and you definitely have to give all the effort you possibly can. I don't want to sound too confident but I'm sure our old fans are gonna like our new material.
Luxi: I was told that you were also offered to do some sort of mini-tour in Spain this year but since all of you need to concentrate on your personal life - jobs, families and stuff - and most importantly, writing new material, you unfortunately had to turn down the offer. As far as I have understood, you do have a few important reasons for taking this break from doing gigs, which could be a possible interest for labels to start working with Demigod again. Would have anything new related to that to reveal to curious parties?
Esa: Yes, an old friend of the band contacted us and asked us to make a mini-tour (4-5 gigs) in Spain in September/October but we had to refuse this time. We decided not to perform after the Tuska gig mainly because we want to concentrate on doing new songs. I just don't want to only perform twenty years old songs over and over again. It would get ridiculous that way. We also have very big and important things going on in our personal lives so a tour at that time is definitely out of question. Well, I can't be too precise but those things are very important family issues.
Luxi: Demigod will play one last show at the Tuska festival in the end of June and it's (supposedly?) Demigod's first ever performance at this particular festival. How does it feel like to be a part of this somewhat legendary, domestic Metal festival? Demigod's slot will be only 30 minutes in length so please try to avoid prolonging your set with any annoying drum + guitar solos, "do yo have any fun out there muthafukkas..." mumbo-jumbo talks with your audience and such. Seriously though, what can people expect from your live performance at Tuska 2012?
Sami: Actually we have played at the Tuska Festival once before; ten years ago. Thanks for reminding us Luxi, but I don't think it's going to be too difficult for us to avoid those things you mentioned, heh, heh!! You're right, 30 minutes is quite a short time but I think it as a possibility to add more intensity to the
show. So it will be worth checking out.
Esa: I have never played at Tuska before so it's going to be my first time. 30 minutes is ridiculously short time but there's nothing we can do to change it so we'll give our best for the audience. There will be no solos and bullshit talking, you can expect six "Slumber" songs and a good show for sure.
Luxi: I guess that was it. My main purpose for doing this interview was to set some facts straight regarding Demigod's return to the limelight. Demigod has returned, and obviously none of you takes the band's return too lightly. If there's anything else that you would like to share with the readers of The Metal Crypt - and first and foremost, with the fans of your band - then feel free to do so now to conclude this interview about your official return. Thanks to all of you, and last but not least I want to sincerely wish you all the best with all your future endeavors...
Sami: It's been our pleasure! Thanks for doing this interview Luxi! Thanks to all the Metal Crypt readers and extra thanks to all amazing Demigod fans out there! Demigod will return with brand new shit so let's keep in touch!
Esa: Thanx for the interview man. Be prepared for the new Demigod stuff and keep the old school Death Metal alive.
The Metal Crypt - Crushing Posers Since 1999
Copyright © 1999-2023, Michel Renaud / The Metal Crypt. All Rights Reserved.