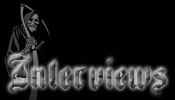 J.J. Hrubovcak
Interview with J.J. Hrubovcak, Hate Eternal bassist and creator of Death Metal Christmas
Interview conducted by MetalMike
Date online: April 20, 2014



Back in December 2013, an independent EP was released by Hate Eternal bassist J.J. Hrubovcak on which he took classic holiday music from familiar hymns, rearranged them for guitar, bass and drums, added Death Metal vocals, courtesy of his brother, Mike and set to them a story of Azrael, the angel of death, and the downfall of man. For anyone who grew up even vaguely aware of the Christmas holiday, many of the songs on Death Metal Christmas – Hellish Renditions of Christmas Classics will sound familiar though they are now, most assuredly, committed to the realm of Heavy Metal. I asked J.J. what his motives were for creating this story and how it came about, as well as what is happening with his main band, Hate Eternal. Obviously, life caused a bit of a delay from when this interview took place and it actually appearing at The Metal Crypt, but what could be better than a little (Death Metal) Christmas in April?
MetalMike: Hey, J.J., how are things going at the moment?
J.J.: Things are going pretty well at the moment. I'm just finishing up touches on a few promotional materials for the EP while trying to cover every other responsibility that comes with this time of year.
MetalMike: I guess I'll jump right in and ask you about your latest release, Death Metal Christmas – Hellish Renditions of Christmas Classics. What made you decide on a project like this? It is
obviously not meant to be just something you whip out around the holidays, but a record that stands on its own, correct?
J.J.: I've been meaning to do something like this for a while because I've always respected these super dark hymns from my childhood and thought that they would make great adaptations for death metal. The original hymns were dark and forlorn and done in minor keys. Also, I wanted to do some lead guitar work because I haven't done any recordings on guitar in a while and this idea just kept eating at me and eating at me until I had to do it. I only used the basic themes of the tunes and then built around them and twisted the lyrics. Also, I knew I didn't want it to be a joke. I like old school early 90s serious death metal played with a passion in an aggressive manner.
MetalMike: I've read some of the press materials for this album and I think it is quite interesting that you've taken these songs, which have been around for hundreds of years in some cases, and adapted them to a new story of humankind. Did you write all the lyrics or did your brother, Mike (vocals), help out? Where did the idea for the story come from?
J.J.: I wrote the music and lyrics and wanted them both to be dark and serious and relate them to a possible/fantastical path for humankind in the present. The basis of the story is as old as man and it repeats itself throughout history but in the lyrics, it's on a much more massive scale. Azrael is the angel of death in some folklore and it fit well with the lyrics where Israel was originally used. It also fit with a story of a pre-ordained angel of death (though he doesn't know it himself) born in human form that rises through the political ranks to rule. Azrael is not just a person in this story though, but a mindset. He only seduces world leaders and man because man is willing to follow
and there is a reciprocal feeding of thought. He is just a manifestation of this mindset. In the story, the people truly believe in something that is ultimately harmful to them but only because they "buy" the seduction and turn away from critical thought.
MetalMike: Why did you choose the particular songs on Death Metal Christmas? Were they melodies that you felt people would be able to identify with quickly or did they suit your writing style better?
J.J.: These were tunes that I've always wanted to hear in a death metal context. When I was reviewing tunes, I didn't want to get too obscure. I was wondering if "O Come, O Come Emmanuel" would be recognizable to folks who didn't grow up in a catholic household, but at the same time I wanted these songs to stand on their own anyway.
MetalMike: "Greensleeves" and "Dance of the Sugar Plum Fairy" from The Nutcracker are ingrained in the Christmas tradition. You've included them on Death Metal Christmas as instrumentals. How do these pieces fit into the story of Azrael that you are telling on the
album?
J.J.: They don't actually! haha The main focus for the record is the music. There's a lot of effort in the lyrics and the story as well, obviously, and that's an important part of the record, but it's primarily about the music.
MetalMike: Do you envision this as a one-time project or can you see a future in which additional carols get the J.J. Hrubovcak/Death Metal treatment?
J.J.: I'd like to do it again at some point and there are other more obscure hymns that would sound great with the death metal treatment. It all depends on schedule really.
MetalMike: Were there other carols that you considered but just didn't work out they way you hoped? Did copyrights play into any of the decisions or is the music you chose in the public domain?
J.J.: I looked at others, but I always liked these and saw them as somber and darker tunes growing up so I just mainly focused on these five. However, I did check to see if they were in the public domain before getting too far into them. I think it would be totally impossible to twist one of
the pop tunes like Frosty or Rudolph into something dark without making it unrecognizable. The main theme of the song is just too happy to start and I wouldn't want to make it a joke by just lifting the current melody.
MetalMike: Death Metal Christmas has not been released through a traditional label, so where can fans get their hands on a copy? Was there any label interest or did you want to keep full control over the project?
J.J.: They can go to http://www.deathmetalchristmas.com. I posted original and new lyrics side by side for comparison with short blurbs about each song. There are also reviews and news as well as links to the Bandcamp and CDBaby sites where actual purchase is handled. Folks can also get it at iTunes and Amazon, though for guaranteed availability, go to http://www.deathmetalchristmas.com. I never contacted labels for a variety of reasons and if you think about it from a label perspective, a one-off, five-song, Christmas EP with no touring behind it would be a huge risk.
MetalMike: Do you think fans will ever heard any of Death Metal Christmas in a live setting?
J.J.: Maybe some day, but I'm super busy with H.E. so I don't see it anytime soon.
MetalMike: Have you worked with your brother, Mike, much in the past? Was it helpful to have someone you know well with you during the creative process?
J.J.: Yes, my brother and I started out together in our own band and we've done a bunch of other records together in various bands. I have a chronological discography on my personal site http://www.liquidenergy.net. It's always great to work with my brother! My creative process on this one consisted of locking myself away in a cave like a troll writing music and lyrics. haha! Then I called him about doing vox and art and his creative process went to work and he developed some amazing artwork that really fits the feel of the EP.
MetalMike: You also had Hate Eternal cohort Erik Rutan engineering Death Metal Christmas. Was he able to help you get the exact sound and presentation you wanted?
J.J.: For sure! He worked like crazy to get some fantastic tones. Brian Elliott mixed and mastered and they both worked really hard on it. The guitar tone slays! The chords sparkle and the tone is super full as is evident on the verse of "Earthen Kings."
MetalMike: Speaking of Hate Eternal, what is next for you on that front?
J.J.: We are writing for a new record and it is coming along very well. We send Pro Tools sessions back and forth as well as Skype since we are in two different states.
MetalMike: Last question; what is on your holiday wish list? Some industrial-strength bass strings? An evil-looking guitar? A Venom picture disc from the 80s? : )
J.J.: All of the above! I was looking at one custom guitar that looks like a live arachnid! But it's four grand, so that's out! haha!
MetalMike: Thanks for taking some time to answer my questions, J.J., and thanks for creating a Christmas album for the Metal masses! Any last thoughts or things you'd like the readers of The Metal Crypt to know that we didn't talk about?
Thanks for your time! And be sure to check out the website http://www.deathmetalchristmas.com
The Metal Crypt - Crushing Posers Since 1999
Copyright © 1999-2023, Michel Renaud / The Metal Crypt. All Rights Reserved.