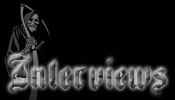 Interview with vocalist, guitarist and composer Hart Bachmier
Interview conducted by Luxi Lahtinen
Date online: January 31, 2019



Canada's semi-legendary tech/deathrashers, Disciples of Power, are undoubtedly a band that deserved more success than they achieved during a career that started in Edmonton, Alberta, in 1986. Back then they were a three-piece called Warthorn but soon changed their name to Disciples of Power.
These Canadians were relatively well known during the heyday of the tape-trading scene and their demos spread across the globe. Eventually the band signed with Toronto-based Fringe Product where they recorded their first couple of albums; Powertrap, which saw the light of day in 1989, and its follow-up Ominous Prophecy, three years later in 1992.
The band released three more albums between 1993 and 2002 (they also toured quite a lot during that time) before
splitting up in 2003. They reunited in the fall of 2012, this time with Shane Hawco fronting the band. He quit in 2015 and Spencer Ball filled in the vacancy.
Since the reunion, things have become a bit more complicated, to say the least. As everyone knows, the Internet is full of all kinds of news, even fake. It is hard to know what's true and what is not. Speaking of that, The Metal Crypt tried to find out what is happening with the band these days and was only able to reach original vocalist and guitarist Hart Bachmier, who told his version of the band's current, bizarre and even ugly situation.
NOTE: Hart Bachmier's comments and opinions are his own and do not necessarily reflect those of The Metal Crypt.
Luxi: How's life, Hart? Did you make and resolutions for 2019?
Hart: Yes, good day to you all, my friends! How are you? I am fine. My name is Hart Bachmier. I am the original founding member, composer, writer of the lyrics, writer of the music, guitarist and VOCALIST, manager and owner of all copyrights and trademarks of Disciples of Power.
As for New Year's resolutions for 2019, yes ... yes ... yes ... every year I try to be a better human being; more compassionate, more open to my brothers and sisters and their endless problems. Problems of war, poverty, abortion, food, medication, pollution, bankers and unfair dispersal of the financial wealth of this planet. Sick doctors, fake bankers, fake politicians, fake real estate agents and so on. My New Year's resolution is to inform you all about the truth and be a better person for it. "Have no fear" is a t-shirt we used to have. "No fear...".
Luxi: There's some confusion on the Internet regarding Disciples of Power. Some claim this Canadian speed/thrash/death metal powerhouse is still active, and some say it's not. What's the truth? The band is said to have reunited in
the fall of 2012, apparently without you, and played their final show at Manitoba Metalfest in April 2017. Excuse me, but the reunion without you fronting the band sounds like Anvil going out to do some gigs without Lips, to be honest...
Hart: I AM THE UNDISPUTED OWNER OF DISCIPLES OF POWER 100%. DO YOU ALL UNDERSTAND??!!
Yes, I see what you mean regarding the Internet. It seems to be one big lie one minute then the next minute shades of the truth. In my case, yes, there is a lot of incorrect information on the Internet as of right now about my band Disciples of Power and I will take it all down as soon as I can and as soon as I have time, OK?
Last year I did drop about 50 fake Disciples of Power videos from YouTube. They were all fake, by the fake Disciples of Power!! In 2017, I took down or dropped around 50 fake Disciples of Power videos from YouTube; live videos, interviews, festival shots with my music, my songs. So, I made YouTube take those videos down and when I did, the false Disciples of Power and their fake Facebook account ceased to exist because they had all my songs and other fake videos. My copyright override rules supreme. It rules! I am Disciples of Power. End of story...????
All this fake false news about the false Disciples of Power was all bullshit!!! I never gave anyone permission or a blessing to steal MY MUSIC!!! Those ex-members are not songwriters!! They had 20 years to put out their band's album, Section VIII.
Don't steal my music. Don't steal my money, don't steal my thunder, write your own music, make your own money and make your own thunder!!
They made up a bunch of lies about me, my life and what I do, my music and tried to systematically destroy my image and take me out of my own band. It is one hundred percent bullshit what these losers spread about me. So unforgivable. I will never talk to them again!!
As for taking down the fake Disciples of Power I am actually very busy with writing different musical projects; heavy metal, jazz rock, even country rock. I'm always in the studio working, practicing, and I do not have time or even enjoy being on a computer. You cannot write music on a computer! I don't care what kind of music; it is not music!!! I write music with my hands, my mind, my guitar, my piano, my instruments. I cannot write music on a computer so don't let all that wrong information bother you! I am the owner of this band, Disciples of Power, and eventually, in the next few months I will take down all the fake and false information about me and my band that is on the Internet.
Luxi: Was it tough in 2010 to decide you no longer wanted to be a part of the band, which was pretty strange to hear from you?
Hart: I never said anything like that in 2010.
In 2010, I bought a small ad and did a small interview with a magazine from Edmonton called View. I told them that
this fake Disciples of Power was going on or would be happening soon and it was not real. I said I would never reunite with those ex-members who later on went to put out the false Disciples of Power.
It made my life a fucking misery and living hell for four years. I told them to quit a hundred times, but they were lost in their little world of illusion and did not listen to me ... idiots!!
I told the magazine that I would never reunite or even converse with those people again and I did apologize as a Christian. I've always been a Christian since I was 8-years-old but in 2010 I wanted to apologize to people for my music if it offended them. It did offend some folks that don't like metal...
As a Christian, you have to publicly confess your sins or repent and I never was a drugged loser or owned money or ripped off people like everyone else. I said I never fucked people's girlfriends or had a debt you know, or rolled with pigs if you know what I mean. This was my only real sin and I was repenting for my music. God knows I did drugs one year in 2003. I didn't have any drug debts, I didn't have any credit card debts, I didn't mentally destroy anyone.
So, I told everyone my sin is my music, to some people, not to me. I totally love heavy metal and my own music, all of it, every note. But I said if my music offended you I am sorry and that's it. Everybody, and I mean EVERYBODY, blew it way out of proportion and View magazine only printed a portion of my interview. THE AUTHORIZED OFFICIAL DISCIPLES OF POWER FEATURING ORIGINAL FOUNDING MEMBER HART BACHMIER IS 100% ACTIVE. The Disciples of Power from 2012 to 2017 was fake, Ok?
Luxi: My first contact with Disciples of Power happened through your excellent 1988 demo, Power of Death. I remember getting an original copy from someone in the band back in the days of tape trading. Do you remember those times in a good and positive light?
Hart: Yes, it was a good demo tape, Power of Death by Disciples of Power. I wrote it all, recorded it, jammed it, sang it, took it to the streets in 1987. Indeed, it's a good tape. The demo is included on the Vic Records rerelease of the Power Trap CD and it's out now! Yes, I wrote a thousand letters and sent a thousand tapes around the world back in the day ... the world of zines, radio stations, other cool bands and as always, it was financed out of my own pocket—like always. I financed Disciples of Power out my own pocket 100%. I still have zero debt.
Luxi: You were one of the prime motors in Disciples of Power as far as the band's songwriting process was concerned. Can you tell us a bit more about the early days of the band when you started out back in 1986-87?
Hart: Yes, I formed this band in Edmonton, Alberta, Canada back in 1986 and at that time called the band Warthorn before changing the name to Disciples of Power. The original line-up was the following; Hart Bachmier (me) on guitars and vocals, Scott Schieldberg on bass and Brad Smith on drums.
From 1986 to 1989, we made three demos and appeared on a vinyl compilation and did a lot of Western Canada and Alberta shows with D.O.A., D.R.I., Anvil, Beyond Possession, Iron Gypse and just tons of hardcore/punk shows. I had an old school bus and we toured constantly by moving from place to place using that old bus.
We moved from Edmonton, Alberta to Ottawa, Ontario, in early 1989, signed with Cargo Records, played with Anvil, Exciter, Annihilator, Forbidden, Sacred Reich, etc. We played good shows in Ottawa. Cargo then pulled out of our two-album deal. We recorded Disciples of Power's debut album, Powertrap, in Ottawa, Ontario, in August 1989.
In November 1989, I moved the band to Toronto. We took our new recording to Fringe Records and Brian was there and
loved it and made me a promise not to sign with anyone else. Then Ben and Angus loved it. We signed a two-album record deal with the Fringe Records and we played downtown at the Gasworks. That was a dream come true!! Then we packed it up to head back to Edmonton. I remember driving through a blinding snowstorm from Ottawa back to Edmonton.
Luxi: In Canada, the underground metal scene in the late eighties was well known worldwide. Bands like Sacrifice, Infernäl Mäjesty, Razor, Piledriver, Annihilator, D.B.C., etc., gained a good amount of success and fame among the international metal community back in those days. Did you look up some Canadian metal bands in the late eighties, sort of wanting to gain some attention and success for Disciples of Power as well?
Hart: Lots of great Canadian bands; Rush, Voïvod, Zimmers Hole, Aggression, Dyoxen, Beyond Possession, "thunder mug" Disciples of Power, Strappado, Fist, Devin Townsend, Blasphemy and many more, and all you mentioned. Canada has its share of innovators. Yes, I'm one as well; an innovator. Great job, Canada! In all thy sons command!!
Luxi: I consider D.o.P. an underrated metal act. You recorded five quality albums but never got any of the limelight. Do you see any reason for this? Do you believe your music was perhaps a tad too complex for many label owners back in the day when record labels were looking for perhaps more "safe and easier sounding" metal acts for their rosters?
Hart: Yes, yes indeed. I wrote the music for five albums, three demos, spread the technical metal vibe in the eighties and nineties, and so on. My albums speak for themselves!!! I AM DISCIPLES OF POWER, accept no substitutes and yes, I was ahead of my time. I am ahead by a century. I love metal fast, hard and technical, like hot younger women like ... me!!! Ahead of my time, yes. Complex, too hot to handle.
Luxi: Did you consider Disciples of Power as some sort of trendsetting back in the day?
Hart: Yes. My writing and playing styles are a major influence on many newer, complex metal bands. I have been told this by many people. And my vocal stylings have influenced a generation. It's just, you know, great to hear! I never died or quit. My band will live forever, my music is an infinite number—thank you!
Luxi: What's the story behind you guys signing to Fringe Product back in 1988-89?
Hart: Fringe was great! We got no money, but we didn't care so much, after all we got CDs, records and tapes and a lil' tour support.
Luxi: Fringe Product was an independent label, founded by Ben Hoffman and he released a lot of cool stuff, including D.o.P.'s first two albums. What was your relationship with the label owner, Ben, like? Did he treat the band equally compared to his other signings?
Hart: Yes. Fringe got into trouble with the obscenity act. Fuck. I was mad at the government. We were 100% behind Ben Hoffman. I phoned him and offered my prayers of victory to him.
Luxi: I read that the label's activities ended in 1995. I don't know how much the "obscenity charges" had to do with the downfall of his label, but obviously Ben was suffering from pretty tough times trying to keep his head above the surface in the (harsh) music business. Here's a quote from Wikipedia; "in 1988, obscenity charges were laid against Fringe Product and Record Peddler, on the basis of their distribution of two albums by Dayglo Abortions. It was the first time that the Canadian obscenity laws, established in 1959, were used against a record label. A jury cleared the companies of the charges in a trial in November 1990. Do you know anything more about the things that led to the final doom of his label?
Hart: We toured with Dayglo Abortions a lot and those LPs were, well, F**K all!! I thought Fringe would win for sure...
You know, nowadays I see worse at the shopping mall; young girls dressed up like hookers selling perfume, boys looking like girls, violence everywhere, no justice so fuck the Canadian government!! FRINGE PRODUCT IS THE SHIT!!! But Ben Hoffman was selling original pressings of Powertrap for years for as much as $200 a piece on the Internet!!! And my second album, Ominous Prophecy, Ben was selling those for $250, and that's US dollars!!! My albums went as high as $700 for the first press on Fringe Records, can you believe this? So, I doubt Ben Hoffman was hardly ever broke...
Luxi: Do you miss those days, being a part of Fringe's catalog? I am sure you had both good and bad times under the label's caring wings, right?
Hart: Fringe was great!!! I never talked to them much. We got no $$$ from them at all and we did just two albums for them but whatever, they have been gone a long time now. R.I.P. Fringe Product!
Luxi: As I mentioned earlier, all five D.o.P. albums are truly quality metal albums, at least in my book. Which is the one that gives you joy most and why?
Hart: My favorite album is Mechanikill, the fourth D.o.P. album. It breaths. I wrote it, played guitar, bass, and did vocals on it. I produced it, engineered it and it just kicks ass!!! They are all great albums. All my albums rule as sort of glorified demo tapes but whatever they sound awesome, but I didn't have money and survived on a shoestring budget for these
recordings. But all five D.o.P. albums rule...!!!
Luxi: You even did a couple of quality videos when you were still leading the band; "Crisis" and "Nature's Fury." Did the making of them bring some extra exposure to the band? How much did they actually help to get the band's name around back in those days? Did you have a good budget to do those videos?
Hart: Those videos were done through grants and loans. They made me and my band a household name in the '90s for a bit there, LOL. Great videos... I wrote them all ... lots of work. Do you understand?
Luxi: I believe you did a lot of shows around the Alberta area where the band originally came from, but also played outside of your hometown as well. I am curious to know how these shows were for you, some thirty+ years ago? I know now that you opened for the likes of D.R.I. and Anvil back in the day...
Hart: Touring was great!!! We toured a lot in both in the eighties and nineties, with DOA, D.R.I., Anvil, Sacrifice, Razor, Exciter, Kreator, Devin Townsend, Annihilator, The Kill, Caustic Thought, Forbidden, Master, Sacred Reich, Cremation, The Smalls, Fist, TOPS, Metalist, Beyond Possession, Mudhoney, Excel, J.J. Cale, SNFU, Aggression and more...
Luxi: Did you dream of making the band so well-known that you could make your living playing as many gigs as possible abroad as well? This, naturally, would have required lots of work, sacrifice, determination and even some luck...
Hart: I never would have thought that my music would still be around after all this time, maybe a few years but a few decades have gone by and I'm still steamrolling—and it's endless now, haha!! I'm the prime mover, giver of Canadian tech thrashdeath music. Yes, sir. I'm new and interesting again. Folks love my band Disciples of Power. Yes, friends everywhere... I sacrificed everything... I burned the midnight oil ... put the eye to the keyhole ... candles burning both ends eternal ... all night long 34 years of D.o.P.!!! Yes, I'm very pleased and money means nothing!! Alright, I need it but it's the root of all evil ... amenkill!!!
Luxi: Do you still have your Black Sabbath tribute band After Forever active? What about Dead Mans Train? Do you want to keep them as your hobby bands only, or do you have some more serious intentions regarding these two bands?
Hart: Yes, After Forever (disciples of metal) is a Sabbath/Iron Maiden/Judas Priest and Rush tribute band. It's just to try out musicians for D.o.P. We have fun, building stamina, playing classics, getting women, lalala a bit. DISCIPLES OF POWER IS 100% ACTIVE ALRIGHT!! But I love my life—and I love metal!! Dead Man Train is just called Dmans Train now. I have two hard-rocking albums with this band, both to be released in 2019!
Luxi: Well, I think that's all I had in my mind at the moment, Hart. It was a pleasure to "talk" to you, and I want to wish you all the best! Any closing comments perhaps?
Hart: Yes, you are cool and smart ... thanks! You rule!!!
I'm on a few labels in Europe. Out now on Vic Records, both as CD only; Power Trap and Ominous Prophecy.
Out on Ukraine's Poizon Records (as CD only): Invincible Enemy and Mechanikill.
Also, out on Sweden's Blood Harvest Records (as colored vinyl only): Powertrap and Ominous Prophecy. Coming soon on vinyl: Invincible Enemy and Mechanikill.
Coming soon on Divebomb/Tribunal Records, USA (as CD only): In Dust We Trust.
Thanks & regards,
Hart Bachmier (Disciples of Power)
The Metal Crypt - Crushing Posers Since 1999
Copyright © 1999-2023, Michel Renaud / The Metal Crypt. All Rights Reserved.