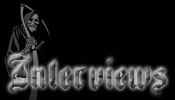 Marc Lopes (Ross the Boss/Let Us Prey)
Interview with vocalist Marc Lopes
Interview conducted by MetalMike
Date online: October 27, 2019



Live photos by MetalMike
Back in the late '80s, I was the metal disc jockey for my college radio station, and we used to get demo tapes from all the local bands. One of those bands was called Hammersmyth and it was obvious they were a leg up on all
the other bands in terms of their talent and their songwriting. Marc Lopes (he went by Marc Alan back then) was the vocalist and when a singer can pull off "Queen of the Reich" live, that's talent. As it did for a lot of us, the metal landscape changed and the guys in Hammersmyth went their separate ways. Marc soldiered on, fronting several bands and even sung lead vocals on Meliah Rage's Warrior album, patiently waiting for the opportunity to live his dream. A chance encounter with former Manowar guitarist Ross the Boss was the spark that has now led to world tours, finishing up a second album with the Ross the Boss band for AFM Records and playing to thousands at major festivals in Europe. Pretty good stuff for the young man belting out "Queen of the Reich" for dozens of friends and family in a small New England city 30+ years ago, and a prime example of how perseverance in the music industry is crucial to success. I had the chance to catch up with Marc prior to Let Us Prey opening up for Battle Beast and he was kind enough to recount the strange road that has led him to where he is today as well as what we can expect from both Ross the Boss and Let Us Prey in the not too distant future.
MetalMike: I'm here with Marc Lopes, lead singer for Let Us Prey and Ross the Boss.
Marc: Right!
MetalMike: We go back a long way...
Marc: We do
MetalMike: You were in a band called Hammersmyth and I was playing your demos on my college radio station
Marc: Yes
MetalMike: How've you been these days?
Marc: Busy. Lot going on, recording the new Ross record, getting ready to finally release the Let Us Prey record. I have another project called Dark Day Sunday with Frank Aresti from Fates Warning and Jason Bittner from
Overkill. I just got an email today asking when I can start recording the vocals for that and I don't know, lots going on. A lot of touring coming up, too.
MetalMike: Going back to the beginning, what got you started? I know you did "Queen of the Reich" with Hammersmyth, so was Geoff Tate the guy or was it someone before that?
Marc: Bruce. It was always Bruce. He's the all-time hero for me. But it was Bruce, then Tate, Halford, John Bush, you know, Warrel Dane, classics. And Manowar, of course, with Eric Adams. The funny part of that story is I remember listening to Manowar thinking, "This guy sounds like he's going into battle at every fucking turn, how does he balance that super beautiful tone with that banshee, berserker scream?" Never did I think I'd have to do it some day!
[*laughter*]
MetalMike: Speaking of that, how did this thing with Ross come about? You've been in this business for a long time, singing with Ross must be a huge deal for you.
Marc: It was actually pretty strange. I was hanging out with Death Angel on their tour bus at The Chance in New York. It met this guy named John who works with Mark from Death Angel and we hit it off and became friends. A couple weeks later, he calls me and asks if I can fill in for a couple of covers and a couple of original numbers with his band at a show opening for Ross. I thought it would be fun, get me into the New York market for my own stuff and I'd never seen Ross play. I never saw Manowar with Ross. Little did I know that would be my audition. So, I went up and did the show, no rehearsals, saw Ross play and got to meet him afterward, never thought anything about it afterward. A couple weeks later I get a call from my buddy John who is Ross' best friend asking if I can tour. I said, "yup". He asked, "do you have your passport?" I said yes, when I didn't, but I knew I could get it quick, just a little
lie. "How do you feel about doing Manowar songs?" I said, "sure" even though I've never sung Manowar songs in my life. I was totally fibbing because I never expected anything to come of this. The guy they had was awesome. "What do they want with me? I don't fucking sound like Eric Adams". We opened for Ross at another show, he came up to me and said "dude, sounds awesome" and then I got the call asking if I could go on tour in Mexico and Europe. I said "sure" even though I had no idea, no business doing it, no time to rehearse. I was learning Manowar songs on short notice with no idea what the fuck I was doing. At the beginning, it was brutal.
MetalMike: It's not like you didn't know all those Manowar songs...
Marc: I did, but I didn't. It's different singing them in your room and having to perform them. Manowar fans are just as hard-core as Maiden fans, probably worse.
MetalMike: You've had the chance to tour all over the place, which must be awesome.
Marc: Oh, yes.
MetalMike: What the difference between over in Europe and here in the States?
Marc: Easiest answer in the world; culture. Metal and music are culture there. It's not something they do on the weekend, it's life. It's all ages, too, not just the old schoolers, it's the youngsters. They are passionate and when you get a fan in Europe, it's for life unless you fuck up and make a rap record.
MetalMike: Did Ross give you any indication of how he wanted you to sing the Manowar songs or has he let you put your stamp on them?
Marc: That's interesting because at first, I was trying to imitate (Eric Adams). It's natural but it's impossible. You're trying to imitate the un-imitable. That's fail number one. I almost wanted to quit because the backlash was terrible. I wondered how I was going to do this and if I was crazy. Ross said to me, "do what you do, the way you do it. We're not Manowar, we're not trying to imitate Manowar. Put your own spin to it." It has taken me a very long time to get to that point and it probably hasn't been that long since it finally sank in. I mean it when I
play, the spirit is there but I worried about missing a part and you have to learn to not think that way. I need to do the part my way and not like it was done before and I give Ross credit for hanging in for that long.
MetalMike: Moving on from Ross for a bit, you just released Let Us Prey's EP, The Saint of Killers...
Marc: Well, that was never actually released. We only had promos. The short of the long of that is we were shopping it around and had major interest from different labels but there weren't enough songs. We wrote four additional songs, but I've been gone for two years and we couldn't complete them until I got back. Now that I'm back and we've recorded them, we're releasing a full record. We haven't played, so there are no numbers and with labels today, you need numbers. And the offers we got weren't any better than what we could do on our own. We ended up hooking up with some investors and will be announcing a new company soon.
MetalMike: Maybe once it is out there, a label will pick it up for distribution...
Marc: Yeah, we'll work it that way and see what happens. We'll be on the road next March and May when I'm between tours (with Ross the Boss).
MetalMike: You had the opportunity to write a lot of lyrics for the third Ross the Boss album, By Blood Sworn, right? What was that experience like? You've obviously written lyrics for your own stuff...
Marc: The Blood Sworn album was pretty sporadic. You had "By Blood Sworn" which is Manowar-ish and other stuff that was more modern, lyrically. We were trying to find out footing. This new album is total old school Manowar; battle, blood and death. It's very anthemic. It has to be, that's what works.
MetalMike: Speaking of 2020, that's when we'll see the new record?
Marc: April
MetalMike: And you start touring in January?
Marc: Yes, the Hail to England tour
MetalMike: You'll be playing Hail to England in its entirety. Are you ready for "Bridge of Death" and...
Marc: We've already played them. The only song we haven't played from that album is "Army of the Immortals".
MetalMike: My favorite
Marc: We're going to play it for the first time next week. We'll see how that goes
[*laughter*]
That's my favorite record
MetalMike: Did you get to pick that one (to play front to back)?
Marc: [*whispers*] I picked it.
MetalMike: Nice.
Marc: Everyone wanted us to do Kings of Metal, but the problem is it has too much production.
You can't reproduce it live without crazy backing tracks and we don't do that.
MetalMike: Well, they were with Atlantic Records, had a lot more money and time in the studio...
Marc: Right.
MetalMike: The first four (Manowar) records are just them hashing it out.
Marc: Right, we don't have choirs and orchestras and shit. I like Hail to England because it's the most aggressive record and I like aggressive. We did an online poll and that record won out. It has all my favorite songs so if we have to do one album every night, let's do this one.
MetalMike: Is the rest of this year Let Us Prey and 2020 is Ross the Boss?
Marc: Right now, I'm scrambling to finish the Ross the Boss record, we go to Belgium and Germany next
week, I have a week off then we're in New Zealand and Australia for three weeks. I'll be back in December to finish up some promotional stuff for Let Us Prey so we can release that album in January then I'm on the road with Ross except for March and May which is when Let Us Prey will be playing.
MetalMike: So you guys will be everywhere for the Ross fans to see...
Marc: Yes
MetalMike: Well, thanks for taking some time to talk to me. Anything else you wanted to say that we didn't touch on?
Marc: Support the new bands. Check out the Let Us Prey album when it comes out. Financially and promotionally, it's a crazy business now. It is very hands-on, do it yourself and a lot of people are doing it. It works, because you have more control, but without the fans, there's nothing. So, if you like it, support it. Spotify it, go to a show, buy a CD, like a YouTube video. If you want to keep hearing it, you have to support it. That goes for any band.
MetalMike: Congratulations on everything, good luck. I'm glad to see someone I've known for a long time finally have success. Good luck on the show tonight.
Marc: Thanks, it's going to be a good one.
The Metal Crypt - Crushing Posers Since 1999
Copyright © 1999-2023, Michel Renaud / The Metal Crypt. All Rights Reserved.