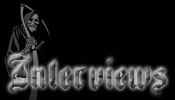 Loud, Honest and Uncompromising Rock 'n' Roll for Life
All interviews conducted by Luxi Lahtinen
Date online: December 28, 2020



Tribute to Ian Fraser "Lemmy" Kilmister and Motörhead (Dec 24, 1945 – Dec 28, 2015)
December 28, 2015, was a sad day for many. The restless soul, true rock 'n' roll spirit and Mr. Motörhead himself, Lemmy a.k.a. Ian Fraser Kilmister, passed away that day. It all felt impossible because everyone was under the assumption that Lemmy would live forever and actually he does, through the music he created with Motörhead over many decades. It marked the end of an era because there can be no Motörhead without Lemmy. The band's engine stopped on that day when Lemmy left this world with his cowboy boots and hat on and joined the heavenly army with other rock 'n' roll and heavy metal musicians who have passed on.
December 28, 2020, marks five years since our iconic hero was laid to rest, so we here at The
Metal Crypt, all being huge Motörhead fans, thought it would be appropriate to remember Lemmy and Motörhead. We asked several musicians what Lemmy and Motörhead meant to them when they first started making music, formed their own bands and what made Lemmy so important. Read on and learn about one of the greatest and truest rock icons ever.
Thanks to Tarja Virmakari of Alpha Omega Management and HFHC Media for their precious help and, of course, special thanks to all the musicians who shared their memories about Lemmy and Motörhead.
"Rock 'n' roll is the only religion that I've found that never lets you down...!"
- Lemmy in a 1983 interview
Which of all the Motörhead albums was the one that influenced you to become a musician and how did it change your view of how honest and loud music can be played, especially live?
Michael Borders (MASSACRE): My mom of all people bought me the Ace of Spades album for Christmas one year. I am pretty sure my friend who owned the record store pointed it out to her and it was the bridge for me from Maiden, Sabbath, etc. to faster and heavier music. But most importantly, it was fun. That made it more influential than any other reason, it had humor, it was fast, it was gritty, and it was real.
King Fowley (DECEASED): None made me a musician, but an early compilation record, Live and Heavy, featuring Sabbath, Purple, Def Leppard, and Motörhead with "White Line Fever" sure put a smile on my face at age 13.
Ronnie "Ripper" Olson (TURBOCHARGED): For me it was definitely the Ace of Spades album that started it all and it still is an influence on everything I do musically. Most of their albums have something that has inspired me along the way and my conviction is that if you don't have any trace of Motörhead in your style, you simply cannot play metal or punk, not even close.
Tony Dolan (VENOM INC.): Motörhead...from the moment I heard THAT opening bass lick... I was a punk rock fan, but the day I heard that opening at a friend's house, I kept picking up the needle and putting it
back to the start for hours. It was some time before I listened to the rest of the album [*LOL*] I think only once I purchased my own copy did I listen to the whole album. Something about THAT sound, THAT song, THAT bass changed my life forever and I knew THAT was what I wanted to do.
Lips (ANVIL): I was a musician long before Motörhead. Rock music has always been known for loud volumes. I think it's fair to say Lemmy got his first-hand experiences of volume when he roadied for Jimi Hendrix. Motörhead were certainly an influence on many bands and musicians but loud music existed for years before.
Dee Dee Altar (BUNKER 66): Well, I consider myself more a music freak than a musician. That being said, I guess Ace of Spades is the answer. That album! I think I'm not even worthy to write my opinion about it hehe, that one together with all the early Motör-stuff is a lesson in attitude both in the studio and on stage. I just saw the anniversary box which came out recently and have to decide if I will give in to temptation and buy it.
Mike Campagnolo (RAZOR): For us here in Canada we were limited by many imports so I would have to say Ace of Spades was the first exposure that influenced the sound of our band to this day. Total raw energy!! Motörhead always delivered!
Phil Denton (ELIXIR): It was the Overkill album, which came out when I was 17 and is still my favourite Motörhead album today.
From the age of 14 I was a big Hawkwind fan, and I played their live album Space Ritual to death. Lemmy's bass playing on that album was absolutely brilliant. When Lemmy left Hawkwind and formed Motörhead, I bought their debut album out of curiosity as a Lemmy fan. I liked it, but it was very much an album of a band finding its feet.
Then when Overkill came out and I was stunned by how great an album it was. From the opening kick drums on the title track through great songs such as "Stay Clean" (with Lemmy's great bass solo)" and "No Class" I think that lineup of Motörhead was untouchable. There was just something about the chemistry of those three musicians that added an extra element that made the band more than the sum of its parts. What I also loved about the album was the variety of the songs. Numbers such as "Capricorn" and "Metropolis" had just a slightly different feel to them and gave the album a touch of class.
I travelled down to the Reading Festival in 1979 (sleeping rough without a tent!) just to see Motörhead on the back of that new album. I also caught them at my local venue in December that year, and they were
great. As a 17-year-old rock fan, Motörhead gave me exactly what I wanted – powerful, loud, heavy rock.
Markus Makkonen (NERVE SAW): Motörhead came along as I was starting out my musical path in the early/mid-90s. It was Metallica who made me want to be in a band and I checked out systematically all the bands they recommended. Motörhead was one of them. Overkill was the first album I got and it would be safe to say it was the one that made the biggest influence as well, but around that time Motörhead released an inhumanely brilliant streak of albums, namely Bastards, Sacrifice and Overnight Sensation and this, maybe a bit heavier form of Motörhead, was the one I paid a lot of attention to. If you listen to the style in which the bass is played on Motörhead track "Broken", you can find a blueprint on how I play bass in my own bands as well.
Maurizio Bidoli (FINGERNAILS): Ace of Spades was my first album ever, but I wasn't too impressed by it because I was thinking of another punk 'n' roll band it reminded me of. Later I bought No Sleep 'til Hammersmith and so totally blown away by it!! I had never heard any album heavier than that before. It had this big wall of sound that felt like a fist punch in my stomach. It's something that you could hear in your home stereo crashing your speakers, which was wonderful, of course. Hearing this album also made me to change my guitar style. I could say that was an Angus Young follower first, but I was spending a lot of my time searching for a new heavy sound and later on it was Motörhead that became my real teacher.
David White (HEATHEN): Well quite honestly, I was already playing in a band when Motörhead came out, but I love all their albums! They have over 20 records and a bunch of live albums and they are definitely an influence on me. The raw power and the raw attitude have always been something that we will always aspire to. Nothing fake about this band!
Titan Fox V (HAMMER KING): Hello there, thank you for having us again! I hope you are all safe and sound in these weird times. I remember very well sitting in a subway train in Berlin and finding out about Lemmy's passing. I must be one of perhaps only seven people in all of Europe who have never seen Motörhead live. They were one of the bands you could practically see on festivals every year, so I thought I would certainly see them "next year" every year. Well, the immortal Motörhead ended before I saw them. I am not influenced by Motörhead very much, but blimey, I love them. Just last year I played all of their studio and countless live albums in
chronological order and I can't say anything has changed in terms of their influence on me, but I love Overkill best. It has such a unique atmosphere, and all the songs are killer. So, I will go with this one here.
Charlie Tsiolis (AFTERMATH): I think anyone that plays heavy music, especially those that play the extreme subgenres owe a huge debt of gratitude to Motörhead. Man, there was only one Motörhead and only one Lemmy. I don't think people can truly understand how wild they sounded compared to other bands back then. They were heavy, catchy, mean and scary looking. They looked like bikers that played this crazy music. Their music and look paved the way for thrash bands. Without Motörhead, who knows if there would be thrash. There would be heavy metal, but the extreme genres needed Lemmy and Motörhead as the foundation. I didn't get into music or want to be in a band because of them, but without them I doubt the scene we were part of would exist. Another Perfect Day and Ace of Spades really got me into Motörhead.
Martin Missy (PROTECTOR): I can't remember if it was one specific Motörhead album that created a wish in me to become a musician myself. It probably was a mixture of albums by different bands like AC/DC, Motörhead, Venom, Celtic Frost and so on. I remember though that the first Motörhead album I heard was No Sleep 'til Hammersmith, in 1981. So probably it was that Motörhead album, with its raw live energy, that made me become a rock musician.
Drew Rizzo (MIDNITE HELLION): Overkill. I got the '93 best-of album as my first Motörhead release, and the songs on it from Overkill are just so pummeling that I had to get that record first. Aside from it being loud, in your face, and filled with killer cuts, it showed their humorous side with the song Overkill truly being Overkill, seeming to never stop. The first band that I was in that I contributed musically to was named Damage Case, and looking back in hindsight it's no coincidence as this album influenced me to start writing riffs and lyrics. In previous bands, I only played drums and had some minimal contributions to the arranging, but something in this record ignited the writing fire in me. In another strange way, Damage Case was the first band I was in where the guitarists played Marshall JCM 800s, and they were always cranked up loud whether in rehearsal or live, which made me play drums harder. The harder I played, the louder the Marshalls went, which made me play harder, which made the Marshalls go louder. I'd like to think Lemmy had something to do with that.
Jaake Nikkilä (DAMAGE SFP): Antti (Remes) used to listen to Motörhead with his younger
brother Jukka, starting in the early '90s. The most important albums were Sacrifice, Bastards and Iron Fist. One of the first cover songs for Damage SFP was "Iron Fist". We still have it in our live set. Why? Because the song fucking rocks!
Daniel "Gumo" Reiß (GUMOMANIACS): 1916. I was 11 years old or so...
Anders Odden (CADAVER): I got to know Motörhead in 1986 when I was deep into the thrash/death/black metal already. The album was Orgasmatron and I loved the harsh and evil-sounding music. It was very different from all other bands and albums at the time and I have loved this album and the band ever since.
Harley Flanagan (CRO-MAGS): I was playing music and gigging way before I ever heard of Motörhead, but they are a huge influence. The first album of theirs I had was On Parole. Ace of Spades was a game changer, I then went and got every Motörhead record I could.
Shaun Farrugia (IN MALICE'S WAKE): Got into Motörhead well into my musical career, but to me they were always a representation of how pure and unadulterated heavy rock & roll could be. One of my greatest regrets is not seeing them live but, by all accounts, they wrote the rule book on loud, over the top loud live shows.
Hugo "Witchhammer" Uribe (WITCHTRAP): Well, I have to say there are two albums from Motörhead where I found inspiration. The first album I heard was Overkill on a home tape recording that a neighbor lent me in 1987. This piece of rock 'n' roll was furious, raw and evilly speed as hell, but the album that got me trapped into played live was No Sleep 'til Hammersmith. This masterpiece is a perfect example of how to play with an honest sound and loud, dirty, heavy rock 'n' roll. It's almost a heavy metal masterpiece, absolutely!
Argy (NIGHTSTALKER): I remember it was the early '80s, I think 1980 or 1981, when I first heard Motörhead's first album and I felt something changed in my life. I had a purpose on this earth, you know. I was learning to play the classical guitar at the time, and I exchanged it for an electric Fender jazz bass. I played that for a couple of years, then I changed instrument again! This time it was drums! When I first formed Nightstalker, I had to sing too because my English was less shitty than that of the other guys! It was that album that pushed me to rock 'n' roll. I wanted to be like Lemmy you know, the coolest guy out there!
Zach Slaughter (SKULL FIST): On Parole. "Keep Us on the Road" is still one of the best songs to me. I hitchhiked to an Iron Maiden concert like 1000 km away when I was 15. Motörhead and Dio were
opening. I still didn't have the Internet back then and came from a tiny town in northern Canada. I only knew "Ace of Spades" from Tony Hawk pro skater, haha!! It was pretty funny. When I got home, I ended up getting a Best Of. I came from a punk background and felt like they had mashed metal, punk and rock all into one.
Mark Ruffneck (OZ): There were no Motörhead albums that made me interested in music and especially in playing drums myself. I grew up with bands like Led Zeppelin, Black Sabbath, BTO, Nazareth and Alice Cooper, but the Motörhead album Ace of Spades and also the song "Ace of Spaces" in particular, made a hard impact on me and helped me along the way in the name of heavy metal.
Gerre (TANKARD): I started with AC/DC back in 1978 and felt in love with the New Wave of British Heavy Metal later on. The first Motörhead album I listened to was Overkill in 1979. I was very surprised how rough and heavy a band could sound. My favorite track on this album is "I'll Be Your Sister". I always played this song when I worked as a DJ.
Jeff Becerra (POSSESSED): Picking just one Motörhead album is tough. But, if I had to pick it would be Motörhead's self-titled debut, Motörhead. That's the very first song I heard by them. It's crazy how heavy this song and band seemed to me. I was just a kid, but this was my first real heavy band. In retrospect, Motörhead is a rock 'n' roll band gone mad and I loved them immediately. They broke down barriers and gave me my first taste of heavy that would lead to a lifelong search for more.
Mario "Grizzly" Pauwels (OSTROGOTH): My first album was Overkill; a real tsunami or earthquake. We were already playing in a band in a more hard rock blues direction. The Overkill album was something we cherished, but we were not influenced then or later by the Motörhead style, except for the earsplitting double bass of Philthy Animal. Honest and very loud like you said.
Lasse Pyykkö (HOODED MENACE): None, to be honest with you. Don't get me wrong, I love Motörhead, and before I started to appreciate them as much as I do now, I only liked them, meaning I thought they were one of the good bands, but they weren't nearly as important band for me when growing up in the '80s as W.A.S.P., AC/DC, KISS or Iron Maiden. I guess they were too punky rock 'n' roll to my ears at the time. Later on, I understood the
beauty of Motörhead much, much better. I'd say Ace of Spades is my favorite album and not least because "Love Me Like a Reptile" and "Chase Is Better Than the Catch" have some of the best riffs ever written.
Taneli Jarva (POISON WHISKY): I remember vividly the first time I heard "Ace of Spades" on Finnish national radio when I was around ten years old (that would be 1985). The bass, the vocals, the sheer speed and intensity was out of this world and left a lasting impression. The first Motörhead LP that I was able to acquire was Iron Fist, which basically set the benchmark for how ugly, dirty and uncompromising rock 'n' roll could be. They remain in a league of their own and stay untouchable still to this day.
Asmedi (MELECHESH): Motörhead was always there. Their logo and Snaggletooth, etc. from old rock and metal magazines to skateboard magazines, I saw it everywhere. The first time I heard them I was a kid watching TV. We had four channels then. The next day all the neighborhood kids as always (summer holiday, no school) came out with their skateboards, BMXs etc. Everyone was saying, "Wow did you see that crazy band playing on TV last night? Yeah, the singer wearing bullet belt or such, staring at the sky with very high microphone, drummer playing fast and crazy like Animal from the Muppet Show etc." The song was "Ace of Spades". Loved it! I listened to a lot of their songs and I liked many and didn't like some (I was 12 or 13-years-old). Motörhead became a staple, a fact of life. After a period of silence or me not knowing what was going on, jump a few years later when they released Bastards. I saw the clip "Burner". Damn, it was so bad ass, good, heavy. The new drummer rocks even more like Animal. Mikkey Dee, "Wait, the dude from King Diamond?" I was shocked! Loved it, I think that's my favorite album. Solid, kick ass and rock UND roll.
It was not till decades later I first saw them live. My ears kept buzzing. They were intense, loud, good, tight yet so REAL!!! A real concert! They were proof rock 'n' roll is not dead, the appeal was broad. Everyone was having a great time.
Eduardo Antón (WAR DOGS): For me the ultimate Motörhead album always has been Overkill. That first song with the double bass drums was one of my first introductions to that kind of fast and loud heavy metal. "Ace of Spades" is a very important song in the history of War Dogs, as it has been a live closer for us for a couple of years.
Motörhead was universally a huge institution and influence on countless musicians who also wanted to play loud, straightforward Rock 'n' Roll/Heavy Rock without gimmicks, bullshit, whatever. What did Lemmy teach you about music, especially from the perspective of making it?
Michael Borders (MASSACRE): The rules are made for people without the balls to ignore them. I raced out and bought a cheap distortion pedal and added it to my rig after hearing Lemmy play. Now every bass player in metal has buzzsaw fuzz tones blended into their sound, but at the time he has leading the way.
King Fowley (DECEASED): Be yourself. Don't follow the leader. Keep it raw and ugly.
Ronnie "Ripper" Olson (TURBOCHARGED): He was just all four corner stones of what rebellion
is all about, he set his footprints on this planet and paved the path for the rest of us who don't want to fit into the background. His bass sound, of course, set the standard for what I wanted to do and after 31 years I still never attempted to play without distortion. Vocals, what can I say? I simply don't like clean vocals and Lemmy was the archetype of hoarse belching into a microphone.
Tony Dolan (VENOM INC.): To be honest with yourself. Be who you are, don't try to be something you are not. Lots of bands faked it! Lemmy and Motörhead were just who they were and like it or not, it made no difference. I had the chance to once ask him, what should I do to do it right? His answer was, be honest (true to yourself) and respect all fans. He was right. In almost 40 years of being a musician, I am the same person I always was and have do it as true to myself as I could.
Lips (ANVIL): As stated by Lemmy during his interview in Anvil! The Story of Anvil, "You need to be at the right place at the right time, and if you're not you'll never do it." Lemmy had great wisdom and insight. Truer words were never spoken.
Dee Dee Altar (BUNKER 66): That's exactly the point, that "not fucking around" attitude is something many bands should keep in mind, just let the riffs flow and let "less is more" be your rule. Definitely a punk attitude that, in my opinion, is very important to keep your music hot and spicy!
Mike Campagnolo (RAZOR): Lemmy was a great songwriter IMO and his lyrics were brilliant for the music he created.
I would have to say that he was a true "road warrior" and didn't have to mold himself into any image other than himself. He lived the lifestyle to the fullest and rarely compromised to sell records. He just did what he wanted and said, "Take me as I am or just fuck off!" [*LOL*]
Phil Denton (ELIXIR): I think the main thing it taught me is that you don't have to write a technically complicated song, but it must have the feeling and power to move the listener. I guess Lemmy summed it up himself in "Overkill" when he sang, "the only way to feel the noise is when it's good and loud."
Markus Makkonen (NERVE SAW): I think the legacy of Motörhead is that all good music should have impact, drive and be well played, but not overly polished. A LOT OF FEEL! Also, the lyrics of Motörhead were often a lot more intelligent than people give them credit for. Somehow, it was the lyrical approach of Lemmy that has influenced me a lot during the years. I have never cared to sing about ghouls, goblins, trolls and regular, "Gee, I seemed to have butchered me wifey" gore. Lemmy always put just a bit more effort to his lyrics than regular rock 'n roll ever did, and it impressed me a great deal. What do you think of "I march before a martyred world,
an army for the fight. I speak of great heroic days, of victory and might. I hold a banner drenched in blood, I urge you to be brave. I lead you to your destiny, I lead you to your grave. Your bones will build my palaces, your eyes will stud my crown. For I am Mars, the god of war, and I will cut you down" for example, huh?
Maurizio Bidoli (FINGERNAILS): It wasn't about the volume so much for me. I don't need to operate on the keys of my amp and distortion pedals. Fast Eddie was more of that blues guitar player than he was a rough 'n' rude punk rock player, but Lemmy introduced me to a real powerful bass sound. So I mixed these two styles into one, which turned out to be a wonderful and heavy sound, like an earthquake. This sound does not need more distortion, my hands take care of that powerful sound now, which feels really great to me.
David White (HEATHEN): No compromise, always do it your way! And always enjoy yourself while you're doing it.
Titan Fox V (HAMMER KING): Don't overthink your music, go with what feels right and do it up to 100%. Be proud of it, feel natural about it and don't give a f**k about what others might think about you!
Charlie Tsiolis (AFTERMATH): Lemmy was an institution. There was no pretending with him. He didn't get off stage and completely change who he was onstage. There are plenty of bands that put on a show and when they get off the stage, they become completely different people. Lemmy wasn't that person. It's funny you hear these really heavy death metal bands and between songs they talk to the audience like they are channeling Satan, then you see them removed from that and they wear shorts and have this total different look and these high voices and you are like wow this dude is a total fake. Lemmy was the same person in every room. That is what made him a true legend to me. I don't change who I am either and that made Lemmy cool. Lemmy taught bands to be true to yourself and don't sellout. Don't try and be current or trendy; be who you are.
Martin Missy (PROTECTOR): I would say, to do your music without any compromises. Always do the music you and your fans want to hear, not what maybe the record industry or the current mainstream expect you to do.
Drew Rizzo (MIDNITE HELLION): Lemmy taught me to always write from the heart and to please yourself first. If you dig what you're hearing, chances are someone else will too.
Antti Remes (DAMAGE SFP): To be honest for yourself whatever you might do.
Daniel "Gumo" Reiß (GUMOMANIACS): If you've got attitude, you can sing! That was a huge revelation for me. I didn't have to worry anymore if my vocals were good enough as long as I got the message and the emotion across!
Anders Odden (CADAVER): He taught me that anyone can sing if you just put your own attitude into it and create something that is your own. This and the fact that they were a trio most of their career has been very
inspiring to me. No real metal band should have keyboards - that is one of Motörhead's main contributions.
Harley Flanagan (CRO-MAGS): He didn't "teach" me anything in that sense, but I learned a lot from his style of playing, watching him play countless times and touring with him, he was inspiring. He lived life by his rules and didn't give a fuck if you liked him or not and he was honest.
Shaun Farrugia (IN MALICE'S WAKE): I think Motörhead and Lemmy are a lesson in staying true to a vision and being yourself when approaching musical expression. You need to do what you feel so that you can write music and play music with 100% conviction. Create your music as a fan of music and as someone who still gets a buzz hearing new music for the first time.
Hugo "Witchhammer" Uribe (WITCHTRAP): When we started our band playing a style that nobody played in the early '90s, we took the same way as Lemmy did with Motörhead in their beginning. So having said that, I think the main lesson I took from him is don't give a fuck about the critics or whoever tries to change what you want to do. That must be meaningless to each of us or to whatever you want to do, no matter if society or the standards of the music industry try get you to do their likes instead of your music tastes.
So, play what you want to do to be happy and have a fun life and don't cause damage to anybody.
Argy (NIGHTSTALKER): Well, Lemmy taught me how to be honest in music! You have to be ready for all the shit that will happen when you play in a rock 'n' roll band. But the most important lesson was "always be yourself." Back then, there were critics that said Motörhead was the worst band in the world! Well, I was thinking, "that's something special man!" I don't think Lemmy gave a shit, he just kept doing his thing! That's a big lesson!
Zach Slaughter (SKULL FIST): As I started growing up, I realized all the gimmick crap was pointless. I appreciate how Motörhead didn't give a crap about it. There are some good things to learn from that band and from him. A few what not to do's and a lot of seriously unique perspectives.
Mark Ruffneck (OZ): Make it simple and clear. Hard and heavy. Proud and loud. There are several guiding stars in the heavy metal sky that Lemmy has created and the guiding stars we have followed during our own journey. The proud and loud combo was an important law in the beginning of my rock and roll journey with my band OZ. We played loud as hell!!!
Gerre (TANKARD): Always doing what is in your mind. Don't listen so much to other people, just go your own way and be authentic in what you are doing!
Jeff Becerra (POSSESSED): I guess the most important lesson was that music can be more than just a
set of compositions following a very strict set of rules. It could be wild and free, and you can break rules on the way. You don't have to be or sound like every other band. Motörhead had a way of taking the ordinary and making it extraordinary. They took concepts from the roots of rock 'n' roll and they made it heavier louder and with more balls. I guess what was most appealing was the musical freedom Motörhead offered.
Mario "Grizzly" Pauwels (OSTROGOTH): Be honest to yourself, practice what you preach, play what you feel, do not make too many commitments and follow your own path.
Lasse Pyykkö (HOODED MENACE): Be honest and be yourself. Lemmy and others oozed this kind of attitude. It's not even an attitude, it just is.
Taneli Jarva (POISON WHISKY): Keep it simple and stay true to your primal instincts. Of course, it took some years and fiddling around with different bands and different styles of music, but I'd say with Poison Whisky we've finally achieved some level of that integrity.
Asmedi (MELECHESH): CREDIBILITY...real oomph. One band based on ROCK but heavier than the heaviest, had a huge appeal across generations and ages, but all genres of hard rockers, thrash, glam, black metal, gothic, punk rockers, hardcore all loved Motörhead and all were united. Hell, in pop culture, multiplatinum hip hop or pop artists would wear Motörhead shirts on their clips, a cultural phenomenon. And the X-factor was their credibility. Musically, I learned you don't need a million riffs, just a few good ones, the importance of the bass and what a huge difference it makes and fucking real, real, REAL hard drumming. No faking it was the key to the core of our kinds of music. Primal and heavy.
Eduardo Antón (WAR DOGS): One of the most important things Lemmy taught me is that attitude is everything. You can play very intricate riffs with complex structures, that's fine, but if you don't have the attitude needed for metal your song is gonna be shit. I don't say musicianship doesn't matter, but it has to be in equilibrium with attitude.
Lemmy was a totally unique personality, really one of a kind. What made Lemmy, Lemmy, in your opinion?
Michael Borders (MASSACRE): A rule I live by, "Nothing is more metal than being yourself." He was brutally honest about who he was, warts and all.
King Fowley (DECEASED): Honesty. Lived as he spoke. A real person. That's severely lacking in today's world.
Ronnie "Ripper" Olson (TURBOCHARGED): Just look at him as a person and at his legacy, it speaks for itself. If you can't see it, you will never understand. He walked into our lives and changed us all forever without even trying, he was just THE Lemmy. The world needed to stay sane.
Tony Dolan (VENOM INC.): He was himself and never tried to conform or fit in. He could be difficult
but was generous and kind. He didn't suffer fools and spoke out when asked a direct question without trying to appear on the fence. What you saw was what you got. Those that hailed him as pure rock 'n' roll, genuine, were themselves people who tried too hard to create an image then attempted to live up to it. Lemmy was Lemmy, and if he'd worked in a Starbucks instead of music, he'd have been Lemmy, no question. He was admired and influenced because he was 100% REAL! Warts and all, as we English say.
Lips (ANVIL): Lemmy had a rough childhood. His father was a clergyman minister who abandoned his family and faith. This, of course, had a huge effect on Lemmy's attitudes toward religion and relationships. Life experiences always shape our personality. He harbored extreme dislike towards his father and religion. "I don't need an exorcism... You bet your life I don't need religion."
Dee Dee Altar (BUNKER 66): I think the fact that he stayed true to himself both as a person and as a musician. He never changed and never became that typical rock star prototype. Being the leader of such an influential band and being down to earth from the very beginning until his death is truly a lesson in life for everyone.
Mike Campagnolo (RAZOR): No bullshit, period!
Phil Denton (ELIXIR): His honesty. Lemmy didn't get changed into stage clothes to play his gigs, he lived in them! He lived his life the same way as you saw him on stage. He was a true "rock star" 24/7. I watched Lemmy's funeral when it was streamed live on the Internet, and everyone who spoke about him said the same, that he lived life as a true rock star.
Markus Makkonen (NERVE SAW): What made Lemmy, Lemmy...hmm. Well, I guess it was first and foremost the attitude. No fucks given, if it was not about his music. The Lemmy we knew, was never young. Shit, he was only a few years younger than I am now when he recorded Overkill and Bomber. He had already been around, as they say, before he rose to Motörhead stardom and he had without a doubt seen the ups and downs of what it is like being in a band. Still, he decided to do that and nothing else. They were not the biggest stars on the planet, around the times they recorded On Parole and were starting out the band, but still he soldiered on. He got through the late '80s, another weaker era for them, to rise with the release of Bastards to all new heights. Lemmy was a soldier, dressed in his black jeans, bullet belts and black shirt. Carrying his bass guitar in one hand and Jack Daniels in the other, through whatever. If we can be even a little like him, we are on the right track. Life will deal you a shitty hand occasionally, but it is up to us what we do about it. Will we sit down and complain and whimper about it or be like Lemmy, shrug and get over it. That determination of his is what made him an icon. It would not have been accomplished any other way. Iron will was the thing that made Lemmy what he was.
Maurizio Bidoli (FINGERNAILS): Lemmy loved The Beatles but his life was full of acid in the '60s. When he became familiar with punk rock, he found a new rock 'n' roll lifestyle, making him more rebellious against society's norms. He was using lots of drugs and alcohol, just living in freedom without rules, no fear to be accused by people back then. It did not matter to him either if people judged him. Many rockers want to be like Lemmy, living
Lemmy's true rock 'n' roll lifestyle but becoming a follower is not easy for anybody, I mean unless you don't want to die in six months, hahahah!!!
David White (HEATHEN): His vocal attack was unmistakable! Super down to earth and approachable! A rockstar's rockstar!
Titan Fox V (HAMMER KING): Well, I said it with what I wrote in my previous answer. It was his being confident with who he was, I guess. He was pure and honest and above it all, he was a very smart guy. He knew exactly what he wanted and how to do it right. We get caught up in overthinking everything to death nowadays. He taught me not to do that.
Charlie Tsiolis (AFTERMATH): I kind of got ahead of myself and answered this in my previous question, but I'll add some more. Lemmy didn't give a fuck about trends and trying to be cool. He just was cool. You would see him at a bar, and he was a down to earth dude. No pretense. That's why he's timeless. You know some musicians die at a young age and you never get to see the old version of them. You never see them transform to old people and lose the thing that made them look cool back in the early days. Lemmy died in his 70s but never changed his look. He stayed cool.
Martin Missy (PROTECTOR): That he was a very intelligent, sympathetic and honest man, who always said what he thought (no bullshit and stuff), and always did what he wanted to do.
Drew Rizzo (MIDNITE HELLION): He simply never forgot where he came from. He was never too big of a star to go hang out with the opening act and even introduce them on stage before his headlining set. He was a man of the people through and through. He always made sure tickets were reasonably priced so anyone who wanted to go see Motörhead live could afford to do so. He was actively on the casino floor on his namesake cruises among everyone else. I could go on and on, but I think it can be summed up as he always remained humble and down to earth.
Jaake Nikkilä (DAMAGE SFP): Honesty. He always went his own way. Kept his own vision and didn't give a fuck about what others said. For example, he could have easily gone to hospital and cut off the big moles from his face. He never did that, because he wanted to be what he was, without trying to be something else.
Daniel "Gumo" Reiß (GUMOMANIACS): He was 100% REAL and He always appeared very honest to me and never afraid to speak his mind. We all try, but he made it look easy!
Anders Odden (CADAVER): He was the real deal. No bullshit. He walked the walk and lived like he preached. A lesson most of us strive for but is very hard to do 100%.
Harley Flanagan (CRO-MAGS): Brutal honesty. Life, drugs, alcohol and rock 'n' roll... I don't know in which order.
Shaun Farrugia (IN MALICE'S WAKE): I think more than anyone else, he was a true embodiment of what rock & roll is. The guy was a life-long touring musician and dedicated his whole life to playing the music he loved right up to the point of his death. I loved his honesty and humour when listening to him speak, and that he was always 100% himself without any self-consciousness or pretension.
Hugo "Witchhammer" Uribe (WITCHTRAP): Lemmy was a person that when someone heard or read about him, they realized that he was a person with a lot of sense in his way of thinking and managed his own life.
Lemmy was a kind of rocking no-prisoners man to say or do what he wanted, and he was right even if someone didn't agree with him. That's why I think that he not only created a lifestyle of his own but also a style of music at the same time as well with his own label or brand that nobody could ever replicate, and due to that he became almost a God-like figure to many people.
Argy (NIGHTSTALKER): I think it's all about attitude, character and music! Lemmy invented Lemmy!
Zach Slaughter (SKULL FIST): Lemmy didn't care about the music business or the world, or the hype or the social baloney. Being in my 30s now I understand that.
Mark Ruffneck (OZ): Lemmy was exactly the same as his music; straight, hard rock and roll without twists and everything done with a big heart. His devotion shone through in everything he did.
Gerre (TANKARD): He was rock and metal incarnate more than anybody else. His verdicts were unbelievable; still have to laugh about them!
Jeff Becerra (POSSESSED): Lemmy was all about attitude and not trying to be a slave to the constraints of society. Being socially acceptable was just not a part of what Lemmy was about. I have heard so many people talk about how they met Lemmy and how amazing he really was. Lemmy was both an inspiration and a living legend.
Mario "Grizzly" Pauwels (OSTROGOTH): Genuine, honest with himself, rock and roll outlaw mentality and this projected in his music and stage performances. A no-nonsense hero of loud and explosive rock and roll.
No fake, no poser, this Lemmy, what you see is what you get!
Lasse Pyykkö (HOODED MENACE): He didn't fake it. He was real and natural. A creator, not an imitator. There is zero pretending in Lemmy, and I think we all like him because of that. When I see guys who obviously try to imitate his looks, it makes me cringe a bit. I mean, if you want to be like Lemmy, just be yourself (*laughs*)!
Taneli Jarva (POISON WHISKY): Integrity. Absolute and total honesty, warts and all! That's something every musician (and human being) should strive for.
Asmedi (MELECHESH): He was himself, lived life as he wanted, was happy with what he had. He played hard and lived life to the fullest. In other words, he lived better than millions of people, not being a slave to social norms, money, being accepted, etc. He achieved his goal of being genuine.
Respected, not broke, loved and the planet was his playground. Many businessmen, politicians, celebrities and average Joes try too hard without being true to themselves. They end up empty and unfulfilled. Live life to the fullest.
Eduardo Antón (WAR DOGS): For me the most recognizable thing about Lemmy was his presence on the stage. You know, looking high up to the sky with that elevated mic while barking his lungs out.
What's the funniest and/or most memorable Lemmy moment and/or story you personally know of him? Did you ever meet the legend himself?
Michael Borders (MASSACRE): I never had the chance to meet him, and I'm not easily "starstruck" but pretty sure I would have been giddy if I did.
King Fowley (DECEASED): I saw Lemmy sitting at the video game at Rainbow but left him be. One deep story I can tell you is he had met a pal of mine named Larry at a Motörhead show. Larry was Motörhead-obsessed freak and had the time of his life. Well, next time they came around Larry had died in a hit 'n' run
accident along with other friends including our band mate Rob Sterzel. Word got back to Lemmy and he dedicated the entire night's show to Larry and the rest who had passed away. For someone who sang "No Class", that moment was full of it!
Ronnie "Ripper" Olson (TURBOCHARGED): I met him once and as he signed my entrance ticket he said something incoherent with a cigarette in his mouth and I said, "Excuse me?" and only got the "Aaah... Fuck it!" response back and I will always wonder what he actually said that one time our paths crossed.
Tony Dolan (VENOM INC.): I did meet him as a fan after concerts to get something signed but myself was never a "ligger" so was never the type to just approach heroes. I met him at the Kerrang 100th edition party in the '80s, too, but then before his death on one of the final tours where he advised me as I previously wrote. I had done a cover with M:Pire of Evil of the track "Motörhead" which he said (he always hated Venom, saying they couldn't play) you did a great job. For me that was my world complete. However one of my main memories was on the "Ace of Spades" tour from 1980 where myself, some friends and my girlfriend hung around to have stuff signed and just before my turn was my girlfriend who said I don't have any paper for you to sign (hoping she'd get a gift) and he leaned over, grabbed her tit and signed her shirt. I didn't know if I should be pissed or celebrate [*LOL*]! I just said, "That's my girlfriend!" with great pride!!! He looked at me and smiled! Haha!!
Lips (ANVIL): As far as stories go, Anvil supported Motörhead during a tour of the UK in 1983. After a gig in Birmingham I ended up in Lemmy's hotel room. We started drinking vodka and orange juice and I got wasted really quickly and Lemmy was laughing at me!! He said he has just the thing to fix the problem!! He pulled out a few grams of speed and insisted that I snort back a bunch. It did straighten me out and we continued drinking and talking until the tour manager came to the hotel room to tell us to get ready to go to the gig, which came as a surprise because we had a day off which had already passed but Lemmy and I had been drinking talking and snorting speed for over 24 hours by then!!
Dee Dee Altar (BUNKER 66): I never met him. I just saw Motörhead in 2010 during the "The World Is Yours" tour. There are soooo many funny moments and anecdotes in "White Line Fever" they are worth a movie, cheers!
Mike Campagnolo (RAZOR): Razor had the opportunity to open for Motörhead in Canada in the '80s. Lemmy was very blunt and to the point but still charming at the same time if that makes sense. Really nice to us although his quiet growly accent was sometimes hard to decipher, [*LOL*]
We played with him in Montreal on, I think, his 45th birthday, and some friends from Toronto brought him a gift of beer and Canadian whiskey.
After thanks he ushered everyone to the dressing room and filled large cups with the booze and
declared a "bottoms up" toast. I think he was the only one to down it in one swallow and didn't bat an eye. Cheers mate!!
Phil Denton (ELIXIR): I saw him once at a gig at The Marquee in London. He was playing on the arcade machine at the back, by the bar. I passed him on the way to getting some drinks and just said, "Hello...!" as I passed. He was pretty involved in the game, so I didn't want to disturb him. Looking back now, I wish I had asked him if he wanted a drink.
For me, one of the most amusing things I can think of about Lemmy was a UK TV advert for Kit Kat chocolate wafer bar. It showed Lemmy softly playing violin in a string quartet to old folks in a home. Then the punchline came up saying, "Have a break, have a Kit Kat." The idea was that Lemmy lived life loud and he was taking a break by playing violin. The expression on Lemmy's face was really amusing and always made me smile!! You can watch the clip on YouTube: https://www.youtube.com/watch?v=y7HklNU1w10
Markus Makkonen (NERVE SAW): Ah, shit! There are so many legends of the man that I really do not know where to start. I never met him but went to see every show they played in Finland from 1999 to 2006 or so. Religiously. They might be the band from outside Finland I've seen live the most. There are all these second-hand stories that I've heard and read in interviews, but this is a story of my own. Motörhead performed at Ankkarock in Finland in 2002. I was there in the front row way before they were on so I could get right next to the stage. This meant I had all the time in the world to watch how his sound guy (I believe it was the same dude more or less every time they toured here) spent a lot of time getting Lemmy's amp right. He walked around the stage, played Lemmy's bass and checked the monitors. Then went to adjust the amp head again. This happened that many times before he was finally happy with it. Then, when the band were about to start Lemmy walks onstage without any silly intro tapes or whatever and pulls an E chord from his bass guitar. Right then he stops and you can see that "WTF!" impression on his face for a moment. He then walks to his bass amp to crank everything to max and starts "We Are Motörhead" from there. Hahah! I think this is Lemmy in few sentences.
Maurizio Bidoli (FINGERNAILS): I never knew Lemmy. I imagine he could have been a friend in my life while playing on tour, but I preferred to keep my real Lemmy dream; A myth, an unattainable rock legend. I'm sure Lemmy was just 100% pure himself but I did not want to see him that way though. For me Lemmy was a crazy diamond to protect; unique.
David White (HEATHEN): Actually in 1987 when Heathen came out with Breaking the Silence, we were supposed to do a tour with Motörhead for the Rock 'n' Roll record. Due to bad management we had at the time, we were unable to attend that tour. But later on, in 1991 while attending the "Operation Rock 'n' Roll" tour, we got to meet all the guys in Motörhead and I had a conversation with Lemmy. He remembered that we were supposed to tour with them. I thought it was pretty awesome that he remembered! We had just finished touring with Sepultura and I talked about them covering "Orgasmatron." Filthy had said he thought Max did a great job on the vocals! When I mentioned that to Lemmy he had a different opinion on the subject. He was super cool and I'm so glad I had that opportunity!
Titan Fox V (HAMMER KING): I know what he had two girls before the very show, but I will not say that in public here. ;o) I could not do that, I would forget about the songs then... :oD I never met him, I guess I will meet him on the other side and until then, the music remains.
Gob bless the King, may the King bless Lemmy!
Charlie Tsiolis (AFTERMATH): Nothing really funny but one concert stands out. Motörhead was playing a gig at the Vic Theater in Chicago back in the 1990s. They were so fucking loud I think I must have lost some of my hearing at the show. I was so drunk I threw up. That was the only time that ever happened to me at a concert.
Somehow it seems appropriate that it was a Motörhead show.
I met Lemmy at a record signing back in the early 1980s at a record store. I was pretty young and I remember thinking, man these dudes look pretty old. They were super cool people.
Martin Missy (PROTECTOR): I met him once, for a couple of seconds. It was my first rock concert ever; Motörhead live in Växjö, Sweden on July 27, 1985, on the "It Never Gets Dark" tour. I was with my family in Sweden on holiday (like every summer) and had read about the concert in the paper. I knew that I had to go to see (and hear) this! We were staying at our summer cottage about 50 kilometers south of Växjö and I think I took the bus up to the capital of Småland. My aunt, who lived in Växjö at the time, let me use her apartment, and in the evening I went to the ice stadium, which is just a couple of hundred of meters away from the apartment. I was not especially well dressed for the occasion. I just had a white t-shirt on and wore red (!) jeans (I was on holiday, and not prepared for a "metal encounter", remember?) - and I was short-haired as well at that time. When I came to the parking lot, there were long-haired metalheads partying to "I Wanna Be Somebody" from W.A.S.P., and I tried to get past them unnoticed. In the hall, which surely had a capacity of at least 2000-3000 spectators, there were only about 500 metalheads present, but Motörhead (who on the same tour in northern Sweden had played a full set in front of about 10 spectators), played a great gig.
Afterwards, I waited at the tour bus (a Ford Transit, if I remember it correctly) together with about 15-20 others, for Lemmy to come out of the backstage area. When he finally came out, everybody was rushing up to him, and he just called out, "Wait... wait!" Two security guys placed themselves on each side of him, and he wrote autographs for everybody who was there! When he had signed my ticket, he accidentally wanted to give it to somebody else, so I shouted, "Here... here!" and he turned and gave me my ticket. That was my "big moment" with Mr. Kilmister, a moment that I will never forget as long as I live! On my way back to the apartment I walked along the main street out of Växjö, and suddenly the tour bus came driving down the street, so I waved goodbye to the band. My ears were ringing for a couple of days afterwards by the way.
Drew Rizzo (MIDNITE HELLION): The funniest story of Lemmy that I can think of is one now left to legend. I recently checked out an interview with Bobby Gustafson from OverKill and now Vio-Lence, conducted by Zetro from Exodus. Bobby revealed his thoughts as to why Lemmy kept the microphone positioned that way was to prevent the drip from coming out his nose. As soon as I heard that, I couldn't help but to laugh because that makes complete sense!
I did have one opportunity to meet Lemmy. My friend Virginia (may she rest in peace) and I went to see Motörhead on the Inferno tour and she had it on her bucket list to get a picture with Lem, so we made it a point to do so. After the show we were hanging out by the bus talking to Phil Campbell while one person took advantage of Lem by getting him to sign about 20 pages in a blank notebook. Virginia finally had a chance to approach Lem and she shot the shit with him for a minute while I snapped the photo. I went to talk to Lem next and got my ticket signed. As he was signing it, I asked him about his experience on their appearance on "The Young Ones". He said, "It was terribly boring. They just sat there quiet and miserable." Surprised, I replied, "Really? I thought with them being comedians it would have been a humorous time" to which Lem replied, "So did I...!" At that point, Lem's manager pulled him away before I could get a picture as it had been a good two hours since the show ended. What I didn't know was while I was talking to Lem, Phil was asking Virginia about a good area bar to hang out at. However, being the great friend she was, she turned down the offer for us to hang out because I was underage and it was under 20 degrees outside. When she told me this while we were en route back home, I told her to go turn around and hang out, I'll sit in the van if I can't get in, but it was too late at that point. Lo and behold, a few months later we ended up drinking at a bar with W.A.S.P., Metal Church and crew while I was still underage.
Antti Remes (DAMAGE SFP): "Monsters of Millenium" tour in Oulu, Northern Finland. Lemmy stepped on stage, his hair looking like he had just woken up, and then he said after a glimpse to the audience, "Where are all the chicks?".
Daniel "Gumo" Reiß (GUMOMANIACS): I never met him, but a sound engineer buddy of mine did and he said they were drinking whiskey during Mickey Dee's drum solo in the middle of the show besides the stage [*LOL*]
Anders Odden (CADAVER): I kind of met him (hanging out very close) several times, but never one-on-one, unfortunately. I have hung out with Micky Dee a few times and he sent me a "get well" video during my time of having cancer, so I have been "blessed" by Motörhead anyway. I once sat in his chair in the Rainbow Bar and Grill bar, but it was OK as he was on tour at that moment. So, I have been sitting in his chair and been with his drummer. Close enough.
Harley Flanagan (CRO-MAGS): Well there was the first time I did Crystal meth with him and Philthy at the Mud club when I was 15. This is back when I was a skinhead. That wasn't the funny part that's just how the night started. We had many moments, many times many good times. He saw me at my best and at my worst and then at my best
again. I miss him. Every time I hear thunder in the sky, I feel like it's him, Philthy and Eddie doing soundcheck in the sky!
Shaun Farrugia (IN MALICE'S WAKE): Nothing to add here unfortunately, I missed them supporting Mötley Crüe in Melbourne and wish I had been there to see it.
As far as stories, all I have are the endless second-hand tales that have been told about him in the countless books and documentaries I've seen and read over the years. Never met him personally but still felt his loss deeply. Thanks for the music Lemmy!
Hugo "Witchhammer" Uribe (WITCHTRAP): Unfortunately, I live in a city and country that Motörhead only visited once, in Bogotá. I live in Medellín, a city that is like 10-11 hours by car, so I couldn't go to see Motörhead playing live ever. But at least I visited his statue at the Rainbow Bar in 2017 when I was touring with my band in the States.
At any rate, every time I hear his music or I watch his interviews on YouTube, I find a lot of black humor in his answers. I remember one specific show when he spoke about sex, drugs and rock 'n' roll, and his answers were totally hilarious and actually at the very same time made a lot of sense. He said, "Sex only lasts a half hour at the very tops and a rock 'n' roll show is an hour and half, so we got something solved now".
Argy (NIGHTSTALKER): I saw Motörhead for the first time in 1987. I think they had three shows in Athens and they were going to stay for a week or so. The night before the first gig, we got so pissed and stoned and found out in which hotel Motörhead were staying. So, it's 3:00 a.m. and me and two other guys have this idea; "Let's go to the hotel and call Lemmy from the reception for a talk! Not a good idea at all, but after some alcohol and some drugs it sounded like a very logical thing to do." I went to the reception and asked for Ian Kilmister's room phone number, and I called him from the reception at 3:00 a.m. and I remember exactly this; Lemmy picked up the phone and said, "Yes." I said, "Lemmy?" "Who is this?" he replied. "It's a fan of yours!" "Fuck you, I'm sleeping...!!" [*click*] It was amazing! I couldn't believe it. I had just talked to God! I had to tell the others! I got out of the hotel and told them what just happened, "I talked to Lemmy!" "And...?" "... and he told me to go fuck myself and that he was sleeping.... Yeah!." And so we kept on drinking and celebrating the event. Next morning when I got a bit sober, all that conversation with Lemmy didn't ring that good in my mind, so we decided to go and find Lemmy... again! We went to the venue a bit early and started drinking and fooling around. Motörhead had soundcheck at 10 in the morning. When I heard the band playing, we got into the venue and I started screaming at Lemmy about last night! I couldn't hear myself over the soundcheck of Motörhead, when suddenly Lemmy stops playing and asks loud on the mic, "Who is this guy?" The sound technicians just said, "We don't know." Then Lemmy said "Throw him out!" Next thing I remember is me being out of the venue trying to find a way to get into at least watch the show. This is how close I got with Lemmy, you know... God!
Zach Slaughter (SKULL FIST): I met him when I was 20 at the Rainbow Bar. I just walked up and said hey, "Thanks for being you," and he said, "Well that's all I know how to be..." and we both laughed about it, then I said, "Win some bucks!" because he was playing a little gambling machine and just walked away.
Mark Ruffneck (OZ): I have not met Lemmy personally for long discussions, I have only said, "Hello!" quickly when they played here in Stockholm. But in the early '80s I met Motörhead's manager many times and we shook hands several times. We planned to support Motörhead with my band OZ on various tours several
times but unfortunately these plans never came true. It was a big disappointment for us. Our ex-singer Ape met Lemmy at the Donnington Festival in the early '80s and they drank all night together, and in the morning Lemmy told Ape and his friend, "Finns can truly drink!"
And for the end a little sad note, when Lemmy was buried, the very same day in Finland, OZ's first bass player Tani was also buried, so that day was a really sad day.
Gerre (TANKARD): We opened once for Motörhead in March 1991 in Frankfurt/Germany during their 1916 tour. 2001 we played Wacken Open Air just like Motörhead. The promoters were looking for a backstage room for Motörhead because the organization went wrong. So for two extra cases of beer we left our backstage room for Motörhead and everybody was happy!
Jeff Becerra (POSSESSED): Unfortunately, I never got a chance to meet Lemmy in person. The nature of my career always took me close but not quite close enough to meet him. I've heard a lot of stories about how he liked to party and do a lot of speed and Jack Daniel's. And stories about how Lemmy could be grumpy as hell at first but then really warm up and relax over time. And of course, how Lemmy was always quoting Monty Python.
Mario "Grizzly" Pauwels (OSTROGOTH): I met Lemmy three times. The first time was in 1983, at the Heavy Sound Festival (where we played). He descended in a balloon to promote the festival (which he would lead the year after). There was a lot of fun backstage (censored) Earlier he tried to charm my girlfriend after a show, before going on stage and once after a concert, playing Miss America in the bar in front of the venue! Jacko's and cigarettes and possibly other pleasure gifts and of course a lot of hilarious one liners and teasers. :o) That was Lemmy. A few friends of mine (also bass players) had longer personal encounters with him.
Lasse Pyykkö (HOODED MENACE): No, I never met him or even saw him play live (damn Ilosaarirock cancellation). I've only met his statue at the Rainbow Bar on Sunset Strip (laughs). The story about his super short denim shorts have etched into my mind. Correct me if my recollection is incorrect, but wasn't it the guys from Anthrax who saw Lemmy in those shorts at the Rainbows, and once the Anthrax dudes mentioned about the "too short" shorts, Lemmy was like "Well, they are shorts". I find it funny and also very Lemmy-ish. He doesn´t care, and he´s probably one of the few men who can actually wear that type of shorts and still come off cool (laughs). I like short shorts, so I can relate, but I never come off cool (laughs).
Taneli Jarva (POISON WHISKY): I was supposed to interview Lemmy in 2006 for a festival magazine. I flew to Gothenburg, Sweden for that purpose and was nervous as fuck to meet my number one hero. As it turned out, Lemmy was sick that day and all interviews were conducted by drummer Mikkey Dee. I hardly had anything to ask the drummer, as my interview was completely prepared with Lemmy in mind. It was a bit of a bummer, to say the least. However, I had a bottle of Jack sent to Lemmy's room and before I left the premises their publicist took her time to tell me that "Lemmy says Thank You." It was good to know that my humble gift probably made Lemmy's day just one tiny bit better.
Asmedi (MELECHESH): I met him a few times and it was great. The first time was a funny coincidence. Our third album Sphynx was recorded with Andy LaRocque in Sweden, where a lot of the Motörhead crew and backline was stored. We used one of Mikkey Dee's drum sets on the album. A year later Motörhead had a festival appearance somewhere in The Netherlands, meanwhile I was out with my then girlfriend and a couple of buddies in
downtown Amsterdam. Suddenly Mikkey Dee, Lemmy and their tour manager were walking there, they saw I looked like a metal/rock guy in a cool bar we all said "hello" and chatted about places to hang out. I told Mikkey Dee we used his drum set and he said, "Whaat...?!" I explained I am friends with Andy LaRocque ,etc. He said yes, he recalled Andy mentioned it to him. It is also funny how our website was on the link section to Motörhead's website (the still fairly old website days and links to other bands labels, etc.) Lemmy asked, "Where are the strip bars?" I told him about the other side of downtown, the red-light district (downtown Amsterdam is small) and he said he wanted some booze and strippers, then said, "Alright I'm off...!" and he left. This was quite late at night.
Mikkey and his manager stayed with us and kept buying drinks for us. Mikkey insisted we go to the fest next day up north, and he will dedicate a drum solo to us. He put us on the guest list. Me and my girlfriend got home at 4 AM. Note the bar we were at was closed but the last two hours kept us in and serving drinks. I got to bed between 5 or 6 AM. Got up at noon with a hangover. Drove two hours to the north. Micky saw us and said, "You made it, great! Don't forget my drum solo!" Lemmy comes out of the bus mumbling, "Good to see you here" but both were looking like they didn't party at all night before. They were the fest headliners... killer show, amazing drum solo where Mikkey kept pointing both drum sticks at me at each break, which was just killer and definitely something to be cherished.
Eduardo Antón (WAR DOGS): I believe the funniest story for me is when they played at Hammersmith Odeon back in the day. They say that the three of them were doing a lot of cocaine and needed to stay calm because they were freaking out, so a roadie give them heavy tranquilizers, but then they were almost falling to sleep. So, what did they do? Snort more cocaine to compensate, [*LOL*]
Tribute video for Lemmy Kilmister made by Valio (Finland):
The Metal Crypt - Crushing Posers Since 1999
Copyright © 1999-2023, Michel Renaud / The Metal Crypt. All Rights Reserved.