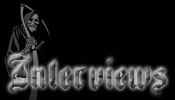 The Iconic Brands And Symbols of the '80s Metal Scene
All interviews conducted by Luxi Lahtinen
Date online: February 13, 2021



The world is changing rapidly along with the music business... eh?
But to cut the crap, back in the eighties we did have quite a few cool but now-defunct labels and other things that all shaped and changed our metal scene back then, one way or the other, and both for good or bad. There were a number of cool and memorable brands and/or symbols that had a significant meaning in the evolution of metal music and, if you were a sucker of metal music back in those days, you surely know what I am talking about here. Without some of these cult-ish and very much iconic labels and other brands/symbols that all lived in some sort of a weird symbiosis some 35+ years ago, the metal scene might not be what it is today.
This time we chose to take six of those important/meaningful brands and symbols and asked some band members what they brought to mind. Here we go...
Sincere thanks to the following musicians for sharing their thoughts on some of the most iconic symbols and/or brands of the past metal scene (in an alphabetical order by the first name):
Aethon (EURYNOMOS/MEGATHÉRION), Denis 'Sasquatch' Barthe (AGGRESSION, Can), Drew Rizzo (MIDNITE HELLION), Eddie Shahini (DBC), Jim Mutilator (YOTH IRIA), Kena Strömsholm (ex-FESTERDAY/... AND OCEANS), Kelly Shaefer (ATHEIST), King Fowley (DECEASED), Matt Ries (TRAVELER), Ricard (PROSCRITO) and Victor "Lore Lord" (SAURON).
Banzai Records
King Fowley (DECEASED): This label didn't make it down Virginia way much back then. But when it did, it was cool. The Force of the Blade compilation was an early one I remember getting from this Canadian label. Most stuff was Canadian pressings but I already had most of it on other labels, thankfully.
Kelly Shaefer (ATHEIST): Not aware of their place in history.
Eddie Shahini (DBC): They all look familiar. But Banzai Records stands out the most because I used to get all my metal records from Michel Meese at Rock en Stock in Montreal. We were supposed to sign with Banzai but went with Combat Records. Good times.
Ricard (PROSCRITO): Ave Luxi, glad to be featured on another tribute about those, our dearest topics again. First off, I must admit I was born too late and some generational gap might be inferred from my second-hand recollections, but I think I've browsed through and bought enough beaten-up vinyl copies at flea markets and virtual sellers to know a thing or two about those. Let's start with Banzai: for some weird reason, the records under such flag are stupidly expensive to get for my younger European self—if memory serves, Annick/Morbid Tales 'zine from Canada used to collect them all, kudos to her for the titanic labour. Off the top of my head, I own Venom's Canadian Assault and maybe something more, but that red on black 'n white Bathory s/t is the definitive and coolest-looking version, heaps above that yellow fucking goat. Those releases are aesthetically beautiful and pure eye candy for any metal collector, and just browsing through the entire catalogue of licensed releases you can't help but feel that long lost raw viciousness that most of the "revival" speed/HM doesn't possess—metal without mercy, if you know what I mean. Oh, that World War III Fest booked by sir Banzai feels like the one and only best line-up ever, I even printed a Proscrito tee with its content turned upside down to honour the Warrior at that very gig!
Victor "Lore Lord" (SAURON): To be honest I was born in 1982 so for me those six topics are more legends to me. When I was finally old enough to begin to learn of these things, 14-16 or so, it was by reading the metal magazine Metal Maniacs and by coming across a website called Vibrations of Doom, on the dial-up Internet where many old metal albums were posted in RealPlayer format from the labels you mentioned. The 'speed metal' term I learned about from being a huge Megadeth fan in high school and watching the VH1 behind the music special, which also brought to light the whole bit about censorship that occurred in the '80s, which is what I assume you are referring to with your mention of Parental Guidance, I don't really remember a whole lot about that because when it happened I was but a small boy and also I don't remember much from high school when I watched that VH1 Megadeth special, but I usually have a good ol' time when I listen to the Judas Priest song of the same name. Anyway, in short we all love and respect heavy metal in all its obscure forms and the period in the '80s which your six topics derive from is no exception—Banzai, Mausoleum Records, Noise International, Music for Nations, Speed Metal, and Parental Advisory all kick ass and can't be ignored as integral parts of the timeless majesty that is heavy metal!
Aethon (EURYNOMOS/MEGATHÉRION): My first contact with Banzai Records was when I bought the vinyl version of Hellhammer's Apocalyptic Raids back in the '80s in Thessaloniki (Greece). The Banzai edition has a dickless 'sitting death' on the artwork. Didn't know that he had a dick until I saw the Noise Records version some months later.
I think Banzai is nowadays most famous for this 'Speed Metal' wheel symbol that received a sort of revival in today's underground. I think Fenriz has a tattoo of it as well.
Kena Strömsholm (ex-FESTERDAY/... AND OCEANS): The first thing that pop up in my mind is: CANADA. I was at a very young age at that moment, but what else can you say about a legendary label doing licensing deals for Canada. It was with full throttle with more than a handful of classics—Venom, Slayer, Possessed, Voivod, Exciter and Living Death to name a few. And of course, the legendary 'Speed Metal' swirl!!!
Matt Ries (TRAVELER): The first thing that comes to mind is expensive haha. In the earlier days of record hunting, I'd lose my shit to find a Banzai pressing. Now when I see one, I think "oh great how much??". But Banzai pressings are still near and dear to me. It's a huge staple for Canadian metal. I can't think of one bad band on that label. Maybe Strike, haha. Total gems for the most part, though!
Jim Mutilator (YOTH IRIA): I was not so much connected to Banzai Records as it was a Canadian label that mostly released licensed classic albums of that time for Canada.
Drew Rizzo (MIDNITE HELLION): Being in the States and a '90s teen, this meant three things—nearly everything was already out of print by the time I got into it, the used bins were where I spent most of my time, and there were a few labels that I came across and learned that if it had their name on it, it would be a record for me. Namely, those labels were Megaforce, Combat, and Metal Blade. Because of these circumstances, I didn't come across any Banzai releases until much later due to the Canadian pressings rarely showing up in used bins during my travels, and one of those three labels would typically distribute in the States what Banzai would in Canada. Even still, a lot of albums that are more easily accessed now on one of those labels were extremely difficult to get as a kid, but hardly anyone was into it so when I did find something, it was almost always dirt cheap. Cassettes for a quarter, records for two dollars or less, and CDs for four dollars or less were the typical going rates. If memory serves me correctly, my only Banzai-released albums are by Tokyo Blade, which are a great part of my collection!
Denis 'Sasquatch' Barthe (AGGRESSION, Can): As you can imagine, growing up in Montreal, Banzai was extremely important in our development as metal heads. Most of the classics from 1983 onward were available only at a decent price on Banzai Records in Canada and if you wanted to buy the originals, from the mother labels, you needed to pay a pretty heavy price which we did sometimes anyway. At some point, we even lived above Rock en Stock, the famous Montréal record store where Michel Meese, owner of Banzai, had his store. And as you know, we were the only band, Aggression, that was ever signed on Banzai and not a licensee. It was like making a pact with the devil himself and, of course, we signed the deal with the biggest smile on our faces. Banzai Records had a tremendous impact in our lives, to say the least.
Mausoleum Records
King Fowley (DECEASED): This label was everywhere growing up. You never knew what you were going to get. By cover art alone, sometimes it could fool you. A lot of melodic hard rock (Kwest, White Heat) sat alongside more ripping speed à la Living Death. My faves were just their pure heavy metal ones like Blacklace, Cutty Sark, Ostrogoth, and Killer. One of my all-time favorite labels and I still say they got their name and logo from the 1983 horror movie poster art.
Kelly Shaefer (ATHEIST): Also, not familiar with.
Ricard (PROSCRITO): To be honest, I knew Mausoleum Records from my heydays as a teenage collaborator for the Spanish printed magazine Hell Awaits, since I got quite some awful promo CDs under this label which was already past its prime. Some years later I found out about Killer and some other bona fide classics for HM connoisseurs, but my version of Warlock's Burning the Witches is the typical Vertigo one and didn't even know its first press went under Mausoleum—what a beast of an album, though, as classic as it gets. Wouldn't hurt to get that rare Barón Rojo's Larga Vida... version with alternate cover, too, so I will keep an eye open.
Aethon (EURYNOMOS/MEGATHÉRION): Ostrogoth's Full Moon's Eyes was one of my first Heavy metal albums (well, it is an EP, but anyway) that I ever heard. I guess most Mausoleum releases, with the exception of Warlock maybe, were from more obscure metal bands, and that's what the Mausoleum logo probably stands for. Some albums I really enjoy, like Witchfynde's Lords of Sin.
I was at the Mausoleum 30th Anniversary Festival in Belgium, it was really cool... Crossfire, Killer, Ostrogoth, etc. and even Doro came on stage to perform the track "Burning the Witches", which was awesome! A great night!
Kena Strömsholm (ex-FESTERDAY/... AND OCEANS): I smell Belgium here. I think it was more based on hard rock than metal, but surely, I remember the logo. I'm not even sure I have any Mausoleum releases on my shelves. But hell yeah, the logo is cult.
Matt Ries (TRAVELER): Whenever I see a pressing by this label of a band I've never heard of, I almost always take a gamble and buy it. They were so great for those super hidden underground bands that deserved way more attention. But also had some absolute stinkers on there too. Mausoleum released one of my all-time favorite hidden gems, Cutty Sark's Die Tonight. I can't say enough good things about that album.
Jim Mutilator (YOTH IRIA): This Belgian label released some of my best heavy metal and NWOBHM albums ever. Some of the albums off that label that bought when I was a little kid, are still lovely pieces in my collection. I could name some bands like Acid, Angel Witch, Witchfynde, Tyrant, Living Death even the legendary Spanish hard metal rockers, Barón Rojo.
Drew Rizzo (MIDNITE HELLION): Mausoleum Records was a similar fate to me as Banzai, although I did get introduced to their name a lot more frequently starting at the Metal Meltdown festivals in Jersey. Nine times out of ten, it would be for one of their current releases instead of something such as an Acid record. Even still, great label, great catalog, and happy to have a few of their releases.
Denis 'Sasquatch' Barthe (AGGRESSION, Can): I know the name really well but could not tell you or remember one band that was on that label. I just remember that most of the time, the bands were not as good as other labels, and I was always careful spending my money on Mausoleum product. That's what I remember from that label.
Music for Nations
King Fowley (DECEASED): Ahh... Kerrang! magazine was heavy on the ads for the UK-based Music For Nations label. Grabbing these expensive imports of bands like Manowar and Loudness was a chore. I had to have them, and the price used to make me scream. But I always found a way to obtain them whether legally or not so legally, haha!!
Kelly Shaefer (ATHEIST): As I recall, they were titans in the game, I know we (Atheist) benefited from our relationship back in late '80s early '90s. They were always good to us and good to metal as I can recall. Making sure our records were available.
Ricard (PROSCRITO): For someone who deems Master of Puppets the best album ever released, it feels mandatory to own the 2xLP at 45 rpm edition by Music for Nations, right? Also, owning the Par edition would be a wet dream come true, but I'm just settling with the MFN's version of Savatage's Sirens, which is another album that gives me the chills, always, as for the very first time. Off the top of my head, I'm thinking about classic 12"s like Creeping Death or Feel the Knife, but I won't dismiss some of the post-Peaceville Paradise Lost either, published under that very flag. Anyway, I'm sure you're asking about '80s remembrances, so it's obvious I should mention Under One Flag, doing a terrific job with Combat releases and giving early Bathory its due in terms of sound and artwork (I own the UOF versions of their second, third and fourth and wouldn't change them for anything, those atrocious Black Mark remixed reissues can suck donkey balls) and many, many excellent classics in my collection that have already paved my whole metallic cosmovision and still belong to my own DNA, like Scream Bloody Gore, Beyond the Gates or Darkness Descends—exactly the sound I live and would die for.
And now for the juicy stuff: those Speed Kills compilations. Once again, I'm a relatively young man who got it all well chewed and digested by the elder race already, but still I'm able to indulge in those masterpieces of well-crafted layouts with liner notes, perfectly curated selections of tracks and even some rare inclusions that make them highly valuable for any collector or plain music lover, like that exceptionally crushing version of Destructor's "Pounding Evil" (yes, I'm a sucker for that Speed Kills second assault, which is great for pumping iron—once the Razor track kicks in you're ready for some more weight/reps, always).
Aethon (EURYNOMOS/MEGATHÉRION): I guess most stuff was licensed for the European market, but anyway.... metal fans needed heavy music and the MFN logo stood for quality. I mean, they were delivering it with Metallica, Exciter, Manowar, etc...!
Kena Strömsholm (ex-FESTERDAY/... AND OCEANS): A big UK label and a killer doer. Every album with that logo tapped on was worth buying as a kid. I guess they did some sort of a reawakening some years ago with bands that I don't prefer to mention here...
Matt Ries (TRAVELER): This label I actually don't know enough about. I have a bunch of records under that label in my collection. But as far as the history goes, I'm not too sure. To me, they were always just a tell-tale sign that you're picking up an old pressing. I think they're still around today? But the bands on their roster back in the day were amazing.
Jim Mutilator (YOTH IRIA): Another legendary label that still exists. Back in the days the label released such legendary album like Ride the Lightning, Sirens, Don't Break the Oath that I am still adoring as a part of my personal music collection. But on top of them all I'd would like to mention the Speed Kills compilation series that introduced us tons of new bands with more extreme sounds like Hallows Eve, Bulldozer, Destruction, etc.
Drew Rizzo (MIDNITE HELLION): I got introduced to Music for Nations when I found a copy of Metallica's Kill 'Em All on record in the used bin, which was one of the rarely high-priced records of $19.99 for my 13-year-old self. Sadly, I could not afford it, but I had a great bandmate who bought it for me for my birthday (thank you Kat!!). Coming across more of their releases over the years, I saw that they had some unique versions, namely the 2-LP pressings which often included a poster. One of my all-time favorite releases, period was the Music for Nations pressing of Megadeth's Killing Is My Business... And Business Is Good! It sounds so much better due to only having two cuts per side, plus the poster in it rules too.
Denis 'Sasquatch' Barthe (AGGRESSION, Can): Similar to Mausoleum but much better quality of bands—I'm pretty sure I had Metallica, Megadeth and Mercyful copies that were MFN. At some point I had over 500 vinyls and I would say only maybe 10-15 were MFN.
Noise International
King Fowley (DECEASED): Great label! Used to mail order a lot of these bands on the label early on. Stuff like Grave Digger, Hellhammer, Kreator, and that death metal sampler record with not so death metal stuff like Helloween and Running Wild on it. My beloved Voïvod found their way to Noise Records and put out the best release the label ever did with Killing Technology. A classic record label for sure.
Kelly Shaefer (ATHEIST): Strong brand and place in history IMO. They seem to have worked very hard to maintain a strong presence over the years.
Ricard (PROSCRITO): NOW we're talking..., I just mentioned Master of Puppets as my #1 album of all time, but I felt like cheating a bit. Still, I consider Emperor's Return one of the most perfect pieces in my collection, involving my favourite album art of all time (along with Judas Priest's Sin After Sin), favourite lyrics, sound production, band photo, layout/calligraphy and, yes, my favourite band—so yes, I should acknowledge Noise in terms of good taste. That would be more than enough, were it not because they also released some other LPs that shaped my everlasting passion for evil metal, like those by early Kreator, Voïvod, Sabbat, Coroner, Running Wild and that Death Metal split compilation where it all started. Still, I think of ugly metal with the Sitting Death under uncanny bell tolls of Apocalyptic Raids in mind, so you can bet your asses I'm enamoured of the devotional work this label once spewed, and those inserts with their back catalogue of already classic albums have always made me kick myself in the nuts for not being there at the time. Once again, talking about compilations, that Metal Massacre III (licensed by Metal Blade) is another must, you can't go wrong with Tyrant, Bitch, that Medusa song and "Aggressive Perfector" as opener. And the fourth instalment, going full-on Chicago sound... I think I just creamed my pants. Next one, please.
Aethon (EURYNOMOS/MEGATHÉRION): One of the most important German labels for sure when it comes to great heavier metal from the '80s. I mean, the first Kreator LPs, Running Wild, Hellhammer, Celtic Frost and Voïvod alone already make Noise one of the most iconic '80s metal labels.
Kena Strömsholm (ex-FESTERDAY/... AND OCEANS): German thrash label with classics like Kreator, Tankard, Sabbat, Coroner, Helloween, Running Wild, Celtic Frost, Grave Digger, Voivod, and Rage.
Jesus Christ, I need to put on some of the original thrash faves right now!!
Matt Ries (TRAVELER): First band that comes to mind is Helloween! One of the first records I picked up was the EP on Noise. This is a perfect label, in my opinion. I'm a big fan of just about anything they have put out.
Jim Mutilator (YOTH IRIA): Same as Music for Nations. A cult label that released some of my most influential albums ever. I am, of course, speaking about such records as Apocalyptic Raids, Morbid Tales, To Mega Therion, Pleasure to Kill, Walls of Jericho and such. Only mentioning these albums makes my skin crawl...
Drew Rizzo (MIDNITE HELLION): Noise was a gateway label to me. I first heard about them when picking up a copy of Helloween's Keeper of the Seven Keys Part II on record for the price of $1.99, and there was an insert that had advertisements for some of their other releases. Learning about Celtic Frost, Deathrow, and Tankard were all thanks to this one purchase. The label itself was a mystery, as while there were several releases by them and licensed by them from other labels, there was no real known story about them such as with Megaforce's Zazula family and Metal Blade's Brian Slagel. These names would regularly pop up in interviews in magazines, but I had yet to see any name associated with the Noise label, until recently, that is. Being an avid reader of music biographies and autobiographies, when I heard that there was a book released about Karl Walterbach and Noise Records, I jumped at the chance to get a copy. I must say, it's an incredible story, and solving some of the mysteries behind Noise was great. What was especially cool about the Noise book was it wasn't Karl's story from Karl's perspective; it was conducted by a fan of Noise who interviewed Karl, various Noise staff, and band members signed to the label. The good, the bad, and the ugly is all out in the open here.
Denis 'Sasquatch' Barthe (AGGRESSION, Can): Quite a bit more familiar with Noise because of Celtic Frost and Voïvod. I was actually with the guys from Voïvod at their apartment when they signed the deal for Rrröööaaarrr. That's one label that I think would have been a great fit for Aggression.
Parental Advisory - Explicit Content
King Fowley (DECEASED): Tipper Gore. A not-fucked-enough cunt who cried a river to protect our children. It was having too much time on her hands that brought her to be an over-burdensome activist against over the top (to her) things in music. Dee Snider, Frank Zappa and others went to court and it all kinda became a bigger joke than it already was.
Kelly Shaefer (ATHEIST): What seemed and was intended to be a deterrent to music, really became a selling point for listeners. I am not sure it worked out like Tipper Gore planned. :o)
I never really had an issue with notifying parents about content, much like movies, as a parent I'd like to know if my kids are gonna be hearing some shit that I need to explain to them, not some politician, or some kid at school.
Ricard (PROSCRITO): Nothing offends me more than putting on the same league the lyrical genius of Morbid Angel's Covenant and any random wiggerish rap/hip hop drivel because of some harsh terms in common. As for Twisted Sister, great belligerent anti-disco banter and some of the most glorious hard rocking heavy metal albums to do bad things with. Tear it loose!!!
Aethon (EURYNOMOS/MEGATHÉRION): Didn't mean anything to me. Guess this was more like a thing for American mainstream metal. And at the end of the day, it was a great thing, cause it only made metal stronger, hehe!!
Kena Strömsholm (ex-FESTERDAY/... AND OCEANS): PAL wasn't part of my tape trading penpal thing, but I stumbled on this pretty fast when the distribution of certain bands and artists grew bigger or escalated on a higher scale. At first it was like "Hey, if there's a PAL logo it must be hard and heavy". Nowadays everything is explicit content, so not a big deal for me anymore.
Matt Ries (TRAVELER): The earliest memory of seeing this on an album was in grade 5 or 6. Going to HMV and picking up Offspring's Smash on cassette. I remember my mom being worried about buying it for me. My argument was "but mom they're on the radio! it's not THAT bad" And then you crank "Bad Habit" and feel really cool about all the swear words. I still have that same cassette. Works great!
Jim Mutilator (YOTH IRIA): I loved so much the Parental Advisory label on vinyls. It was a sign of extremity in a period when disco ruled. Especially in Greece to be a metalhead in the '80s was like you were an alien scum. The Parental Advisory tag almost on every metal album, made it clearer to all non-metal kids: Yes, those metal kids are true beasts that you should better stay away from, haha!!
Drew Rizzo (MIDNITE HELLION): "We don't need no, no, no, no parental guidance here!" As a kid, these stickers helped me identify some of the "cooler" releases. However, Dee Snider was absolutely correct in his PMRC hearing. He expands upon his beliefs with it in his book as well. Long and short is censorship is alive and well, and if we don't take a stand, we're screwed.
Denis 'Sasquatch' Barthe (AGGRESSION, Can): Something that started when we were active. Never really bothered us, we did not care, and it did not influence us either way on what we were buying doing or whatever.
Speed Metal
King Fowley (DECEASED): Pure aggression was in. Everyone wanted the fastest insane stuff they could get their hands on. Slayer, Sodom, Bathory, Venom, Blessed Death, Cyclone, Bulldozer, Razor, etc.—all of it had its place in a lot of juiced up metal freak teenagers of the underground. I too ate it up, but unlike some folks I never forgot my heavy metal traditional sound love either during these times.
Kelly Shaefer (ATHEIST): Well, of course, it was ground zero for this entire movement of extreme metal. It changed the game, and it has never been the same since. It was what made death metal possible, and every other subgenre of extreme metal since Metallica, Exodus, Anthrax, Slayer, Destruction, Kreator, Dark Angel and so on. So very important to the current metal civilization. We all owe that movement a great of gratitude.
Ricard (PROSCRITO): Given the context, I take it that you're talking about the albums under the swirl, and I'm frankly a devotee of ALL of them (well, I was never a Living Death die-hard, although I prefer them to many "sword and sorcery" polished HM acts these days...); if we're talking about the genre, I'd say I'm not really fond of the tag itself as in the missing link between traditional heavy metal and the evil, rawer sort of thrash (the one I love, instead of all the friendly party shit for converted punks and skaters I don't care about). HM, power metal, speed metal... it's all fair to me. I get my kicks from Exciter, Sanctuary, Omen, Fates Warning, Queensrÿche, Nasty (fukken) Savage, Agent Steel, Warrant, Genocide (Illinois), Wild Dogs, Dr. Mastermind, Hallows Eve, pre-Kiske Helloween, Liege Lord, Helstar, WarCry, Stormwitch and many, many more, and I won't make any distinction between them. But if I'm to tell you about my favourite releases under such vague term and I must certainly bite the bullet, I'd just mention Iron Angel's Hellish Crossfire and both LPs by Holy Terror, which I profoundly WORSHIP since my teens. They knew how to craft songs and Keith Deen was a beast of a singer. For a maideniac rivethead like me, "Distang Calling" and "The Immoral Wasteland" are some of the best tracks EVER recorded. Fine, thanks for having me in your article once again—I hope I've helped resurrect quite some worthwhile stuff. Next stop: New Renaissance? Steamhammer/Metal Blade?
Aethon (EURYNOMOS/MEGATHÉRION): Yeah, that was the symbol I was referring to in the Banzai topic. In the '80s, it was probably only a sign for 'extreme music', to catch the attention of the hungry maniacs who wanted to hear faster stuff in a time when speed/thrash was still pushing the limits. For lots of maniacs, faster often meant better, hehe! And that wheel symbol stood for this.
Kena Strömsholm (ex-FESTERDAY/... AND OCEANS): Legendary swirl. This means the world to me personally. Got it even tattooed. Didn't really understand the meaning of it, or what it was supposed to symbolize back in the days. I do now. Hail Michel Meese!
Matt Ries (TRAVELER): Back in the Gatekrashor days this was all that mattered to us. Getting as drunk as possible and ripping sloppy speed metal riffs. We had some super fucking good times. And I still love it. But much like Banzai this goes hand in hand with how expensive these pressings are now. You gotta get lucky at old flea markets and pawn shops without spending an arm and a leg. Long live Iron Angel!
Jim Mutilator (YOTH IRIA): For me, when I am asked what the term 'Speed Metal' means, my first answer is it means Canada!!! You know, bands like Exciter, Anvil, Annihilator and Razor!!
Drew Rizzo (MIDNITE HELLION): Love the Speed Metal genre, but the Speed Metal logo didn't have an impact on me due to not being exposed to the Banzai pressings. It's a cool identifier for those who had the Banzai records in their markets, of course!
Denis 'Sasquatch' Barthe (AGGRESSION, Can): Again, I'm pretty sure that started with Banzai and we would always look for the 'Speed Metal' logo before buying a product. That was a VERY important factor for us when we were shopping for new metal!!
The Metal Crypt - Crushing Posers Since 1999
Copyright © 1999-2023, Michel Renaud / The Metal Crypt. All Rights Reserved.