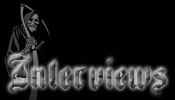 Howie Bentley
Interview with Cauldron Born/Briton Rites guitarist Howie Bentley
Interview conducted by MetalMike
Date online: June 18, 2021



In 2010, Cauldron Born founder and guitarist Howie Bentley unleashed the first album by his doom metal band Briton Rites, titled For Mircalla. It was well received in the metal community and fans looked forward to a future with more Briton Rites and Cauldron Born music to savor. Life sometimes has other plans and 10 long years passed before Howie was ready to release Briton Rites' follow-up album,
Occulte Fantastique. The fans' patience couldn't have been more richly rewarded and this new album is a tour de force of crunchy doom goodness.
I reached out to Howie to get some details on the new album and other things he's been up to since we last heard his guitar rattle the windows...
Hi Howie, how are you doing these days? How are things in your part of the world with respect to Covid and the general craziness of the world?
Howie: Hey Metal Mike! Great here! Staying busy with music and writing fiction.
While it is always nice to speak with you, the main reason for reaching out is the new album from Briton Rites, Occulte Fantastique! It comes 10 years after For Mircalla, did you feel like you had kept us waiting long enough? :) Seriously, I'm sure there were many factors that contributed, so how happy are you to have it finally in the hands of the fans? How has the reaction been so far?
Howie: Yeah. The main reason I stepped away from music was I lost my wife to cancer in 2014, then nine months later my dad died. I just didn't feel like playing music for a while. Around the same time my wife died, I was asked to contribute stories to some fantasy anthologies. Writing stories for the DMR (https://dmrbooks.com) Books sword-and-sorcery anthology series, Swords of Steel was a great catharsis for me, and I felt it went really well. I needed a change. I own some property in rural Kentucky, so I decided to move out to the
middle of nowhere for a while and concentrate solely on writing fiction. As time passed, I missed music badly and decided it was time to get back to recording. Last September I recorded the Briton Rites album, Occulte Fantastique.
I am quite relieved now that I've recorded the album and released it. It has been too long, sitting on that finished material. The reaction so far has been great. It seems everyone who bought For Mircalla is quite happy with it.
Tell us how the album came about. You mentioned in an interview a few years ago here at The Metal Crypt that you had new material ready. Was it for this album, Cauldron Born or something different?
Howie: It was likely for the Briton Rites material. But I've stockpiled riffs and sketches of songs for years, so I have a bunch of Cauldron Born stuff, too. I recently rerecorded the songs from sessions in 2001 with the new Cauldron Born vocalist, Matthew Knight. We are currently working on a brand-new Cauldron Born album, as well.
You have listed your influences for Briton Rites music as Black Sabbath and Witchfinder General. What elements from each band has most shaped the music of Briton Rites and what things do you do to purposefully give your band its own sound?
Howie: The doom stuff I do is tuned way down. The way I combine the minor scale, the minor blues scale, and chromaticism along with the way I use certain time signatures (like 12/8) has a lot to do with it. It is hard to describe without going into a lecture on music theory. Those are just things that make music sound like Black Sabbath. I think Occulte Fantastique has more of a unique sound than the debut. I am sure that the sound of Briton Rites would continue to evolve as a unique entity if I were to continue it, but I don't know if I want to at this point. My main focus is on Cauldron Born right now.
This one is for the guitar players and equipment fans (like me) but how did you get the amazing guitar sound on Occulte Fantastique? It is incredibly powerful. What is your set-up in terms of guitar, pedals, and amplification?
Howie: Thanks MM! There isn't much to it, really. I use a Carvin V220 guitar (Gibson SGs are for hipsters). The guitar is a solid chunk of mahogany. I tune the strings down one and one-half steps, then I drop the thickest string to a B note. I just plugged into a Mesa Boogie Dual Rectifier Solo Head (100 watts) for the rhythm tracks. I turn my gain all the way up and don't bother with overdrive pedals. I played all my leads through a Marshall JCM 800 (100-watt head) I've had since 1987. I use a John Petrucci Crybaby wah pedal on some of the
leads. On "The Demon Lover" I also use a MXR phase 90 and a Boss chorus pedal. I use a Digitech Whammy Pedal and a Kahler tremolo system on my V220.
For Mircalla was inspired by J. Sheridan Le Fanu's novella Mircalla and you took inspiration from other authors for the album's lyrics. You've also mentioned being a big fan of Hammer Horror films and I felt like I was watching a Hammer movie while listening to Occulte Fantastique. You've captured the atmosphere, but were the lyrics inspired by Hammer's catalog? If not, where did you take your inspiration from?
Howie: None of the lyrics on Occulte Fantastique were inspired directly by horror films. They are stories of my own invention, though I do make a few references to classic horror literature such as the Yog-Sothothery of H.P. Lovecraft, Arthur Machen's The Great God Pan, and Clive Barker's The Hellbound Heart, as well as the weird fiction of Robert W. Chambers. The title track references the weird fiction of Clark Ashton Smith, particularly his Zothique cycle. Smith is one of my greatest influences.
I had initially conceived of these stories as being acted out in animation and set to music as mini animated horror movies / music videos, but I had trouble finding a suitable animator and gave up on that idea.
You worked with vocalist Phil Swanson again on this album. What does he bring to the mix? Does he write any of the lyrics or music?
Howie: No. I met Phil after I had all the music and lyrics written for For Mircalla. I was originally going to sing all the songs, but a friend of mine suggested I listen to Phil singing on the Hour of 13 debut and I loved his voice. I sent him what I had, and he did his own vocal arrangements to my lyrics. The only one I ended up singing was "Karnstein Castle".
When I was writing the music for Occulte Fantastique I asked Phil if he would consider splitting the lyric writing with me, but he declined, saying that he believed it didn't sound consistent having two different lyric writers. He proposed that I demo the music, send it to him, and he would do phonetic vocal arrangements. He then sent these back to me and I wrote the lyrics to his vocal arrangements. I love Phil's lyrics and would like to get his input if we record together in the future.
As far as what Phil brings, he has an awesome presence to his voice that complements my music perfectly. The sound of my guitar and riffing and his unique voice is what makes Briton Rites Briton Rites.
This might be an unfair question, but do you have a favorite song or songs on Occulte Fantastique? Personally, I love the riff on "The Mask of Satan" and the atmosphere of "The Wizard's Pipe."
Howie: I love the whole album. I think this is the first album I've ever recorded where I can say that all the songs are
equally as good. But two of my favorites, as far as lyrics are, "My Will Be Thine" and "The Witness".
How would you like fans to feel while listening to Briton Rites? Black Sabbath was a huge influence on you as a youngster discovering music, do you hope Briton Rites can do that for budding musicians and fans that love to immerse themselves in their favorite albums?
Howie: Yeah, Black Sabbath was my biggest influence. Their music just swept me away into another world, and I hope my music does the same for those listening to it.
The cover of Occulte Fantastique is awesome. Who created the artwork? I remember staring at covers while listening to albums back in the '80s, but we live in a digital world in 2021, so how important is artwork today when people are seeing on the small screens of their phones? Is it still an important aspect of an album?
Howie: Nestor Avalos created the album cover. When I see a piece of artwork that impresses me greatly, I buy it (and often hang it on the wall). I already own some pieces by Nestor. When he showed me the Occulte Fantastique cover my first thought was, "I will use that for the second Briton Rites album, if I ever get around to recording it." Plan B was to use it (failing I ever returned to music) for a horror novel I started writing but have yet to finish.
I think artwork is more important now than it ever was. The only way a band can break even on a recording and recoup money to continue recording is to sell physical product. Collectors are keeping heavy metal alive by purchasing CDs, vinyl, tapes, and shirts. These guys, like myself, still connect to the album experience, which is the music, but much more. Totally experiencing the album is an aural experience, a visual experience, an intellectual experience, and a tactile experience. I would say the album cover (visual experience) is second only to hearing the music. This is why it is so important to have a killer album cover that is a visual representation of what the music is all about.
Fingers crossed, but it seems like we might be nearing some kind of return to normality (whatever that might look like) at least here in the United States. Do you envision a time when you might take Briton Rites on the road to play live for the fans or is it strictly a studio band at this time? From what I've read, unless you are Iron Maiden, taking a band on the road is a money-losing proposition, but the rise of festivals seems to be a relatively low-risk option so would something like that be on the table if the right offer came along?
Howie: At this point I have no plans to play live. I live out in the middle of nowhere. I am extremely isolated. All the
musicians I record with live in other states. There is a lot of rehearsal time that goes into preparing for just one show. If you are going to do one, you might as well do a bunch of them. So, no, I won't be playing shows.
Besides Briton Rites, you have other irons in the fire like your traditional metal band Cauldron Born and your writing. What is the next endeavor Howie Bentley fans can look forward to?
Howie: In addition to the forthcoming Cauldron Born projects I talked about earlier in the interview, I am working on an Argantyr novel that has the same title as the new Cauldron Born album that will be released later in the year. Argantyr is a barbarian swordsman who transforms into a werewolf. My collection, The Snake-Man's Bane contains four Argantyr tales, as well as three stories featuring the Cauldron Born mascot, Thorn.
The Snake-Man's Bane can be purchased in print copies or for Kindle by following this link: https://www.amazon.com/Snake-Mans-Bane-Howie-Bentley/dp/1718653638
If you want a signed copy, you can purchase it through my label website here: https://echoesofcromrecords.com/books.
Be sure to send me a note through the website if you want a signed copy.
If you could go back and see Black Sabbath in the '70s, which album tour would you pick? (I think I'd go with Master of Reality...)
Howie: Master of Reality is a great choice, but I'll go with Volume 4.
Thank you for taking some time to answer these questions about Briton Rites' Occulte Fantastique, Howie! I highly recommend it to any and all doom metal fans and fans of good METAL in general. Is there anything that we didn't cover you'd like to mention? Please let readers of The Metal Crypt know where they can get their mitts on a copy of the album and how best to stay informed about all your various endeavors. Keep it metal, Howie!
Howie: Thank you for the opportunity to answer these questions, Metal Mike. Also, thanks to all The Metal Crypt readers who took the time to read this. Briton Rites - Occulte Fantastique can be purchased by following this link: https://echoesofcromrecords.com/shop.
The Metal Crypt - Crushing Posers Since 1999
Copyright © 1999-2021, Michel Renaud / The Metal Crypt. All Rights Reserved.