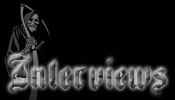 40 Years Ago...
All interviews conducted by Luxi Lahtinen
Date online: December 26, 2021



Many great and influential metal albums were released 40 long years ago in the year 1981 (yep, that's a frigging' long time ago, my dear friends). So many great albums saw the light of day that year it would be impossible to list all of them.
Anyway, there's always room in our lives for a little nostalgia, so we here at the gold-plated tower of The Metal Crypt thought it would be fun to pick up four important and even essential albums from 1981 and reminisce about them a little bit for old time's sake.
Of course, we asked several musicians for their opinions about each album, how they felt when they heard them for the first time, what kind of influence they had on each person and/or their bands and how they feel these albums have stood the test of time.
1) SAXON - Denim and Leather
Danny Lilker (NUCLEAR ASSAULT): This is a record that I enjoyed but it would be a stretch to say that it influenced, say, Anthrax, who
formed in 1981. We used to get a laugh out of the lyrics in the title track when Biff says, "Maybe you can learn to play the bass!" Like, what, is playing bass the last resort of an incompetent musician who failed at everything else? Anyway, good strong record overall but my least favorite of the four selected here.
King Fowley (DECEASED): I first heard this one on a midnight metal radio show. They played it in its entirety on a Monday night. I instantly dug the hooks of "Princess of the Night" most of all. Great stuff! Simple but effective riffing and writing. The Strong Arm of Law album smokes it, but it's a fine addition to the Saxon legacy, nevertheless.
Johan "J.J." Jonasson (STARBLIND): Saxon at its finest! This album has some of their best songs for sure. No wonder they still have them in their live set.
Rick Bouwman (MARTYR): Saxon was a band we visited a lot when they played concerts as it was somehow catchy rock/metal, easy to listen to and Biff was (and still is) always a great performer. They were not one of our influences but a very enjoyable band to watch and listen to. They didn't have highly technical compositions, but they were just a pleasure to listen to. When we started Martyr, we had goals to make guitar and riff-orientated metal, sometimes high-pitched vocals, strange melodies, so you can imagine it was not Saxon that was that example. Still a very good band and we supported them a few years ago. I must say that was a killer show and I have much respect for them. They always deliver and are still going strong. Of course, Denim and Leather is in our vinyl collections.
Matt Ries (TRAVELER): "And the Bands Played on" was my jam when I was 17. Me and my buddy would play it on repeat and do our best basement cover recording with a terrible computer mic. This album top to bottom is a 10/10 for me. It brings back a lot of fun memories. Instantly puts me a good mood.
Ricard García (PROSCRITO): Ave Luxi, so here we are again, honored to be part of this tribute to a year that some of us didn't live through first-hand (hell, I was spawned around the time Fear of the Dark, Razor's Edge and The Crimson Idol were) but all in all some archaeologists seem to be more literate about Neanderthals than those truer-than-thou specimens themselves (that we try to emulate at our rehearsal space weekly). So, let's start...
This one might not be my usual pick when talking about Saxon (I'm a sucker for Power and the Glory, live LP and, yeah, the debut), but "Princess of the Night" was my first exposure to the Brits and believe me, that one helped shape my younger self at a very tender age. I won't lie to anyone, when Autopsy, Kreator, Death, Celtic Frost and others (increasingly growing in brutality and sharpness, as it's sometimes the case when first exposed to those kinds of sounds) entered the arena, I turned my back on Saxon and favored the maggoty stuff, while Iron Maiden for instance were a constant even during those harsher, noisier and crazier teenage times. I think I just let them down during the The Final Frontier tour and I've repented it more than once. Life sometimes works in cycles and here I am, close to my thirties and enjoying those classic albums more than I did back then. Back to Saxon. You can't go wrong with anthems like "And the Bands Played on" or "Never Surrender," the stuff live shows are made of. Obviously, "Denim and Leather" is a track that makes me think of Jim Van Bebber's deadbeats and hippie-dream crushers, so everything's OK in my world. I often find myself out of control when heavy metal plays out loud, be it at gigs, private parties or reconciling life's spleen with earphones during the daily struggle against personal demons when taking a walk after work. Not only a fire in the sky but that unextinguished fire within that reminds me that life's tough and doomed but I'm more than rough and ready to live it with strength.
Aku Kytölä (PRESTIGE): Fine one, but I had to grow much older than 10 years old before it tickled my toes.
Germen Magariños (VELOCIDAD 22): Because of my age (I was born just a couple of years before this album), I heard it in the early '90s in my teens for the first time. A friend of mine had Wheels of Steel and Denim and Leather, both on tape, and
he told me to listen to them. What can I say? They blew my mind. As for Denim and Leather, it still stands as one of my favorite albums of all time, from the killer first two songs ("Princess of the Night" followed by "Never Surrender") to the ending with the heavy metal anthem that is the title track. Forty years after the release of the album, I consider songs like "And the Bands Played on" and the others I named before some of my favorite songs and we are lucky that Saxon still plays those songs live from time to time, and in a great form.
Titan Fox V (HAMMER KING): Hello there, thank you for having us again! It's always a huge pleasure being part of your great community! Saxon are one of my favorite bands and to me, Saxon are THE band that has succeeded in maintaining their original NWOBHM spirit throughout their career. Biff has an incredibly charismatic voice and to me, he is the voice of the NWOBHM. Therefore, it is easy for me to talk about Denim and Leather. It contains some of my favorites from the entire Saxon catalog like "Princess of the Night ("if I ever had my way, I'd bring the princess back one day" – how much more unaltered emotion can you put in a song?)", the iconic title track, "Midnight Rider", the extremely hidden gem that is "Play It Out" and one of the finest songs ever written, "And the Bands Played On"! The lyrics are so pure, it can't get any better.
And yet, it is not my favorite Saxon album. I love its predecessor and its successor more but what the heck, it is a damn fine classic!
Iron Paul (IRONDRIVER): Denim and Leather – let's get fucked together! Unlike the other three bands, Saxon was one I discovered criminally late, in my early thirties. But this particular album is pure gold, catchy as fuck, gnarly, uncompromising British thug rock. One of the three greatest albums by Saxon along with Strong Arm of the Law and, of course, Wheels of Steel. I love Biff Byford's vocals. This album aged well!
Iron Alex (IRONDRIVER): Definitely a landmark record for Saxon. This album is unimpeachable.
Matt Harvey (POUNDER): Denim and Leather is such an absolute banger of a record. You'd be hard-pressed to find a better example of stripped-down, amped-up, hard-rocking British metal. Saxon excel at songs that are direct and utterly without pretension and this record features some of their strongest stuff. "Princess of the Night" is a classic opening track, and "And the Bands Played on" and "Midnight Rider" are both certified stone-cold killers. But really, it's all a build-up to the title track, which remains one of metal's greatest anthems.
Balc (BALMOG): Four albums in two years. At the beginning of the '80s, it seems that it was a general thing for bands to release so many
albums in such a short time. It is really overwhelming! This was the case with what would become the NWOBHM's top three bands, Maiden, Saxon, and Def Leppard. If I'm honest and still believing that it is an essential release, there are some moments where the album seems a bit lazy. Comparing it with the Beast (Maiden), I think that Saxon began to lag a little behind and perhaps it lacks a little more spontaneity, and it is clear they tried to create an album full of hymns with singable chorus. But in any case, it is a great album.
Robert Wilkerson (EVIL ARMY): I've never really been a fan of Saxon. The few songs I have heard didn't stand out to me.
Scarlett Monastyrski (SABÏRE): Denim and Leather was a memorable record for me because it was one of the first albums there to introduce or get me "used to" heavy metal. I never knew about metal that sounded this way. I remember playing "Princess of the Night" on my very first night hosting the late-night University of Winnipeg radio show "Heavy Metal Monday." Denim and Leather was an important step on my musical journey, and when I think back on it, it is a reminder of a magical, tumultuous, and utterly exciting time in my life.
Carmine Blades (SEAX): An undisputed classic of the NWOBHM movement. This was the first Saxon album I'd ever gotten into. Hearing the title track and how it pays tribute to the fans of this pivotal movement in heavy metal history ("Denim and leather brought us all together/It was you that set the spirit free") piqued my interest to the point of seeking out the album and sure enough, it's quite the banger. That's not the only banger on this bad boy, though. Every single song on this album stands out in its own way. I can only imagine how it must have been hearing this album when it was new and had just been released. I was born in 1987 and wasn't around for the glory days of the NWOBHM movement (I wasn't even a thought back in '79 when the dam began to burst). But from listening to albums like this, I picture great times, great people and killer heavy metal. Ever since my own band's inception, we've had the aim to create albums that capture the spirit and the greatness of heavy metal. While we play a different style than Saxon, they are a huge source of inspiration for us in that regard.
Satanarchist (BONEHUNTER): Saxon is definitely one of my favorite NWOBHM bands. The first time I heard Denim and Leather was around early 2009 when we played mostly heavy/thrash covers with a few friends. The other guitarist wanted to cover the title track and I wasn't familiar with it at all, checked it out and loved it instantly. The album is full of killer tracks, not one single bad song, in my opinion! It's in heavy rotation especially in the summertime!
El Sucio (HYENA): This era of Saxon is the best! Very rebel spirited music with badass riffs and stamina. Motorcycles, high-speed highways and heavy metal to the top. A huge influence on the band and how to be very rude but catchy AF.
2) OZZY OSBOURNE - Diary of a Madman
Danny Lilker (NUCLEAR ASSAULT): For me this was the last good Ozzy record, not just because of Randy Rhoads' incredible guitar work, but also because after this you could tell that Sharon Arden (soon-to-be Osbourne) was steering Ozzy away from being a creep to being more
accessible. Again, this might have had an indirect influence on what I was doing around that time in very early Anthrax, but the thing is, by the time Anthrax started becoming a "household name", influences like this album were gone.
King Fowley (DECEASED): I bought this record for a pal's birthday. Until then I had only heard the first single "Flying High Again". We played it on his birthday, and I fell in love with all of it, especially "Over the Mountain" and the title cut. Ozzy's only genuine classic solo record for me. Blizzard of Ozz was good, but inconsistent. A masterpiece!
Johan "J.J." Jonasson (STARBLIND): Good effort, but I prefer Blizzard of Ozz and Bark at the Moon any day.
Rick Bouwman (MARTYR): Ozzy and the even more legendary Randy Rhoads were a BIG influence on us. A very unique and classic style, awesome song structures and Randy was (and still is) the best guitar player in the rock and metal scene. The combination of pure metal songs, with classical influences and the very characteristic voice of Ozzy made the first two albums such an inspiration. While Blizzard of Ozz was already a killer album, Diary of a Madman topped it and it is still the best Ozzy album ever in our opinion. CLASSIC!!! Still blasting a lot in our living rooms! Randy 4 Ever!!
Matt Ries (TRAVELER): I still think this is one of the best albums of all time. To me, it completely smokes Blizzard and anything after it. "Believer" was always my favorite. Although, I actually preferred the live version because Randy changes this run in his solo where he follows the main riff cleaner than the recording. I don't know, it is just full of the coolest riffs of all time, man. Never gets old.
Ricard García (PROSCRITO): I'm the annoying guy who prefers Jake E. Lee over Randy, but that doesn't mean a thing. As any righteous man, I worship his era too and feel myself hiding inside those vinyl grooves when I reach out for traditionalism because of stupid new bands with dumb short-haired members/tourists that come from different scenes and more often than not don't have anything to do with metal. I'd give my left nut to play half as tight as he did (and the right one to be able to grow my hair as long as his). Now, back to the topic, after my initial rant, I must acknowledge Diary... as my #1 Ozzy album. I love Blizzard of Ozz as much as any other guy, but you just
cannot compare an opening like "Crazy Train" to the dark, heavy-hitter that is "Over the Mountain." One minute of deafening amp feedback for THAT initial drum beat (Tommy is the man) and main riff, please. Right, let's move on. The rocking tunes, like "Believer" and "You Can't Kill Rock and Roll" (one of Randy's best solos and isn't it funny how similar to "Prodigal Son" it sounds at times?) are on point, and always with that slight, non-whiny counterpart of melody and melancholy that makes a heavy riff sound heavier. The Ozzman's voice, not perfect by any stretch and at the same time full of passion, also enhances that very human feel I'm talking about. And the combo of "S.A.T.O." and "Diary of a Madman" is, hands down, my favorite solo Ozzy trick. One of the most epic build-ups since (well, before) Piece of Mind and Powerslave's B-sides. Riff after riff until ears bleed and the perfect craftmanship to make your heartbeat go frantic just thinking about it. And the artwork scared me shitless when I was a child, and still puts occult bands with their an(nu)al Church of Satan membership to shame.
Aku Kytölä (PRESTIGE): Awesome one. There is something special about Ozzy and when the man says it is a diary of a madman, it is. And probably really was back then.
Germen Magariños (VELOCIDAD 22): Black Sabbath were one of the first bands that I was getting into. Back in the day I was listening to Sabbath with my brother almost every day, so getting into Ozzy's solo career was a logical move. My brother bought Diary of a Madman and I loved it more than the years when Ozzy was in Sabbath (nowadays I prefer Sabbath, but back then as a kid, I loved the more polished sound of Ozzy). Like many other metal albums in this golden era, many of them had really killer songs and Diary of a Madman is no exception. The first song on the record is so killer ("Over the Mountain") and another great thing about this album is that I simply love the amazing album cover artwork!
Titan Fox V (HAMMER KING): Ozzy's secret weapon and Randy Rhoads' most intense guitar work! The ending of the title track alone is out-of-this-world-music. Overly intense and magical, sinister and menacing, and enlightening at the same time.
I only wish, the album had a more consistent feel. I would take one mellow song off and would love to have a second "Believer" or so. It doesn't take anything away from the 10/10 score the album deserves, though. My favorite of the four albums on this list!
Iron Paul (IRON DRIVER): A girl I had a secret crush on gave me some tapes her dad bought her. She was way more into Bon Jovi, and I was
already a Sabbath fan, so I've kept both Diary of a Madman and The Ultimate Sin. Such a sweet memory, and I still quite enjoy both early and late Ozzy (including Ozzmosis).
Iron Alex (IRON DRIVER): Randy Rhoads was the first shred guitarist ever. The proof of that is Ozzy's previous album, Blizzard of Oz. And on Diary of a Madman Rhoads brought his shredding craft to a new level, opening exciting new horizons for all metal guitarists ever after.
Matt Harvey (POUNDER): I always preferred this record to Blizzard... because I feel like Randy Rhoads was really hitting his stride as a guitarist. The title track and "Over the Mountain" offer some pretty unique takes on metal, especially for the time they were written and Bob Daisley's bass playing and lyrics are highlights as always. "Little Dolls" is probably my favorite track on the record, with some great riffing, powerful bass grooves and a chorus that's more contagious than Covid-19. "Believer" also features some stellar bass lines and "You Can't Kill Rock and Roll" is a prototypical lighter-waving anthem of the highest order.
Balc (BALMOG): Well, I don't consider Ozzy within the NWOBHM, neither in terms of sound or in terms of the proposal. In my opinion, it is difficult to establish a link between this album and On Through the Night, Angel Witch, Tokyo Blade, Iron Maiden, Lightning to the Nations, Survivors or for example The Nightcomers, Night of the Demon, Warhead or Spellbound from the same year 1981. In any case, this Ozzy album contains great songs and several great moments by Randy Rhoads, but with a couple of songs, which frankly are not very good.
Robert Wilkerson (EVIL ARMY): Diary of a Madman is a cool record. Ozzy Osbourne was my very first concert and Sepultura opened for him. I bought Diary of a Madman for $3 on vinyl. I used to learn Randy Rhoads guitar solos by picking up the needle on the record player over and over and putting it right where I wanted it and sometimes, I'd play it at a slower speed.
Satanarchist (BONEHUNTER): I've never been a big Ozzy-era Black Sabbath fan, unlike the other Bonehunter members, but I absolutely love the first four Ozzy Osbourne albums. I knew all the '80s hits by Ozzy and liked them, but for some reason I never got around to listening to the full albums. I heard a "S.A.T.O." cover by Sabbat and finally decided to check out Diary of a Madman. "Little Dolls" and "Tonight" are a nice break in the middle of the album after four killer tracks and before the insane closing combo of "S.A.T.O." and "Diary of a Madman." I can't emphasize enough how great "S.A.T.O." is, Bob Daisley's bass playing on this track is very inspirational and the riffs and solos by Randy are just total fucking fire. Perfect song! My favorite Ozzy album alongside The Ultimate Sin.
El Sucio (HYENA): Even though it's not from the NWOBHM movement, here I go. I'm not really so much into this album. To be honest, I prefer the Jake E. Lee era way more. There's something about Diary of a Madman that doesn't work for me, maybe too many slower songs or it is too American '80s hard rock oriented. If I chose one Ozzy solo album, it would definitely be The Ultimate Sin.
3) IRON MAIDEN – Killers
Danny Lilker (NUCLEAR ASSAULT): Now we're talking! Although I do enjoy some of the Bruce Dickinson-era records, early Maiden with Di'Anno was the fuckin' tits. A HUGE influence on early Anthrax before we were exposed to Metallica, Exciter and other bands that made us pick up the pace. Go back and listen to "Purgatory." Clive Burr (R.I.P.) is doing the D-beat. There's no way to overstate how important this record was to me (and still is) and how it shaped the early efforts of Anthrax. Only those out there who have Anthrax demos would be able to pick up on this, though.
King Fowley (DECEASED): My grandmother bought me this on vacation and returning home I played this album over and over in my
basement. Watching Eddie spin around on the circle sticker of the vinyl in the dimly lit basement only added to the terror of the songs within. Cool record full of a lot of emotions from speed to intricate bits with hints of metal, punk, prog, and good ole rock 'n' roll. Their finest moment when Di'Anno was in the band.
Johan "J.J." Jonasson (STARBLIND): At first, I wasn't too thrilled about Killers. I held the debut album in higher esteem. I think it was because it lacked the typical epic 7+ minute Harris closer, but after a while i came to love every note of it. This is definitely the hardest rocking Maiden album to date. So glad they played half the album on their 2005 tour.
Rick Bouwman (MARTYR): I remember when we saw Maiden supporting KISS in 1980 and never having heard of the band but we were BLOWN AWAY! Typical NWOBHM, and often people think Maiden was the big inspiration for Martyr, and probably that is due to the guitar arrangements and twin guitars. However, they weren't. Although we LOVED the Killers album and saw Maiden live many times, Japanese metal (especially Loudness) and US metal (early Queensrÿche and Warlord) were our main influences.
Regarding the Killers album, in my opinion there are only classic songs on this album (no fillers) and Paul Di'Anno is awesome. We had the pleasure to perform with Paul several times. The most memorable song off that record is "Wrathchild," starting with that amazing bass of Steve Harris. An album that still is a favorite in the big Maiden album cataloq.
Matt Ries (TRAVELER): Best intro to any album of all time? Probably. My very first band would cover "Killers." I'm sure we completely butchered it, haha! But it was fun. I still love playing that bass line whenever I pick it up. Mostly because it's the only song I can do those proper finger triplets. I'm a big bass phony baloney.
Ricard García (PROSCRITO): Bon Scott, Glenn Hughes, Dio..., but Di'Anno comes first, always. He had the perfect blend of high-quality class and badass, leather and bullets synchrony. Yes, I love Iron Maiden's whole discography, even the Blaze era (not a pat in the back, I sincerely love both albums). Now that we're at it, isn't Senjutsu a wonderful masterpiece? Most of you will disagree, I guess, and I'm perfectly fine with that. More enjoyment for me. But let's get back on track. I worship Paul's duology over the "Air Raid Siren's" work, which I know and adore note by note (well, maybe not "The Apparition"). Most will disagree, just get over it. I worship those two albums so hard and consider them the most perfect music ever made, with the remaining bands and albums trying to mirror their awesomeness yet falling flat. If you've been demented enough to follow my rants on this great site, you'll also know I haven't been able to pick a single Iron Maiden LP for my top 5 piece, but let's not start that again. What does Killers mean to the already stellar debut? Well, Harris himself used to say it was an album full of discarded songs, if I'm not mistaken. In my opinion, Killers is the perfect follow-up and my usual pick as well, for we're already used to hearing the s/t at the local metal pub of choice, I bet. The sophomore LP holds unsung heroes like "Drifter" or "Twilight Zone (if you're lucky enough to have the maxi/7" EP or any LP version with one of the best addendums in metal history)". "Prodigal Son" is a masterful ballad, still a bit more naïve and a lesser beast than "Remember Tomorrow" or "Strange World," which are full-on bittersweet melancholy odes to finding oneself entangled in industrial fumes and big city neon nights, cutting so deep that you bleed. Think about it, both Di'Anno albums were almost 100% about that, even the kinkier tracks try to overshadow some slight sadness and a strong sense of will about running away, so far away. "Innocent Exile" and "Another Life" are easily my favorite songs by Maiden, no jokes, and they played it so damn tight and savage for Maiden Japan, one of the coolest maxi LPs of all time. "Killers" holds one of my favorite solos in history, by Dave Murray (who else?), one of the most badass players of all time. Smith was a handsome, rockier and classier fuck, yeah, but Murray always was the uglier, heavy metal lead provider. Best guitar duo (now trio, and fuck off if not) of all time along with Slayer, Judas and Mercyful Fate, who's to disagree?
That timeless guitar tone, all hail Ibanez TS9. I always smile when talking about the hours and hours spent at the record stores as a small kid, looking for Iron Maiden covers. Yes, I was awestruck with 7th Son...'s, but Killers fueled a more real-life dread, something that was waiting ("prowling") at the turn of each street - don't talk to strangers, little boy. Knife fights and maybe needles scattered out there. Those giallo overtones of the earlier singles, with an almost faceless Eddie, Maggie all over the place and some other musical references, like the Scorps graffiti, make for a whole concept story to haunt one's dreams, too. And I think that's a perfect representation of Maiden's first two.
Aku Kytölä (PRESTIGE): A real classic although The Number of the Beast will always be the one for me. There is no shame in being silver medalist and the bronze medal goes to the self-titled album. Since this golden threesome, Maiden albums have been nosediving, slowly but steady, and this is obviously only my opinion, but I love the band, so I bought each new one loyally every time a new album came out, until I just had to give up buying disappointment after another.
Germen Magariños (VELOCIDAD 22): Just like a lot of metal fans, Iron Maiden was my first favorite band. I got into them after seeing the album cover of The Number of the Beast in a magazine. I bought that tape as a blind purchase. After that I became an Iron Maiden maniac who needed to get all of their albums. Soon I discovered there was the pre-Dickinson era with two albums. I bought the self-titled album and loved it, and then my friend Crende recorded Killers on tape for me and I myself drew the cover for it (to be honest it was a pretty awful hand drawing, me copying the original masterpiece art). Killers is... eh, just killer! It is like a perfect mix of that more juvenile sounding heavy metal with some of the punk influence of the first Maiden album, and with lots of twin heavy metal guitars and harmonies. It's pure perfection. Back in the day, songs like "Wrathchild," "Murders in the Rue Morgue," "Innocent Exile" and "Purgatory" were the songs that stuck in my mind and to this very day I consider this album among my top three Maiden records of all time.
Titan Fox V (HAMMER KING): Killers is the example I use in all my interviews whenever I get to talk about the "typical second album syndrome." I am fully aware how beloved this album is, but to me it is what our second album is and what many are; A collection of songs that does not add up to anything greater than the sum of its parts. I like most of the songs here very much (not "Prodigal Son") and I love "Twilight Zone (how can someone leave THAT off the album?!)" but it is not a truly consistent album to me. I prefer the debut any day. Still, a good album, no question.
Iron Paul (IRON DRIVER): Di'Anno's Maiden is the best Maiden, period. Of course, I love all their mid to late '80s records, but I prefer Di'Anno's style. There's a widespread opinion that Di'Anno's vocals and attitude was more punk-ish, but I think it's more, like, classic hard rock-y. Also, Killers was the first Maiden album in my school days tape collection. By the way, I was born in the same year all these records were released.
Iron Alex (IRON DRIVER): Killers is like a direct extension of the band's more abrasive debut album, with less rough edges. What I love most about this recording is that it's Adrian Smith's first Maiden album and Adrian Smith is my favorite guitarist of all time.
Matt Harvey (POUNDER): As much as I adore Maiden's self-titled debut, Killers is an even stronger record. Martin Birch stepping in behind the mixing board really elevated every aspect of the band. The performances have more confidence and the whole record feels full and alive. The album kicks off with an iconic intro in "The Ides of March" (aka "Thunderburst" by Samson) and "Murders in the Rue Morgue" is still one of my top Maiden tracks of all time. The introduction of Adrian Smith is the other "x-factor" (pun intended) that really kicks the whole band into another gear. "Drifter" is another standout tune that's often overlooked, but really the whole record is classic.
Balc (BALMOG): What can I say? The best band in history released one of the best records in history, simple as that. Here you can feel the base of the NWOBHM and that cover was simply amazing. You can also feel the humidity and the moss on the bricks of the streets of London. Burr and Di'Anno managed to give that punk vibe that Harris perhaps didn't like so much, but makes this album one of the most direct and powerful of the NWOBHM, all combined with progressive parts that remind me of Rush (why do people say that the latest Maiden records are progressive? That influence was clearer in the '80s, fuck you all!!) "Ides of March" is simply one of the best heavy metal intros (and it sounds better than the Samson original). I think this album is clearly a compilation of songs. I don't think there was an intention to create a homogeneous album. That could have been a disaster, but curiously I think it is the key to the album, getting songs with a lot of personality where the creativity of the best duo of heavy metal with the help of Harris, gave rise to real gems. There will be nothing like Maiden in the future. Every time I go to their shows, I come out with a bittersweet
feeling, as the end of Maiden is getting closer and closer, and I will probably lose one of the reasons to live for. In our last travels with Balmog, we only listened to Maiden in the car, from the first album up to Senjutsu, the best album of this year.
Robert Wilkerson (EVIL ARMY): Killers has some good songs it, but I was never a big fan of Iron Maiden. I discovered Judas Priest and Iron Maiden at the same time and Priest just stood out so much more to me, so I spent a lot more time listening to them. There's a lot of Maiden songs I like, but Killers wasn't a big influence of mine.
Carmine Blades (SEAX): One of only two albums with vocalist Paul Di'Anno, this album showcases a bit of what was to come in the Bruce Dickinson era minus Bruce's operatic vocals. What we get here is a combination of the greatness of Iron Maiden we've come to expect with Di'Anno displaying a more punkish vocal style than his more well-known successor. I wouldn't say there is any particular Maiden album I dislike (there are definitely some I like more than others, though), but Killers is a definite top 5 album. The combination of the rawness and the killer musicianship really makes this album for me. With my band, we've aimed for the same combination and execution whenever we write music and record albums. There are varying opinions of the Di'Anno era and there's also the age-old Paul vs. Bruce debate, but Killers will always be a special album for me!
Satanarchist (BONEHUNTER): I'm pretty sure I heard the full album for the first time at my friend Tommi's (from Chevalier) place when we were teenagers. Probably heard it at his place so many times that I don't feel the need to listen to Iron Maiden anymore these days, haha! It's a great album for sure, even though I rarely spin it.
El Sucio (HYENA): This album shows the most aggressive side of Maiden, and it stands as a reference for the NWOBHM sound. I remember as a teen imagining I was Paul Di'Anno singing while playing to Killers in my room. Amazing songwriting, great vocals and perfect production. Iron Maiden will always be an influence for every metal band in the world!
4) VENOM - Welcome to Hell
Danny Lilker (NUCLEAR ASSAULT): Welp, I wasn't exposed to Venom until Black Metal came out in '82, so I then went back and sought this classic out. Now... Venom, although they were killer, were not much of an inspiration to anything I was doing in the early '80s, but by '84 I'd been ejected from Anthrax and was starting Nuclear Assault. Venom would have never been an influence on Anthrax, they were too primitive. But with Nuke, I can say that the nasty bass tone of Cronos (along with Rainy from Discharge) was a big influence. On a personal note, although Sabbath and Angelwitch had previously flirted with Satanism and occult imagery, Venom took it to 11. Of course, it
was mostly show, but the dark vibes emanating from this album had a huge influence on me and set me on the path I still walk. No, I'm not a Satanist! Just someone with overflowing contempt and scorn for the Christlings.
King Fowley (DECEASED): This one was insane on first listen at age 13. I walked to a store and bought this and Raven's Wiped Out. I came home and was the only one in the house all weekend. Putting this on and staring at the gold goat head got me going as it was midnight-ish time. I played it all the way through, and it spooked me some. A few minutes later my attic stairs came down by themselves. I went and put them back up again a little spooked. Then it happened again. I decided to leave them down. Come morning I woke and saw the LP sleeve over on a counter in my room. I opened the door expecting to see the stairs still down, but they were up. Freaked me out as no one had been in the house but me all night. Gravity could bring them down, yes! But gravity couldn't fold them up and put them away. Spooky stuff. Great record, catchy and raw as fuck!
Johan "J.J." Jonasson (STARBLIND): I was never a big fan of Venom. They deserve all the respect they can get, but for me they never made THE album with classics all the way through. And I have to admit, I still get "In League with Satan" stuck in my head on a weekly basis.
Rick Bouwman (MARTYR): No, sorry, at that time Venom was not our thing. No offense, but when this record came out, and even though I do realize lots of metal heads are fond of it, we thought it was not tight, had crappy playing and production, and certainly not our cup of tea. But hey, who are who we are - and they made it big. Still no Venom albums in our collection, though.
Matt Ries (TRAVELER): I heard Black Metal before this one. I remember having that cool first feeling of listening to something "evil" though it wasn't nearly as evil as I thought. But once I heard Welcome to Hell I was completely sold. Venom definitely had a lot of influence on my early days in Gatekrashor. Sluggin' beers and cracking butt jokes. I guess I still do that. Thanks, Venom.
Ricard García (PROSCRITO): How I miss when an album spat in your face and said, "do you like the first track? Sweet, let's take another one. Cool, isn't it? Let's hear it for the third one... aw, nice, eh? NOW LOOK OUT FOR THE FOURTH, YOU WEAKLING...!!". And so on and so forth. Venom were masters at this, and the opening noise for Black Metal is as classic and perfectly crafted as the remaining songs themselves. But it's the debut I'm supposed to be talking about today, and certainly my favorite of the ungodly four, with one of the most perfect, unhinged productions of all time, like a ton of bricks constantly clashing around. I could go on in detail, track-by-track about personal preferences, etc., but there is reason every song is as perfect as the previous one. Maybe "Angel Dust" is my usual pick, but one can't go wrong with that bass solo on "100 Days in Sodom" or the wicked-ass female spoken part for "Welcome to Hell (the single most gloomy spoken moment along with "Return to the Eve")". We all know that they guys in Venom were not serious about Satanism, demonology or whatever, but you know what? The Devil is in the details, and true acausal, unspeakable forces have always emanated from every corner of their old songs, legions of fiends fuck around each time "In Nomine Satanas" plays and some REAL evilness gets summoned with their genuine brand of black metal. Sometimes it works this way and an opus can be overcharged on so many levels without even stepping on cheap ideological/theistic motives. As in opening an old grimoire and spitting forth the chosen words, drawing the proper symbols with no real knowledge about what's to happen, if that makes sense. Actually, for the more pedestrian, esoteric side, I've truly had my own dose of bad behavior and indulged in many of the forbidden fruits while listening to Venom, be it at home or their reunion live
gigs. Talk about the three things in life we all know, all of them. And believe me, under the influence, red neon lights and sulfur are duly felt from below and even the "Red Light Fever" final noisy banter makes perfect sense. In short, one of the most important bands in my life, and if you don't know their lyrics 100% (up to and including Possessed, and obviously the rare tracks as well), go back to Reddit, Instagram, harass some bands for playing at Steelfest or do whatever is fancy these days. Maybe the way Cronos spits out "that dirty FUCKEN BITCH has got me POISONED!!!!" in the Hell at Hammersmith EP, with real venom/poison is not safe enough for nowadays' standards.
Aku Kytölä (PRESTIGE): Now this one still represents all the evil powers of rock 'n' roll. Back then it was a really cool, different and brutal but still grooving album, and it is really easy to understand why critics and parents hated it. It's rock, metal and punk mixed together in the cauldron of most tempting witches. I still listen to it quite often. Pure mayhem!
Germen Magariños (VELOCIDAD 22): I was never much into Venom, not sure why. Maybe because I was first attracted to the traditional heavy metal sound, but I wasn't a Venom fan until many years after when I sort of started digging them. Nowadays I consider this album, and their follow-up album, Black Metal, as two masterpieces of raw, take-no-prisoners heavy metal, but those albums still don't have the same impact on me as say some other heavy metal albums from the same era.
Titan Fox V (HAMMER KING): I have to make this short here and you can kill me or not. I have never listened to this album as I am not a fan of this type of metal. Truly sorry, though I know of its historical relevance for sure!
God bless the King, may the King have mercy on me about Venom – and bless all of you!
Iron Paul (IRON DRIVER): I started to listen to Venom after reading the Lords of Chaos book's chapter on those Norwegian dudes' main influences, in my early twenties. To me, Venom's most exciting aspect is their purely sarcastic approach combined with Motörhead-ish unstoppable wild ride songwriting and this particular album is a fine demonstration of both, plus it's so pleasingly raw.
Iron Alex (IRON DRIVER): This album is absolutely fierce, raw and heavy as fuck! I like Welcome to Hell not only more than Venom's Black Metal, but also more than all black metal bands combined, past and present.
Matt Harvey (POUNDER): Of all the records on this list, this album may be the one with the biggest, most lasting impact. Building on the foundation laid by the one-and-only Motörhead, these three lads from Newcastle dragged Metal to new depths. Blending the tonal sensibilities of the NWOBHM and the aggression and attitude of the emerging hardcore punk movement, Welcome to Hell is absolutely the launching point for thrash/black/death metal. When metal was derided as "evil" or "occult," most bands endeavored to distance themselves from Devil-worship, but Cronos, Mantas and Abbadon embraced the diabolical with reckless abandon, and thus a legend was born. "Live Like an Angel (Die Like a Devil)," "Witching Hour," "Sons of Satan," and "Schizo" opened new doors of musical extremity and made many of their contemporaries seem safe and sanitized.
Balc (BALMOG): I'm sure someone will kill me for what I'm going to say, but I find it difficult to place Venom within the NWOBHM. For me, the limit of the sound of this style was Tank, Battleaxe, or Tysongdog. Maybe the first riff in Welcome to Hell, some notes in "Schizo" and "Poison" are close to that style, but from my point of view, Venom deviates a bit from what I understand as NWOBHM. Anyway, Welcome to Hell is a fucking masterpiece, I love every fucking (out of tone) note, every fucking scream and every fucking noise. Each song is a fucking hymn!
Robert Wilkerson (EVIL ARMY): Welcome to Hell is a cool record. I got the first two Venom albums at the same time and Black Metal actually got more play. "Witching Hour" is a classic. I was hooked on Venom for a while. Welcome to Hell is
rawer compared to the other albums. A lot of people label Venom as the first black metal band, but that's just because they coined the phrase. I consider them more of a speed metal band and the first ones to do it. That early shit is classic as hell.
Scarlett Monastyrski (SABÏRE): Welcome to Hell was such an important album for me in my very late teens. It was shrouded in mystique when I was first made aware of it, and when I finally heard it, it came after I was utterly hooked on black metal; there was no going back. Not only was it yet another instrumental Venom album in the backstory of Sabïre, but it also played the frequent and favored soundtrack to my carnal encounters at that time.
Hearing the sound of "Live Like an Angel, Die Like a Devil" but REALLY hearing it for the first time was an experience I will never forget. I could hear so clearly the emotion and intention behind the guitar's dive notes. I felt such kinship playing along to its chords, and I felt so inspired to just be myself with my playing and writing. I would spend many evenings at home by myself playing along to the grooves of the title track, "In League with Satan," and to the magnificent Lead Weight version of "Angel Dust"; these songs truly taught me how to "slow down" and feel the groove of music, believe it or not.
The vocal delivery and word choices within the lyrical structures of the songs just felt so right to me. I could feel the authenticity of the artists behind the recording as they successfully put forth their vision. If ever one is looking for a good example of what it sounds like to have the intention to be the driving force behind creating something special, Welcome to Hell is a good place to start. But on that note, I have often wondered what the album would sound like if the record label actually gave them enough money to record it as a "proper" album. In my opinion, I think it would have still been just as impactful as it was as a demo. You can't mask strong intention.
That's all, mate! I don't know anything really about the other two albums, so I simply cannot comment.
Satanarchist (BONEHUNTER): Without a doubt one of the most influential records in my life! The first track I heard was "In League with Satan" and I was instantly mesmerized by the eerie intro, hypnotic drum beat and the reverb-laden vocals. The lyrics were totally different and eviller than anything else I listened to back then and that definitely had an influence on my teenage brain. I immediately started to dig for more and ask what the hell is this band? I remember watching (and still do!) their live performances and listening to Welcome to Hell and Black Metal non-stop. I've never felt like a musical virtuoso and the raw power and wild energy on this album are an eternal inspiration for me. Fast, dirty and loud is all you need, one of the greatest albums ever!
El Sucio (HYENA): The origin of extreme music! Without Welcome to Hell there would be no black, death or thrash metal as we know it nowadays. Venom is an example of how you can make straightforward music and be genius with it. Demonic music for insane people!
The Metal Crypt - Crushing Posers Since 1999
Copyright © 1999-2022, Michel Renaud / The Metal Crypt. All Rights Reserved.