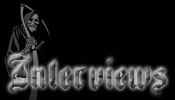 Misery Inc.
Interview with Janne Tolonen (Guitar)
Interview conducted by Michel Renaud
Date online: May 24, 2003



Hails! First things first, how did the formation of Misery Inc. come about?
Hail to you Michel! I used to play in a band called Profane Omen (great band!) But i left because I wanted to make a bit different music. Our bass player Jukka also played and is still playing with them, too, but he left also for Misery Inc. We needed a drummer and I knew that Jonttu is an excellent drummer, although he is so young (only 15 then!) He has been playing in different groups since he was nine years old. Jukka and Jukkis are old friends and so we had a marvelous vocalist. Jukkis has even been singing for Finland's president in the past. And there we were.
How did you come up with the band's name? What does it mean?
As you see English is not our native language, so I just went through some names which sounded good in my head. Misery Inc. sounded brilliant. I guess it does not mean anything. Somehow I tried to put the word misery to the name. One
possibility was i.e. miserica. I guess it does not mean anything or this is sort of a company which delivers sad melodies.
You initially intended to not have any lead guitar.. Weird idea! (Well... sort of ;)) Why didn't you want any lead guitar at first?
Linkin Park had just released "Hybrid Theory" and we were really impressed by that. We thought that we can make our melodies by singing. Basically quitar solos sucks! :)
What made you change your mind on the whole lead guitar issue?
We made a couple of songs but we knew that something was missing. Jukkis and Jukka knew a guy named Teemu. They said that he is good. And he was! He impressed us!
How long have you guys been playing? How did you get into metal?
We have been playing together since october 2001. There is no other music than metal! Me and Jukka have been playing in a punk band in the past and we should be killed for that! :)
Are any of the band members involved in side projects?
Jukka plays in Orofane Omen. Teemu and Jonttu play in some thrash band.
You released two demos before "Suicide Serenade". How would you compare those two with your latest output?
I think "SS" is more agressive and heavier. With those first two demos we were still searching our style, still there are good songs.
I'm a bit surprised that you guys aren't signed yet, since your kind of sound is somewhat popular nowadays. Have you been contacting labels? Any interest?
We have a German manager, Birgitt Schwanke (Germusica), and she runs our business. All I can say at the moment that there has been some interest and something nice might happens soon…… :) ?
Where can people buy "Suicide Serenade"? Are the first demos still available?
You can order "Suicide Serenade" from our website www.miseryinc.cjb.net. It costs 7 Euro.
First demos were CD-R's, so we can make so many copies as needed.
I've detected a number of influences in your music, but couldn't put my finger on a "main" influence. What bands influenced the way you write?
Like you said in your review we´ve been compared mostly to Sentenced and I'm getting a bit tired of that. Sure we hail our fellow citizens but i think we have our own thing here. Bands like Soilwork, In Flames, Metallica (83-91) and Killswitch Engage i.e. are really great ones!
Do you guys play live often? How would you describe your live show?
I have to admit that we have made only about ten gigs so far. It´s hard to get a gig here in Finland if you´re an unsigned band. How I describe our live show? Well, I have never seen it from the audience´s point of view (laughing!). The live show is intensive, songs are played a bit faster than on CD, we go by instincts.
I guess at this point you are limited to playing locally? Have you opened for bigger bands? Any good or bad memories?
We have been opening bands like Silent Voices and Twilightning. Both of them are signed bands, Twilighting on Spinefarm. They play power metal, like we say in Finnish, "Kikkelihevi" = "Dickmetal". The audience wasn´t familiar with our music before that but now they do!
What kind of response have you got on your material? (Past and present)
The first two got a good reviews but this latest "Suicide Serenade" has received really good response. It´s really nice to notice that we have received so good feedback from the media, including Metalcrypt!
Are you considering releasing a full-length album independently, or do you prefer to wait to get signed by a label?
Like I said earlier something nice might happen to us soon… ?
What are the short to medium term plans for the band?
If everything goes like we hope we´ll go to the studio in autumn to make a full-length album and so on. But
everything is still open.
That's all I got! Thanks for taking the time to answer this interview. The last words are yours...
Remember the name Misery Inc. You´ll hear it soon! Muistakaa rasvata haaranne! (in English: Remember to grease your thighs!)
Misery Inc. would like to thank you for this interview.
The Metal Crypt - Crushing Posers Since 1999
Copyright © 1999-2023, Michel Renaud / The Metal Crypt. All Rights Reserved.