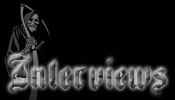 Limb From Limb
Interview with Rob (Guitar)
Interview conducted by Barbara Williams (Crowley)
Date online: July 11, 2003



Hailz and how are you guys doing?
Whatís the deal everyone? This is Rob From Limb. I'm alright right now, but I'll be doing a lot better once I'm drunk.
Heard you on Maddog Radio and voted for you. Has winning the Featured Artist Poll made a difference for you yet?
I seriously didn't even know we were on that shit until I was just told like 5 minutes ago. So, no. I appreciate the vote though.
What made you form Limb from Limb? How did you guys meet?
We are all cousins.
Your demo has sold out. Why have you decided not to produce more?
Initially, we're all broke as hell and can't find anyone to rob at the moment. We got fines and shit, plus I
think that demo sounds horrible. Working on the full-length is a bigger priority to us right now. Plus, if anyone wants to listen to songs from the demo, they can download them off mp3.com.
If I understand this right, we can expect two albums coming up--one live recording and your first full-length album. Would you tell us a little bit about the lyrical concepts of your albums?
Let it be known that the sound guy from The Saint in Asbury Park, NJ, is a straight up douche bag and couldn't even mix a glass of iced tea. The live CD couldn't sound worse. Although I'm sure that there will be plenty of other opportunities to record a live CD, we're still not all that concerned about it right now. The upcoming full-length is gonna be brutalĖexpect nothing else. As for the lyrics, there is a big range in what we write. We're death metal, no doubt, but we're not Satanists. We just like to rape nuns, smoke dust and shoot cops. But hold on to your nuts and try to cream your pants when you hear the CD because itís gonna punch Jesus dead in the neck.
How do you get the inspiration for writing your lyrics?
A stench-filled crowd of deceased [people].
Who designs your CD artwork and who has the final word on what actually goes on the album cover?
Drew Murphy is an exceptional artist. He designs all types of work, but the final word is me, and always me, because I'll shoot them in the knees and make them walk home.
How important would you say is the CD art?
To me it's not. You can't feel a picture like you can music, and if you can't feel the music, then itís garbage and pointless noise. You know what I mean. Music is a feeling.
The music scene really changed between the 70's, 80's and 90's. What would you say has been your strongest influence?
Fuck the mainstream. I wanna piss in it. Leave it at that. About my influences though, I gotta give it up the New Jersey hardcore scene. But my main influences are death metal and rap.
Which bands are on your list of favorites? If I were to look through your CD collection, what would I find?
You would find a lot of different shit like Cannibal Corpse, Fury of Five, Onyx, Dying Fetus, As the Sun Sets, Big L, Circle of Dead Children...I could go on, but I'm not gonna. All in all, I stay with the brutal shit.
How would you describe your style of vocals? Who have been your role models?
Role models? Hahahaaa...fuck all that, but if I had to compare Chris to anyone, I would say Corpsegrinder.
When did you start playing and how old were you when you became interested in metal?
Don't know. Real young, like eight maybe, who knows?
What made you guys decide to play in a band? Had it always been a dream? Who or what inspired you?
Grew up in the NJ Hardcore scene, so we picked it up, you know. It was fun and still is. Never really had any dreams about it though. We just do what we do. Fuck everybody else.
Have your parents and friends always been supportive?
Hell, no! All our boys and shit are down with us, help out, and go to all our shows, but thereís a lot of shitbags out there that hate on us and I don't give a fuck. They need to choke to death on the next dick they eat.
Besides Metal, what other types of music do you listen to?
I grew up listening to rap. Thatís why I'm so scummy. Add some death metal to that and you got yourself a "shitbag gore lord"... whatís up??
Do you keep up with Metal Magazines? Which ones do you read or like the best?
Hell, no!
You have some songs on Mp3 and Sonic Garden. Will you be offering any more to attract new fans?
When we finish the CD, no doubt. Songs that blow the other ones away.
Have you thought about getting on a Compilation CD such as WWIII, the Identity series, or even by playing a tribute to one of your favorite bands?
Whatever you know, I don't care. I'm down to do anything if there's money involved.
How do you see yourself as part of the death metal scene?
Not as much as I will be, but yeah, I do.
How is the metal scene where you guys are at? Is it pretty active or a continuous struggle?
It's all hardcore around here, but we're down, you know. We got breakdowns that people massacre to, so I have no complaints.
Any last words to fans?
Keep smokin' crack. Go out and shoot yourself a cop. (Metalcrypt.com Editor's Note: Wow, now we're all very impressed by that guy's intelligence...)
The Metal Crypt - Crushing Posers Since 1999
Copyright © 1999-2023, Michel Renaud / The Metal Crypt. All Rights Reserved.