Review: Creeping Fear - Onward to Apocalypse
Onward to Apocalypse

Label: Dolorem Records
Year released: 2017
Duration: 43:16
Tracks: 9
Genre: Death Metal

Rating: 3.75/5

Review online: February 4, 2018
Reviewed by: Luxi Lahtinen

for:Onward to Apocalypse



Rated

3.75

/5 (

75%

) (

4 Votes

)

Review

Creeping Fear, formed in 2010, are slowly but surely making a name for themselves around the underground Metal scene.

Musically, this debut album is very riff-driven and blast beat-ridden, heavy and modern Death Metal that takes bits of its heaviness from albums like Morbid Angel's Gateways to Annihilation and some bits of the swirling, crunchy riffage feasts from bands like Suffocation and Cannibal Corpse. This band surely knows how to push the right buttons as far as quality ingredients are concerned, and they are darn good at what they do. The only problem may be that I have heard several bands that sound similar, some of them a tad better and some worse. Fortunately, Creeping Fear's strong musicianship helps them stand out from the pack, and they are able to deliver the goods sufficiently enough to make an impact on most Death Metal listeners.

Click below for more reviews
Latest 0-9 A B C D E F G H I J K L M N O P Q R S T U V W X Y Z Various Books/Zines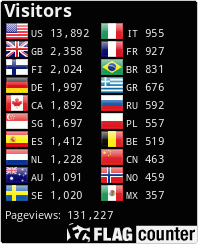 The Metal Crypt - Crushing Posers Since 1999
Copyright © 1999-2022, Michel Renaud / The Metal Crypt. All Rights Reserved.