Review: Calyx - Vientos arcaicos
Vientos arcaicos

Label: Iron Bonehead Productions
Year released: 2019
Duration: 44:38
Tracks: 8
Genre: Black Metal

Rating: 3.75/5

Review online: August 12, 2019
Reviewed by: MetalMike

for:Vientos arcaicos



Rated

3.67

/5 (

73.33%

) (

3 Votes

)

Review

Vientos arcaicos is the debut full-length from Spain's Calyx and it is an album full of dark and evil black metal. It has a melodic streak running through its more typical black metal songwriting and while that doesn't separate what Calyx are doing from the masses very much, the vocals do. They sound like a lot of other black rasps, but you can clearly make out the Spanish lyrics and I have to say they sound even more hellish in that language. Michel, who runs this site, and I both agree that Spanish-sung lyrics sound better delivered in a harsh vocal style and Calyx are a band I would put forth as proof. It is cool to hear a band come up with something a little different without losing the heart of a particular style, even if it is just singing in their native tongue.

Click below for more reviews
Latest 0-9 A B C D E F G H I J K L M N O P Q R S T U V W X Y Z Various Books/Zines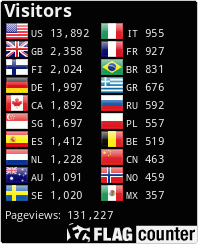 The Metal Crypt - Crushing Posers Since 1999
Copyright © 1999-2022, Michel Renaud / The Metal Crypt. All Rights Reserved.