Review: Kolossus - The Line of the Border
The Line of the Border

Label: Satanath Records
Year released: 2020
Duration: 42:35
Tracks: 9
Genre: Black Metal

Rating: 2/5

Review online: September 10, 2020
Reviewed by: Luxi Lahtinen

for:The Line of the Border



Rated

3.92

/5 (

78.33%

) (

12 Votes

)

Review

Kolossus is a one-man Black Metal project from Italy run by some guy who calls himself Helliminator. He claims his lyrical interests are based on the northern lands (I'm guessing Europe?) and their ancient gods, along with the mysteries of life and death. He seems to take these themes very seriously, with the album portraying them with a cold, grim, primitive sound that's rather Avant-garde in its approach. Unfortunately, he commits the cardinal sin of throwing a bunch of unrelated musical ideas together in the hopes that they come together into a distinct and inventive whole, but like many before him he just ended up making a vague gob of noise that goes in one ear and out the other. He occasionally manages a cool moment, enough to suggest that if he ever sits down and decides what he wants to do with this project, it'll end up being pretty cool. However, a handful of cool moments a cool album does not make, leaving this as a misguided and mostly faceless release. Better luck next time.

Click below for more reviews
Latest 0-9 A B C D E F G H I J K L M N O P Q R S T U V W X Y Z Various Books/Zines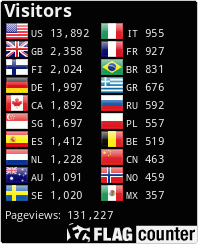 The Metal Crypt - Crushing Posers Since 1999
Copyright © 1999-2022, Michel Renaud / The Metal Crypt. All Rights Reserved.