Review: Countless Skies - Glow
Glow

Label: Willowtip Records
Year released: 2020
Duration: 44:18
Tracks: 7
Genre: Melodic Death Metal

Rating: 4/5

Review online: September 13, 2020
Reviewed by: Sargon the Terrible

for:Glow



Rated

4

/5 (

80%

) (

6 Votes

)

Review

Countless Skies are an interesting UK band who are blending a lot of sounds into their music. The riffing is very much influenced by the open, overdriven sounds of post-metal and more atmospheric Black Metal, while the vocals are a mix of a dry, melodeath rasp and a clean style that is more high-pitched and urgent. The leads and melodies are very reminiscent of prog, as are the sometimes complicated drum patterns. This is not a million miles removed from later-period Enslaved, though much more cleaned-up and almost glossy in places. The production is solid, and the playing is competent. There's a lot of ambition at work here, but a lot of it actually pays off.

Other related information on the site
Review: Countless Skies (reviewed by MetalMike)

Click below for more reviews
Latest 0-9 A B C D E F G H I J K L M N O P Q R S T U V W X Y Z Various Books/Zines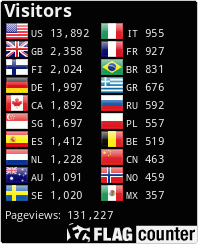 The Metal Crypt - Crushing Posers Since 1999
Copyright © 1999-2022, Michel Renaud / The Metal Crypt. All Rights Reserved.