Review: Count Raven - The Sixth Storm
The Sixth Storm

Label: I Hate Records
Year released: 2021
Duration: 1:13:32
Tracks: 9
Genre: Doom Metal

Rating: 3/5

Review online: October 6, 2021
Reviewed by: MetalMike

for:The Sixth Storm



Rated

4.17

/5 (

83.33%

) (

6 Votes

)

Review

Sweden's Count Raven has been playing doomy music since the late '80s with The Sixth Storm their sixth album since. Being from Sweden and playing doom would naturally lead you to think Count Raven sounds a bit like Candlemass, and you'd be right. Slow tempos, leaden guitars and such are present throughout the album. The songwriting is less metal than Candlemass, though, with a streak of hard/occult rock permeating tracks like "Heaven's Door" and "The Giver and the Taker." "Baltic Storm" has vocal lines that are similar to those you might hear from Austria's Gallows Pole, a decidedly hard rock band. Still, there is metal to be found, notably the longest and best track, "Oden." Unlike the rest of the album which, thanks to a flat production and uncharismatic vocals, is rather dull, "Oden" is full of atmosphere and crunchy riffs that make the nearly 12-minute length feel much shorter. The Sixth Storm is well played, Count Raven have been around too long for it not to be, but the songwriting and vibe are uninteresting. Doom is hard to get right and Count Raven show that even an experienced band can miss the mark.

Other related information on the site
Review: Mammon's War (reviewed by Sargon the Terrible)

Click below for more reviews
Latest 0-9 A B C D E F G H I J K L M N O P Q R S T U V W X Y Z Various Books/Zines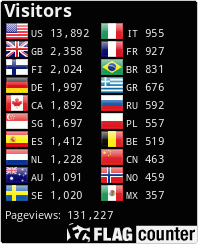 The Metal Crypt - Crushing Posers Since 1999
Copyright © 1999-2022, Michel Renaud / The Metal Crypt. All Rights Reserved.