Review: Canvas Solaris - The Atomized Dream
The Atomized Dream

Label: Sensory Records
Year released: 2008
Duration: 47:05
Tracks: 8
Genre: Progressive Metal

Rating: 3/5

Review online: July 29, 2008
Reviewed by: Sargon the Terrible

for:The Atomized Dream



Rated

3.63

/5 (

72.5%

) (

8 Votes

)

Review

Well, this is better. Canvas Solaris are still a wanky prog-obsessed band with no vocalist, but at least this time they took a pill. Their last disc was so jittery and hyperactive it was unlistenable, but this one shows signs of actual songwriting efforts. The compositions are smoother, and they have more hooks and grooves in them. They are still pretty much a mess though, with no build, tension, dynamic or resolve. These are guys who totally reject the narrative function of music, and it makes their work a pure intellectual exercise. This music isn't offensive, but it's not interesting either.

Other related information on the site
Review: Cortical Tectonics (reviewed by Sargon the Terrible)
Review: Irradiance (reviewed by Sargon the Terrible)

Click below for more reviews
Latest 0-9 A B C D E F G H I J K L M N O P Q R S T U V W X Y Z Various Books/Zines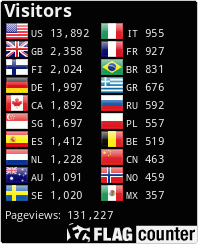 The Metal Crypt - Crushing Posers Since 1999
Copyright © 1999-2022, Michel Renaud / The Metal Crypt. All Rights Reserved.