Review: Celestiial - Where Life Springs Eternal
Where Life Springs Eternal

Label: Bindrune Recordings
Year released: 2010
Duration: 56:38
Tracks: 5
Genre: Funeral Doom

Rating: 3.5/5

Review online: May 19, 2010
Reviewed by: Sargon the Terrible

for:Where Life Springs Eternal



Rated

2.67

/5 (

53.33%

) (

3 Votes

)

Review

One expects a certain abstract pomposity from Funeral Doom, it's one of the features of the genre after all. The suspension of complete meaning during long intros and melodic building before the songs begin to make any kind of sense is expected by the fan, and allowed for, but I do still expect even Funeral Doom to get somewhere eventually. Celestiial do manage to create a good atmosphere here, evoking the wintery landscapes and huge thunderstorms of the upper Midwest. But then they don't really do anything with it. I like this while it is on, but it never gets anywhere or does anything, and close listening reveals the songwriting being drawn out with repetition for no real purpose other than to be long. This is interesting, but in the end not satisfying.

Click below for more reviews
Latest 0-9 A B C D E F G H I J K L M N O P Q R S T U V W X Y Z Various Books/Zines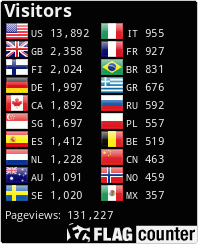 The Metal Crypt - Crushing Posers Since 1999
Copyright © 1999-2022, Michel Renaud / The Metal Crypt. All Rights Reserved.