Review: Corpus Diavolis - Revolucia
Revolucia

Label: Independent
Year released: 2010
Duration: 40:00
Tracks: 8
Genre: Death/Black

Rating: 2/5

Review online: July 9, 2010
Reviewed by: Sargon the Terrible

for:Revolucia



Rated

3.29

/5 (

65.71%

) (

7 Votes

)

Review

I hear so many of these "Death/Black/Something" discs they all kind of blur together. Corpus Diavolis play fast, and that's pretty much it. Their guitar sound has no bite, their riffs are cliché, and the vocals are a rasp perhaps best described as 'featureless'. They credit a drummer, but the drums here sound like a machine, so I don't know why they bothered. Mechanistic, passionless BM so generic it might as well be called that under the genre description.

Click below for more reviews
Latest 0-9 A B C D E F G H I J K L M N O P Q R S T U V W X Y Z Various Books/Zines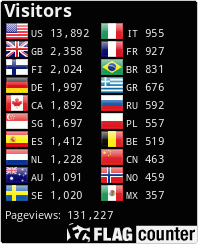 The Metal Crypt - Crushing Posers Since 1999
Copyright © 1999-2022, Michel Renaud / The Metal Crypt. All Rights Reserved.