Review: Crosswrecker - Black Flame Divination
Black Flame Divination

Label: No Sign of Life
Year released: 2010
Duration: 21:31
Tracks: 6
Genre: Black/Thrash

Rating: 3/5

Review online: March 2, 2011
Reviewed by: Sargon the Terrible

for:Black Flame Divination



Rated

2.17

/5 (

43.33%

) (

6 Votes

)

Review

Loose, raw, and evil is the vibe here, and while I have heard it done better, this isn't bad. Crosswrecker are a down and dirty Blackened Thrash band from Finland, and this is just an EP to get their name out there. The recording is suitably rugged, the playing has the expected flailing and loose sound, and the vocals are a nice thrashy bark. The riffs on this are not brilliant, but they get the job done. An adequate debut.

Click below for more reviews
Latest 0-9 A B C D E F G H I J K L M N O P Q R S T U V W X Y Z Various Books/Zines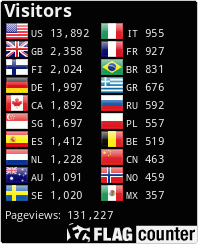 The Metal Crypt - Crushing Posers Since 1999
Copyright © 1999-2022, Michel Renaud / The Metal Crypt. All Rights Reserved.