Review: Klor - Klor
Klor

Label: Ars Magna Recordings
Year released: 2012
Duration: 33:23
Tracks: 8
Genre: Black Metal

Rating: 3/5

Review online: October 14, 2012
Reviewed by: Sargon the Terrible

for:Klor


Review

Klor are a Danish band that at least go in for truth in packaging – this looks like an ultra-grim BM album, and it is. I mean, this is the most illegible logo I have ever seen. It looks like what someone scratched on a window while they were having a seizure. This is Pagan-themed rather than Satanic, but this is pretty standard otherwise. You get slow, dragging arrangements with atonal riffs and painful howling vocals. It's not bad, but it's nothing you haven't heard before.

Click below for more reviews
Latest 0-9 A B C D E F G H I J K L M N O P Q R S T U V W X Y Z Various Books/Zines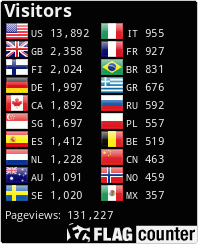 The Metal Crypt - Crushing Posers Since 1999
Copyright © 1999-2022, Michel Renaud / The Metal Crypt. All Rights Reserved.