Review: Cacotopia - Inhuman Agitation
Inhuman Agitation

Label: Independent
Year released: 2014
Duration: 40:23
Tracks: 9
Genre: Death/Black

Rating: 3/5

Review online: January 8, 2015
Reviewed by: Sargon the Terrible

for:Inhuman Agitation



Rated

3

/5 (

60%

) (

2 Votes

)

Review

This band bills themselves as a Black Metal band, but this is really a rather interesting mix of uptuned tremolo guitar work and a more technical melodic sense that calls to mind tech death bands like Decrepit Birth or Origin. I can appreciate the intent behind this, and it does often sound quite different, but the songwriting is just not up to par here, and causes this to become more a mixture of good bits without any overall shape. The drum production is also oddly mushy, not really allowing the technicality to shine through. This is not bad, it just is not really going to grab you.

Click below for more reviews
Latest 0-9 A B C D E F G H I J K L M N O P Q R S T U V W X Y Z Various Books/Zines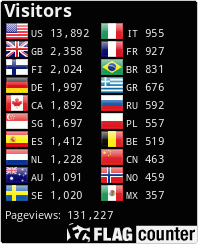 The Metal Crypt - Crushing Posers Since 1999
Copyright © 1999-2022, Michel Renaud / The Metal Crypt. All Rights Reserved.