Review: Can of Worms - Kult of Nuke
Kult of Nuke

Label: Great Dane Records
Year released: 2015
Duration: 41:19
Tracks: 11
Genre: Death/Thrash

Rating: 3.5/5

Review online: June 26, 2015
Reviewed by: Sargon the Terrible

for:Kult of Nuke



Rated

2

/5 (

40%

) (

2 Votes

)

Review

This sounds so much like classic works by fellow Frenchmen Destinity that I was honestly surprised to not find any member crossover between the two bands. Can of Worms have a stupid name, but they rip out some respectable Death/Thrash here on this disc. They have a good sound, tight performances, and a lot of energy. Repeated listens reveal the riffs to be rather one-dimensional, and the whole album starts to seem a bit thin. This is fun, but it's shallow and does not have a lot of meat on it.

Click below for more reviews
Latest 0-9 A B C D E F G H I J K L M N O P Q R S T U V W X Y Z Various Books/Zines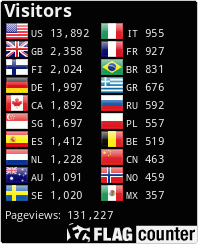 The Metal Crypt - Crushing Posers Since 1999
Copyright © 1999-2022, Michel Renaud / The Metal Crypt. All Rights Reserved.